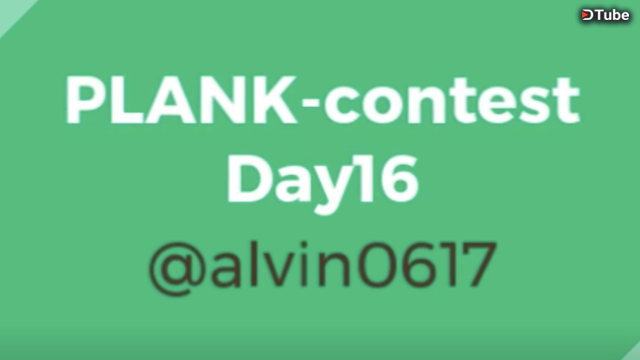 ---
Hi Steemians! I'm @alvin
Today is the 16th day of my "Doing PLANK for 30days" series, I do this for 2 mins this time....
Although doing the plank for 5mins still sounds difficult for me now, I'll try myself to improve myself day by day.
Answering the call by @yanyanbebe with the original post link !!
Feeling very encouraged to see so many people joining this series to do some workout with us recently!! We are welcome to everyone who wants to make yourself healthier by simply doing some daily workout :)
---
HOW TO JOIN PLANK-CONTEST?
Warm-up and prepare yourself to take the challenge
Work on the ONE-MINUTE-PLANK
(If this is your first time to do PLANK, just take it easy and try to do 30 seconds or less! And then slowly increase the time to one-minute)
Take a snap tube when you're working on it
Upload the clip to dtube or put the shot into your post. Or you can nominate others to join as well
You can use this as a topic
[Day 1] "Doing PLANK" 1 min PLANK challenge for 30 days [30天平板支撐挑戰]
Tag #dtubesnap and #plank-contest
HANG ON for 30 days
---
感謝你讀完此篇文章
THANKS FOR READING
持續追蹤我看看我在香港的生活以及各種有關區塊鏈的知識分享吧
Keep following me @alvin0617 for crypto-related news and my life in HK
---
▶️ DTube
▶️ IPFS