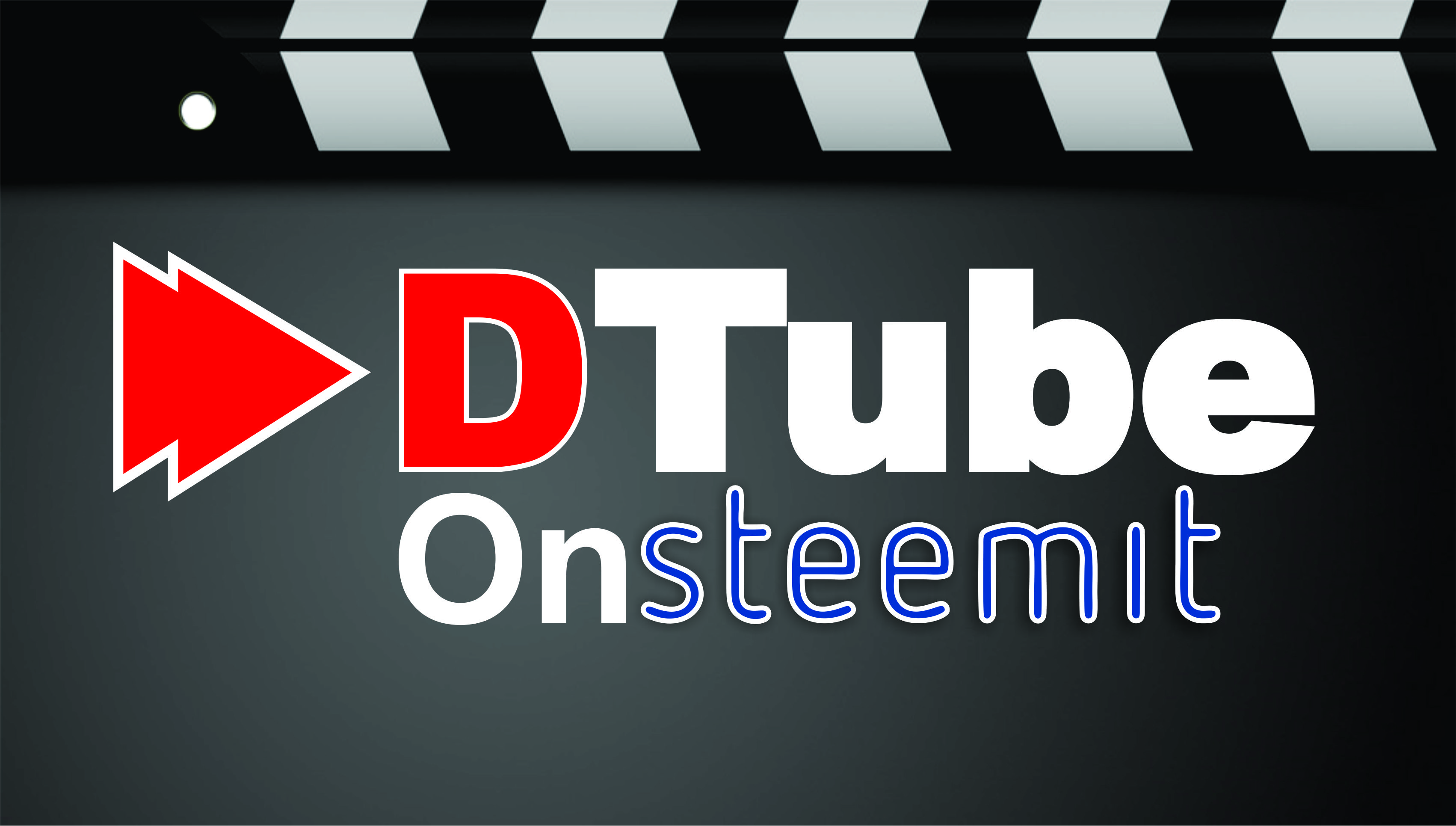 Dari beberapa para sahabat steemias ada yang bertanya bagaimana cara upload video di steemit?
Jawabannya sudah pasti dengan menggunakan layanan Dtube, layanan ini berbentuk website yang terhubung dengan Steemit, kabar dar sang penyedia layanan Dtube @heimindanger mengenalkan DTUBE yang terhubung dengan steemit dalam judulnya "Introducing DTube: a decentralized video platform using STEEM and IPFS" Memperkenalkan DTube: platform video terdesentralisasi menggunakan STEAM dan IPFS
https://steemit.com/video/@heimindanger/introducing-dtube-a-decentralized-video-platform-using-steem-and-ipfs
Proses unggah Dtube hampir sama dengan Youtube, bedanya Video yang sudah di unggah ke Dtube tersebut terkoneksi otomatis ke postingan di steemit, inilah yang menjadi nilai plus bagi pengguna steemit Sipat Tak Dua Pat Luet Istilahnya sekali kapal berlayar dua tiga pulau terlalui, artinya disini para sahabat steemit dalam unggahan video mendapat reward dari para penonton video di Dtube jika mereka klik Like, di postingan steemit artikel yang di posting berbarengan dengan video juga mendapat upvote apabila tulisan yang di posting sesuai video menarik pembaca dan penonton. inilah sekali posting dua reward yang di dapat. Video dan Posting.
Namun Sebelumnya sudah pernah saya bahas cara daftar ke Dtube di
https://steemit.com/dtube/@abunagaya/use-dtube-feature-in-steemit-and-tutorial-enable-dtube-bilingual-english-indonesia
Pembahasan kali ini mengenai Cara Daftar Ke Dtube yang sudah pernah saya posting sebelumnya dan saya tulis kembali beserta cara upload video ke Dtube.
Langkah Langkah cara daftar Dtube dan Cara Upload Video di Dtube
Alangkah baiknya menggunakan PC atau laptop karena Dtube bekerja pada Browser.
Tahap Pertama
Login Steemit sahabat di Browser, dengan aku pribadi dan pasword steemit yang sudah tersimpan.
Klik wallet (dompet) di akun steemit sahabat.
Kemudian pilih permisions, disitu akan terlihat beberapa kode /pasword milik sahabat
Pilih kode paling atas dengan tulisan POSTING klik ShowPrivateKey
Setelah terbuka, copy pasword tersebut dengan posisi showprivatekey masih terbuka.

---
Jika Para Sahabat Kurang Mengerti karena tidak terlampir gambar silahkan buka di postingantutorial yang sudah di include gambar cara mendaftar ke Dtube
https://steemit.com/dtube/@abunagaya/use-dtube-feature-in-steemit-and-tutorial-enable-dtube-bilingual-english-indonesia
Tahap Ke Dua
---
Masuk ke browser buka link
https://dtube.video/
- Disudut kanan atas terdapat Login - Klik login tersebut, maka akan muncul username dan pasword key. - Isi username sesuai dengan nama akun di steemit, - Kolom kedua pastekan pasword key dari wallet tadi dan klik login.
---
Disini sahabat sudah masuk kedalam sistem Dtube yang sudah terhubung ke Steemit, dan bisa sahabat lihat hasil video postingan dari para steemians
Buka kembali steemit di wallet dan permission, tutup kembali pasword posting sahabat hingga muncul Hideprivate key. dan kini sahabat sudah berada terdaftar di Dtube dan sudah bisa menggunakkannya.
Cara Upload Video ke Dtube
Tutorial cara upload video ke Dtube, dan yang perlu sahabat ketahui, sebelum upload video perlu satu file gambar Jpg atau SNAP yang sesuai dengan tema video atau judul postingan.
Langkah pertama
Klik tanda panah atas (Upload) yang berada disudut kanan atas

Akan muncul kotak merah Drag File or clik to start the upload
Klik di kotak tersebut lalu muncul data, klik data video yang ingin di upload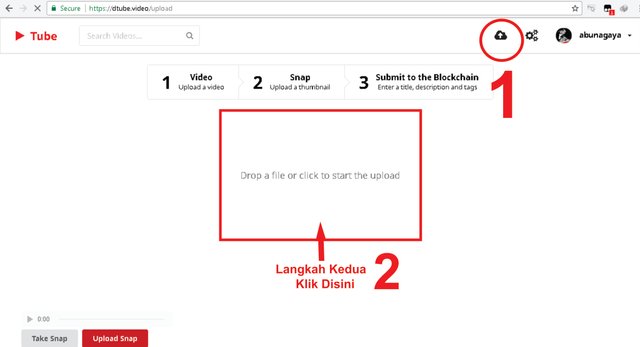 Tunggu proses upload selesai
Upload Snap atau (File Gambar) sebagai tampilan di postingan steemit
Isi Judul Video atau judul postingan di Steemit
Tulis Deskripsi, sama juga seperti menulis postingan di steemit yang tidak terbatas, bisa juga di pakai sribt kode Html.
Terakhir ketik Tags sesuai tema atau judul postingan biasanya tags pertama video kemuadian tags lainnya seperti travel, nature, funny, photography dll.

---



Demikian Tutorial cara daftar dan Upload Video Ke Dtube, semoga dapat membantu para sahabat steemians dalam berkreasi di steemit dengan postingan yang menarik.
Selamat bergabung dengan Dtube Para Steemians, fitur layanan yang terhubung dengan steemit ini memberi kelebihan kepada pengguna steemit, terutama dalam hal kreasi Video dan juga menambang Reward dari video beserta tambangan reward di Steemit, ayo kreasiakn Video kamu dan upload videonya ke dtube, yang pastinya video yang keren dan mantap..
GOOD LUCK SAHABAT STEEMIANS, SEMOGA BERHASIL DAN SUKSES SELALU BERSAMA STEEMIT
Thanks to Currator Indonesia @levycore @aiqabrago
Thanks You for all My Friends Steemians
@zulfadliekawom @bukharisulaiman @zainalbakri @rayfa @doktermuslem @teukumukhlis @abieikram @agustiarismail @ahlawat @alfi.yusuf @alvapurba @always1succes @amarkadafi @amrizal.amd @aqbayli @armiden @antintelicoinves @atafauzan @azizjesika @bilalhaider @bim.scouting @bornwin @brunnernathan @bukharidin @bukharisulaiman @cryptotrumpet @danizaharie @dragos0897 @dtworker @dwerggjuhh @eazyh @edifadhil @epeakinfo @fadhilaceh @faukas @fcbnews @fitriani @fuadjamaluddin @gamemusic @geneeveret @ilhamramadhani @iliketoast @imagediet @investlimestone @iqbaal @iyuta @izbing @jackmiller @mukhtar.juned @taministy @marzukie @mushthafakamal @fuadjamaluddin @jaibaru @jamalgayoni @jaydenbox @joanaltres @abumuda @rismanrachman @waldan @teukukemalfasya @musyawirwaspada @bahagia-arbi @safwaninisam @stemm77 @rawohnanggroe
Salam @abunagaya
Salam KSI