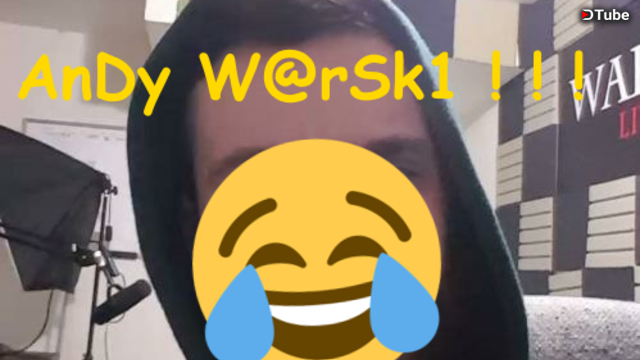 ---
Andy Warski - Trivializing Online Child Sexual Exploitation for Superchats and Youtube Pennies
I was at work today when I saw this come across my twitter feed. Couldn't watch it in full (mainly because Andy Warski deleted it shortly after the livestream ended) but I assumed this e-celeb could have had good intentions for doing it: the title and his humblebragging on social media indicated as much. Of course I was proven utterly wrong! As if some Youtuber shill with his stunted protuberance so deeply embedded into the tight cheeks of monetization could ever present a serious topic such as the exploitation of children online, or expand upon the needed discussion of Online child
Firstly,
many thanks for my e-celeb hawk and man in the trenches who I wont name yet coz he knows who he is 😎 . If it wasn't for you I probably wouldn't have noticed yet another instance of e-celeb and Youtuber bullshit that happens daily which deserves calling out.
Secondly,
God bless the silent background purveyors, the all seeing 👁👁 who thankfully recorded this livestream so it could be exposed later. You guys are truly part of #ExposingExploitation as an initiative and as a simple method of holding such rapscallion curmudgeon bumbledunderheads to their word and their actions. Thanks!
Thirdly,
This has been reuploaded onto d.tube to become undeletable forevermore. In the spirit of #OPChildSafety #OPLove, #OPToughLove, #ExposingExploitation and #Youtubewakeup , such fallacies in behavior cannot be forgotten or slid into obscurity. 90% of STEEM and SBD earnt shall go to @familyprotection (which is a worthy cause that works diligently to help children in dire or dangerous situations in their lives)
Many Thanks for Autism-Chan for reuploading Warski's blunder which the d.tube upload was taken from
Great timestamping efforts here too:
​
​ Timestamps (Descriptions written by anons)

00:06:52 - Start of the pedophile stuff.

00:34:36 - Andy and jcaesar187 show edited CP on screen.

00:36:00 - Andy mentions browsing through archive of CP on his local computer looking for material okay to show on youtube.

00:36:30 - Andy says: "I can show these? It's so hard to tell if I'm able to show these or not. Now this person she is 15 jcaesar187." jcaesar187 sighs and confirms he sees the image.

00:38:40 - Andy says some girl in the UK is in possession of the same folder of CP he has and says he gave her personal advice for how to store it on her computer.

00:39:55 - They all admit to being in a chat together where CP was shared

00:42:41 - Andy shows the profile where they downloaded the 35GB folder of CP from and a brief discussion was had where they asked each other if they had the original folder or the updated version

00:43:57 - A funny moment where they all laugh about the fact that the pedos are being "exposed" while they all out themselves for having a copy of the CP

00:47:51 - Andy shows CP folder on screen

00:50:14 - Andy fucks up and switches to sub-folder full of images. Manages to take it off screen before Windows renders image previews

00:56:18 - Indigo joins the stream, admits to being the one that found the CP and shared it with everyone else.

00:59:13 - jcaesar187 and others get nervous that chat thinks they're browsing CP. Attempts to disavow but admits girls are underaged.

01:05:40 - Andy gives the real name of the person that supposedly reported the pedos to the FBI. Also says she has a copy of the folder on her HDD

01:09:32 - Another e-thot joins the stream and admits to having a copy of the CP folder.

01:11:52 - Andy admits to having archived all the CP and associated accounts in case they were deleted.

01:16:46 - Links to underaged CP instagram accounts are shown on screen for several seconds.

01:20:04 - A discord server full of pedos sharing CP starts being discussed. It's implied that everyone on stream has access to it.

01:20:28 - E-thot on stream admits to being in the discord. Name of discord server is given about 10 seconds before this time stamp.
This E-shillebrity's various platforms for pinching your pennies
Backups & Further Investigation
---
▶️ DTube
▶️ IPFS