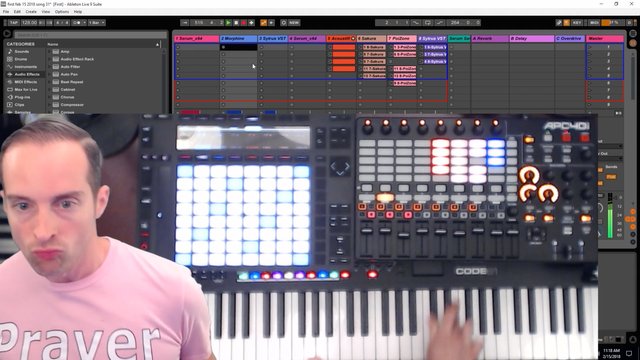 ---
Prepare for a meeting with electronic music without hearing any words by stimulating the mind with the sounds of synthesizers and drums while relaxing the body by resting the voice in the head. For maximum effectiveness in any meeting from an important business meeting to a 12 step meeting to a first date, we benefit from an excited mind which is aware and free from the constant "voice" judging everything before us and trying to get our own way.
Listening to electronic dance music like I have composed here is what I listen to before a meeting and I hope this is useful for you too! All of my music is Creative Commons Zero or CC0 meaning you are welcome to do anything with any song without any need to mention me. For example, you are welcome to play this in a live stream, as background music in a video, etc.
Watch me play the song in live in the matching YouTube video!
Listening to instrumental music like this is fun because the sounds stimulate the mind and at the same time provide a rest from our world of constant talking. Tomas George with digital music masters at digitalmusicmasters.com helped me discover this and gave me the information, confidence, and mentor I needed to produce music with no experience starting in 2017. Tomas recommended I listen to Deadmau5 who has become my teacher in making trance music that helps me relax, play, dance, and reconnect with my divinity when my soul feels lost in fear and future.
How did I compose this song?
In Ableton Live 9 Suite, I used three instruments to make everything except the drum beats.
Serum synthesizer with SynthHacker preset BassjackersElectropluck from inside EDM plucks played on my M-Audio Code 61 Black MIDI controller.
For the arpeggio, I used the Sytrus synthesizer on the Chip 3 preset along with C Major, velocity, and note length MIDI effects played on my M-Audio Oxygen 25 MK IV USB Pad/Keyboard MIDI Controller.
The pad comes from Morphine Additive Synthesizer using the PAD Soft-n-smooth preset on my Push 2.
The drum beats are a few of my favorite samples from the Indie Dance and Nu Electro WAV files which were part of a huge sample pack I bought originally with FL Studio 12.
Thank you for reading about my ninth song published first to @dsound and my song #31 produced since starting electronic music production in 2017 with no previous experience!
Love,
Jerry Banfield
---
► Listen on DSound
► Listen from source (IPFS)