When Earth? (title track from the WHEN EARTH? album) - Daddy Daycare 2.0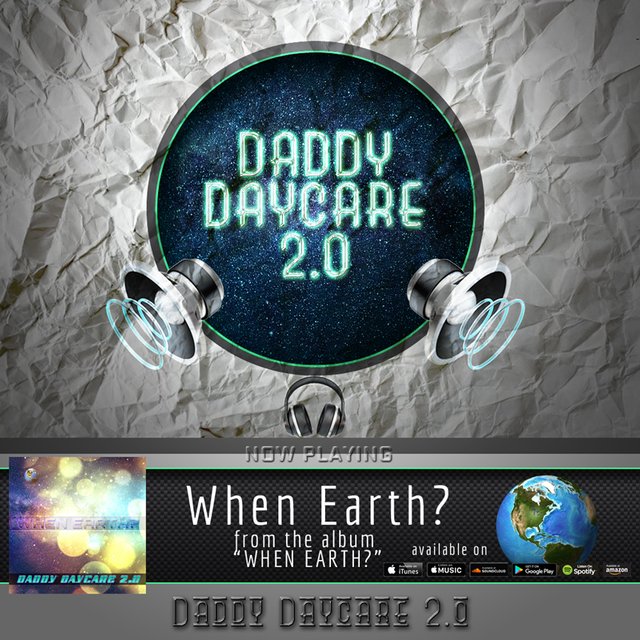 ---
As our beloved Bitcoin and alt coins fly South for the Winter, this seemed like the proper time to introduce "When Earth?", the title track of the WHEN EARTH? album by Daddy Daycare 2.0.
As crypto began to rocket in early 2018, we endured a massive wave of irrational exuberance in the crypto-verse. "When Moon?" many asked about their favorite tokens, while many of us were coming to the realization that we passed the Moon long ago! We were awakening to the reality that we were in orbit, far beyond any rational trajectory we ever had in mind.
This track takes you for a trip and drops you off right back in the street. Slap on some headphones and crank up the volume, let's peer out the window of this spaceship together. If you like this one, bang on that upvote button and follow me for more tunes!
Thanks for lending me your earholes!
WHEN EARTH? album available now at:
ITUNES ⬇︎
https://itunes.apple.com/us/album/when-earth/1437580793?uo=4&app=itunes
APPLE MUSIC ⬇︎
https://itunes.apple.com/us/album/when-earth/1437580793?uo=4&app=apple+music
Google Play ⬇︎
https://play.google.com/store/music/album/Daddy_Daycare_2_0_When_Earth?id=Bixlgtnu42ialkal4d55ey2vqju
Amazon ⬇︎
http://www.amazon.com/gp/product/B07HR3Q8VR
Tidal ⬇︎
http://www.tidal.com/album/95806892
Deezer ⬇︎
https://www.deezer.com/album/74276272
Spotify ⬇︎
https://open.spotify.com/album/6TWzbylboxmkQNE8us5IBs
Youtube Music ⬇︎
https://music.youtube.com/browse/UCEc8dd3F2eGXPtUfT32EiOw
Napster ⬇︎
https://us.napster.com/artist/daddy-daycare-20/album/when-earth
all content in this post is original, created for Steemit by

You can now stream 41 Daddy Daycare 2.0 tracks on Choon.co for FREE!





---
► Listen on DSound
► Listen from source (IPFS)