Drug flooding in Steem-Engine
I keep playing @drugwars despite the criticism.
I think they are doing a great job developing a game that started being super simple and that every week is improving like good wines do.
I will not say that it is excellent but I recognise the team's effort and enthusiasm for continuous improvement.
I also believe that it is still a gateway to the blockchain steem as they continue to attract new users to the game from other platforms such as Facebook.
When these users realise that behind the game is the Steem Blockchain, the next step is to open an account on steem.ninja and thus be able to enjoy the tokens received.
Taking a look at steem-engine I have noticed something incredible coming from @drugwars, they have created 15 new Steem-Engine Tokens all related to the game and therefore, with drugs.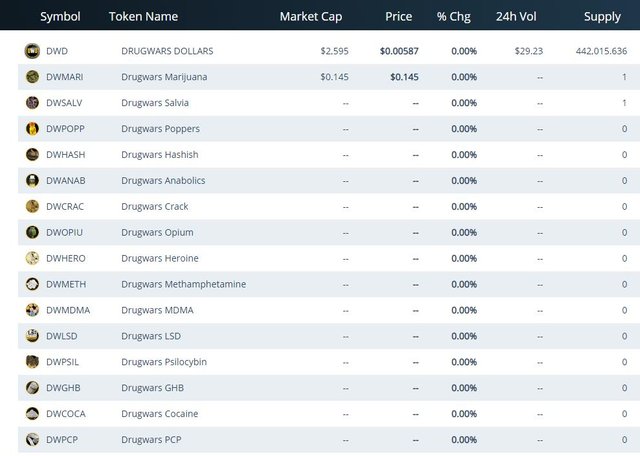 And it seems that our "gang" is not only going to be nourished by generic drugs, alcohol and weapons.
It seems that they are also developing a token for each type of drug needed by each resource.
So let's be ready for a huge update soon on the game.
In my opinion, the developers @futureshock of this game have been judged very badly.
I believe that their decision not to continue using the Steem blockchain to contain the basic dynamics of the game was completely necessary because, although STEEM blockchain is one of the fastest in this technology, it is not enough fast to contain such instant processes.
However, all the "battle" data is still written on the Steem Blockchain, so it is not fair to say that this game does not use the Steem blockchain.
Possibly, @drugwars is one of the few Apps that use STEEM blockchain and continue to develop its product at a good pace, despite the bad times we all are suffering here.
Good work @drugwars, please keep improving!