I thought i lost everything in drugwars, until i did this....
Hello Steemians or fellow drugwars players, i saw no post regard the last changes and there for i created this post. Two days ago i opened drugwars and saw everything on zero, i saw no buildings, no army, no income, just nothing. And at first i thought WTF i got robbed for real, but then i started to look around and try a few things.
And just for the record, im not connected to @drugwars, and im just a fellow Steemian who love playing the game, and i only wanted to make this post, because i still saw people in the drugwars chat thinking that they lost everything, just like i did. That motivated me to share this info.
Now this is what i did.
I picked out a location.
then chose a spot in that location.
Then i clicked on primary below my name, on the left-side of the screen.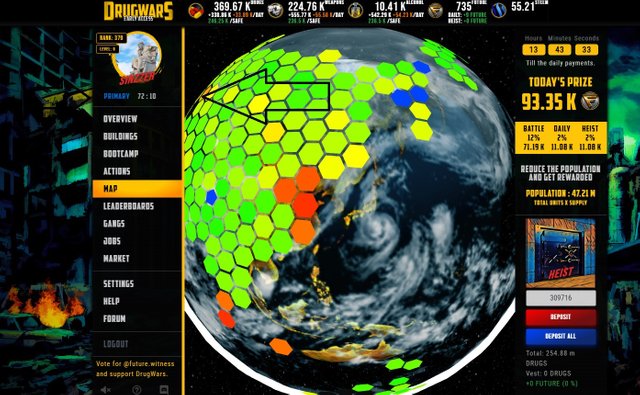 Primary is on the leftside of the black arrow.
And that's it.
Now you will see that all resources will be on zero, and that might motivate you to think, F...k this shit. But i must say the resources rise faster then before, and that gives all a better chance to create a bigger army, or to upgrade buildings. I mean before this update or what ever happen in drugwars, was way slower then now.
And if we look at the value of the coin, then losing one day on resources would not hurt nobody. It would only hurt our ego that we had no idea about these changes. But if we can grow faster after losing one day of resources, and will also create a opportunity for everyone to get more competition and on the end more fun, then why not!!
So i hope this info can help out to make sure that you get back what you lost!
Search location!
Chose a spot!
Then chose primary!
Then wait and see!
Cheers