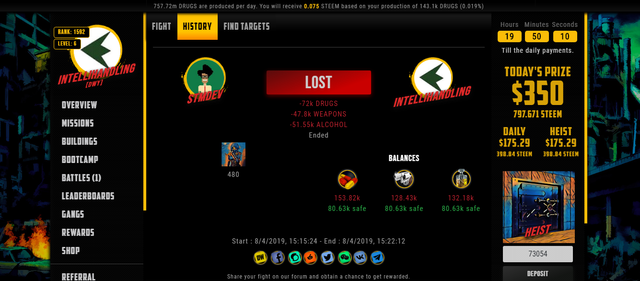 Dear @steem-bountiers
this week i got attacked directly from some users without they send any spy before.
After it, due to fact i was almost sure that none want attack me if i am member of a gang, i decided to rebuild my troop in order to stop to feed robbers.
Now after i grown my troop, none is attack me directly.
So there is something i do not understand, if @drugwars removed the option you can see the production and troop without attack, how they know it?
Of course i am asking it to my lovely @steem-bounty friends.
I always support my beloved community of @steem-bounty.
Join the Club!
We have built a new service that will help you get upvotes using your own SteemPower.
Check out how it works and sign up here: https://steem-bounty.com/services/vote-club
Put a bounty on it
Make money and win bounties or Increase engagement using bounties:
www.steem-bounty.com
Please vote for our Witness
Thank you very much for your attention and we hope you will vote for steem-bounty as witness!
In order to do so you can go to:
https://steemit.com/~witnesses
And enter the "steem-bounty" account into the text field and click vote.
Or use steem-connect to vote directly for @steem-bounty as Steem witness!