Let introduce a bit our in virtual DRUGWARS game gang: [DrugWarsYakuza] or short tag is [DWY].
Possibly you ask why the Japanese mafia? First is cool!
As well as the founder of the clan @kobusu is big fan bushido, trained a bit in kendo, anime love etc....
Also already wase ojabun (the boss mean) in Yakuza when wase yang in the Ultima Online apk guild hehe
If your hobbies are the same great, you will find many like-minded people, if not, it's not important we are open-minded and don't like frames and restrictions... We are not nationally oriented and welcome players from all over the world, basic English is more than enough.
Try to develop strongly connected by one goal team, be rich and have joy from gameplay community of The Players. Join today and can be one of the main core member with good rank if you show your self well.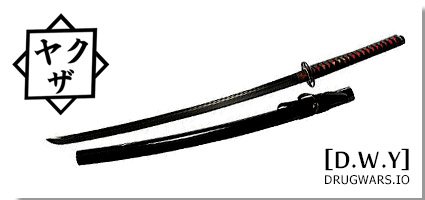 Our main priority is to take a strong position in the game, for the well-being and wealth of our members.
So if you are the strong-willed and decent person we are glade to see you in our Team.
Joining our clan and you will get support and defense help etc.
This free for you, all we need loyalty to the community, keep secrets inside etc.
Lets our force is rise mates! Have fun!
Good post from our member: https://steemit.com/drugwars/@meowgan/drug-wars-battles-are-beginning-it-s-time-to-join-yakuza
Recruiting on Discord DrugWars channel: https://discord.gg/ubyNBGF
#gang-recruiting room.
Contact:
dwyakuza [DWY] #3378
kobusu [DWY] #660





Also:
If you are a novice , lack of troops and you are interested in protection from the DWYakuza as a prefix to the nickname and reasonable support in growth, send me 4 steem for 1 month of the protection (this offer is limited in time...) Thanks.
Art of War will guide as to win.