New steem user onboarding, you won't believe the math!
Who says the math is hard? People who are behind drugwars certainly do not think so. In a world governed by social media, worldwide communication, interaction, news, sales, and revenues are all impacted by mass usage of those platforms. What does this mean for crypto, especially steem? 2.65 billion people were on at least one social media platform in 2018. How can we tap those huge numbers and divert some traffic to blockchain? The answer is simple. Blockchain platforms need to provide something that those 2.65 billion people will find interesting. In order to do that, a lot of psychology and market research is needed to pinpoint key elements that social media platforms have and blockchain is lacking. Or is it? The main reason why people turn their heads from blockchain is that it seems too complicated or too boring for the adoption of masses. This means that it is not user-friendly and fails to offer something interesting to a "regular Joe." What if there was a way around that?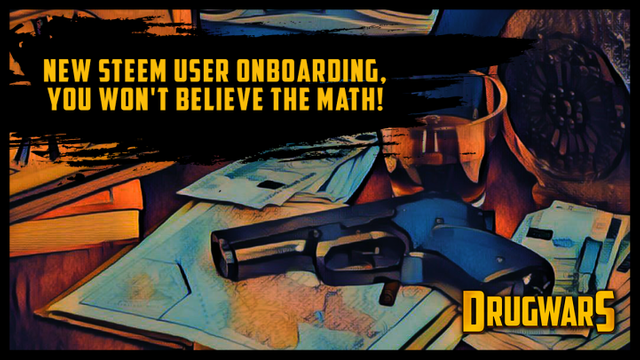 One of the biggest parts of social media platforms are games. Those games are played by a huge number of players around the world and bring vast amounts of revenue to the platform. They are shiny, easy, and fun. They are addictive. Gaming is the portal that should be used for bringing new users to steem. The math of stepping through that portal is easy. FUN + FAST = SIMPLE. FFS system is the key to mass adoption and new onboarding of steem users. We need to offer people a fast way to join the blockchain platform, and that way needs to be fun in order to be interesting. If something is both fun and fast, simplicity becomes the obvious description of the process. Since some social media platforms are planning the creation of their own cryptocurrency, steem has little time to take its opportunity before the train leaves our station and the opportunity window is forever lost. We need to be the first who will introduce people with crypto. If we miss the chance of being the first crypto contact, it will be much harder to become the 2nd, 3rd, and so on. The time for action is now. FFS system that drugwars will be using is the first colossal step in building the bridge between existing social media platforms and blockchain.


Drugwars game has implemented a login system where players can log in with their Facebook and Google accounts. Up until now, they were able to play the game and earn cryptocurrency with their playing. The logical next step is providing them the option to actually withdraw that cryptocurrency and trade it on the market. This is our last step in the "playing for money" story. Users can now login with their social media account, play the game, and easily withdraw everything that they have earned. Drugwars will create a steem account for every social media user. Since Steem Engine is connected with steem, the withdraw process will allow users to safely take their earnings from the game and trade them on the market.
STEEM ACCOUNT creation
For every player that has logged in with social media, Drugwars has created a steem account. When a new player logs into the game, the process of creating his steem account will be automatic. A new player will get the info about his account as soon as he logs in for the first time. To see the info, a player needs to click on settings in the left menu. The main screen will open on settings automatically, but there will be three tabs above it: settings, steem, privacy. Clicking on steem will open the information about the account.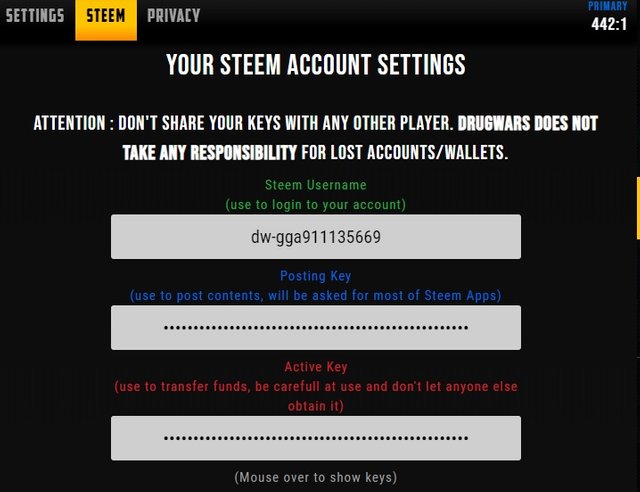 Steem username, posting key, and active key information will be provided. The username will always be visible while the keys become visible once a cursor is put over them. Users who have logged in with their steem account, will not see this screen. Only users who have logged in with social media will have this screen.
Withdrawing funds
These keys can be used to safely withdraw the funds from the game to Steem Engine platform where they can be traded on the market. As with any other token, the price of DWD on Steem Engine is determined by users and it depends on the demand. To learn how you can withdraw your funds, we made a detailed step-by-step tutorial for you that you can read here:
Tutorial - withdraw and send tokens.
Once a user withdraws his funds, he will need to log in to Steem Engine with the steem account that dugwars has created for him.
Additional help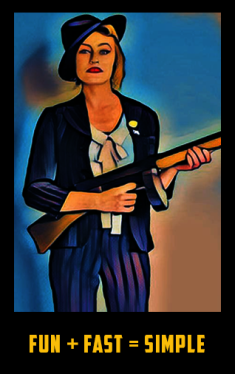 For a lot of players who will come from social media, drugwars game will be their first encounter with the crypto world, and most specifically the steem world. Drugwars team is planning to offer additional help with detailed guides and information about what steem is and how they can use the blockchain platform. We will guide new users in steem usage, not only drugwars usage, and help them in learning how to sell steem, purchase steem, publish posts, comment, upvote, use dApps, etc. There will be a special channel in our discord server for new steem users and a detailed document which will help them on their crypto journey. We plan to be a kind and patient teacher who will provide basic information, answer questions, and give links to other places where they can learn even more. As being their first encounter with crpyto, we will take our role seriously and responsibly because we know that the first impression is often a deciding factor between staying or leaving. FFS system of doing things will be our most important rule. To make it fun and to make it fast is to make it simple.
FUN + FAST = SIMPLE


Having more users on steem blockchain benefits everyone, especially those who have tokens on Steem Engine, as drugwars has. The value of steem and the value of tokens on Steem Engine increases with demand. That demand increases if users are familiar with the blockchain and use it on a regular basis. Our main goal is to have an absolutely fantastic and fun game for our players which they can use to earn cryptocurrency but it is only natural that our second plan is to introduce them to the blockchain platform and make them stay on it. Drugwars has been preparing for the mass adoption and will be ready to take on the role of the portal to steem for any new user that will come from social media platforms.