Fight system, prestige & lottery
And a fork fork here, and a fork fork there. Here a fork, there a fork, everywhere a fork fork. Old McSteemit had a fork, F-O-R- and -K... Now that the forking times are behind us, and we can continue along our wonderful gaming journey, a new batch of freshly baked news about Drugwars is ready for you so put those reading glasses on. Forking has unfortunately tied our hands at some times, so we now have much ground to cover and give you all the details that you need. Are you ready?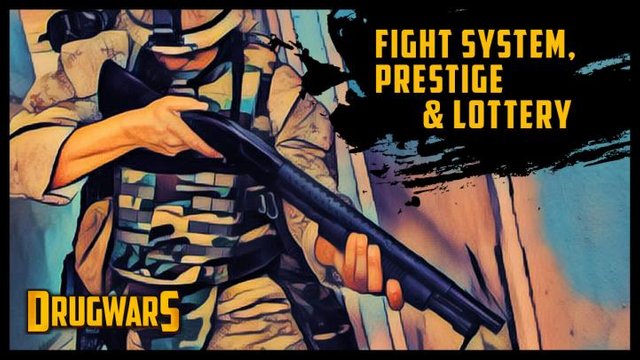 We would like to thank our players who were so lovely while the game was going up and down during the last couple of days. We were dealing with issues as they came up, but while the blockchain was down, so were we. Thank you for being patient and waiting along with us. Now that the dust has cleared, we are prepared to move on and present you with some new and exciting stuff in Drugwars.


We mentioned prestige in our previous post, and we told you how we will give you more information once the season starts on 5th of September. Yes, today is the 5th, and season has started. Well… "Almost started" is a better way of putting things. We decided to make a pre-season and test it out. This will not only allow you to get use to the new rules of gameplay, but it will also allow us to see what things can be additionally improved.
How will it work?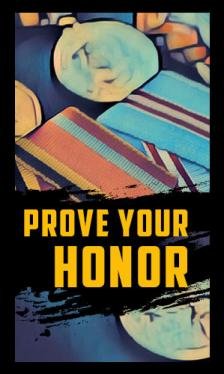 All your prestige (previously called reputation) has been set to 1000. That number will go up and down based on who you attack. If you attack players who are equal or higher than you regarding their drug production, it will go up. If you attack small players with drug production lower than yours, it will go down. Of course, this will depend on the number of units you actually kill. If you kill no units, it will remain the same. Some other things will influence your prestige too. We are planning to implement that almost your every action has some sort of effect on it. Since this is the pre-season where we will be testing things out, you will not always know what we did, but you will see that your prestige has changed. Do not worry about it. It will in no way affect anything in your game. However, if you attack small players it will always go down, and if you attack stronger, it will go up. This is the only thing that you should have in mind, for now. We are thinking about awarding some of you once the pre-season is over, and before the actual first season starts. That way, we will award the best of you who have already developed the habit of honorable play and "attacking someone your own size." We will keep you updated on how our works on the prestige will be going on.
Spoiler alert: once the first season starts, your prestige will have an impact on your daily rewards too. You can call it a reward philosophy or a punishment philosophy, it doesn't really matter to us. Whatever you decide to call our vision for prestige, rest assured that players who will play fair will benefit from it while those who will not, well... The logic is pretty simple.


We are preparing a grand battle system that will be (we were never modest anyway) the best in the entire gaming Universe. Yes, it will be huge and a bit (a lot) different than it is now. BUT. There is always a but, isn't there? (but our butt wears a thong and is sexy as hell) Our but comes with adjustment and being comfortable with new things. Since the big implementation will come in a few weeks, before it does, some features of it will come earlier. One of those features is units fighting in clusters. Just as rowdies were fighting in groups of four, now all units fight in their respective clusters.
What, what? In the…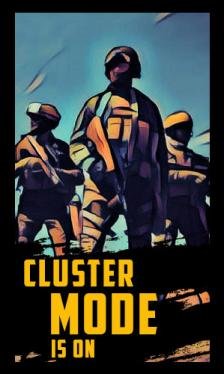 When you go to your bootcamp in the game, you will see that every unit now has the information about its cluster. That number represents the maximum number of units in a cluster. For example, Gunman fights in a cluster of 1500, that means that if you send 100, 750, 1000 or any number of them up to 1500, they will fight together. If you send more than 1500, 2000 for example, there will divide into two clusters. This implementation not only follows the logic of real life where people do not go into battle one by one but in groups, it also represents one of the great features of our new battle system where you will manually move your units during the attack… Oh crap. Did I just say manually? Silly me. I must have had too much of that Drugwars alcohol. Never mind. Forget I said anything ;) Just trust us that the new battle system will be something never before seen in the gaming industry. For you old folks who are afraid of change like it has teeth, you will still be able to go into fights with the system playing the fight for you. But until then… Enjoy units who fight in clusters and remain in your eagerly-awaiting-for-the-new-system state. It will come soon. Just do not forget to use the simulator before an attack. Learn the ropes.


Just when you think that we can not find another way for you to get some more DWD tokens, we come up with something new. So far, you were able to earn DWD tokens from your drug production, killing the population of Drugwars in battles, and investing in the heist. A new, fourth option is now available. It is our DRUGWARS LOTTERY!
How do I play?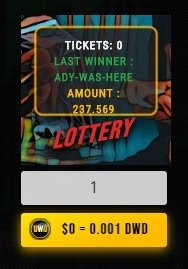 Each day, 5 DWD will be the initial lottery prize. With each ticket that is bought, the prize goes up. You can buy as many tickets as you want, 1, 500, 1000, it is up to you. Since the ticket only costs 0,001 DWD, all of you can afford it. The prize, on the other hand, is huge in comparison with what you have put in to buy your ticket. At the time this post is being written, the prize is 294.205 DWD tokens, but we are sure it will go up until the day is over. Yes, you can buy a ticket for 0.001 DWD and win 237.5 DWD tokens. We have one lucky winner each day, and if you want greater chances of being that winner, buy more tickets. It is a simple and small investment that can possibly give you much more in return. You just need to be lucky enough. The name of the winner will be put in the lottery info for everyone to see and be jealous of. Good luck!
We have found the way to pick the winner in the fairest way possible, by using the blockchain itself. At midnight of Drugwars day, we take the last steem block and then we recuperate the merkle_root of the transaction and use it to create a hash which will determine the winner with that formula. You can see the code in the dev channel of our discord.


Some additional things that you need to be aware of will follow. Some are minor, and some are major, but they are all in some way connected with your Drugwars experience so read carefully.
jobs are a bit harder now since NPC units are currently also fighting in clusters
jobs are still being developed to be more fair and rational
fight resolution has been improved and instead of up to 60 sec, now takes 2 ms
unit features like attack, defense, health, etc. have been divided by 10. This is only visual, nothing more. Where it said 20, it now says 2, etc.
simulator has been improved and there are no more issues when you put in a lot of units
important information will be above your image in the game
some units have changed their appearance, and yes, Ninja is still a female
DWD market information has been added to the game
you can now move your base to a different location, the feature is located in the overview
gang chat has been added. If you are in a gang, you will see your gang chat and only members of your gang will be able to participate in it
and last but not least, we have survived the forking times