Drugwars is over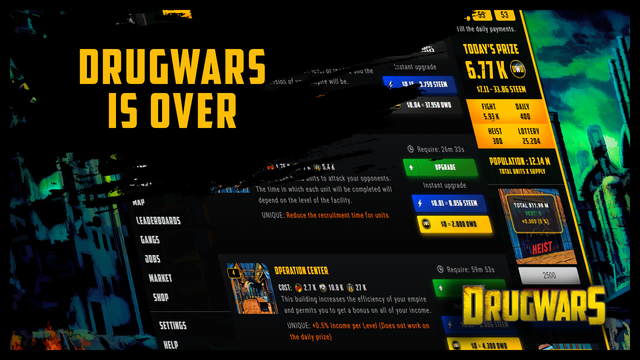 Well at least this season...
Season is closing soon. (at the last day of June)
How are you appreciating L.A so far?
You should hurry and use the rest of the month to destroy as much opponents as possible in both servers.
Quick reminder: the top 1 gets 100K DWD (in Detroit)
As for L.A the price will be divided by 3 as the server was opened recently.
We've launched the pre-season on the 5th September 2019 and we can't believe how time pass by so quickly as it is the almost the end of the first season.
That also means, that we are getting to the serious stuff now.
How does the prestige work up to now?
At the start of the season, every druglords prestige was set at 1000 points.
If you attack higher players your prestige score will go up, on contrary if you attack lower players than you, your prestige score will go down. It will also depend on how many units you'd kill in a fight, if you kill no unit, your prestige score may be different. This is comparable to the chess ELO system.
That season emphasizes on battling players your own size instead of always looting the lower ones.
How will it change?
For the next season, that will start on July 1st, we have decided on emphasizing the cruelty of the Druglords.
The players will still have to battle higher players BUT the more units you kill the more cruelty bonus you'll get, which can turn out to be a very high bonus.
This time, you will have 3 months to up your cruelty starting from 0 for each players.
Anti Share fight abuser
Because share fight abusers have been stealing upvotes from honest player, we've decided to counter fight that by removing the share option on no real fight. If you can't see a share button, try to do a real fight and the button will appear again.
For example: fight post with only a spy won't count anymore.
Honest fight post
We expect from the players to be honest and share real fights, which means to have at least a real fight content in it. By doing so, you will have more chances to get an upvote.
Bonus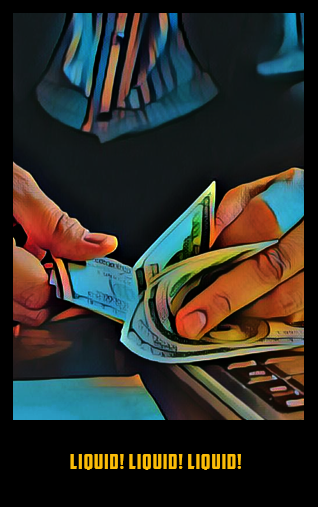 If possible, we also ask some creativity from the players.
For example: instead of just sharing a fight post, why not use this opportunity to tell a little bit about your strategy, why did you choose this or that unit, why did you choose this opponent etc.
We love storytelling and that will be your chance to tell the story of the fight, and why not to imagine a story to go with that fight.
We can't promise anything, but that could definitely lead you to have more chances to get an upvote and why not even a bonus with liquid tokens (DWD or STEEM)...
Drugwars cheater or contributor, it's up to you to choose.
Since day one of Drugwars, we've told our players that we are against all forms and types of cheating. We have drastically reduced the bot presence in the game, we have hunted bugs and plugged loophole. Obviously, our players are super creative and will always find ways to find new flaws.
Once you have found a flaw, you have two ways to deal with it; either you tell the team or you decide to use and abuse the flaw and cheat the system
For the first option: you may get a reward depending on the nature of the flaw and so become a contributor to the game.
For the second: we can't be sympathetic, because not only you've cheated the Drugwars team but also the whole Drugwars community, which is why we will have to punish, by removing the potential reward for your account.
Final stage of new Steem users onboarding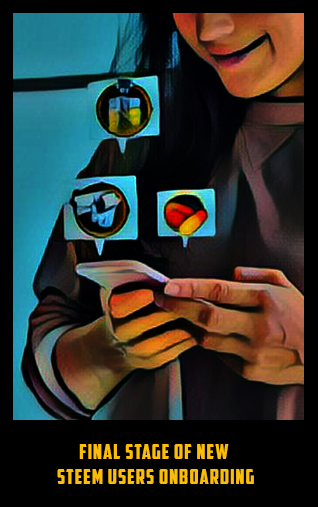 For the players who logged in through Google, Facebook etc, you can soon have access to your master key in the settings. You are now in full control of your account, if you need any help to understand the blockchain better or need a tutorial on how to manage your keys, feel free to talk to any of the team members for a one-on-one tutorial and lesson.
Through Drugwars you got to understand the crypto-economy, the Steem ecosystem, the use of the blockchain. We hope that you will keep on digging through this incredible technology and introduce it to friends and family, and why not loot their crypto directly on Drugwars.
The future of Drugwars on Steem
Many games have left Steem or simply stopped running. We as @futureshock team promise to never stop running the game in any circumstances. Furthermore and as the most used app on Steem (after Steemit) we are also looking for different options to develop it, after reaching the version 1.0 which should be done in the coming months.

As usual, we always listen to your suggestions, ideas and bugs reporting. So never hesitate to let us know about your thoughts.
Any questions? Just join the DrugWars community on Discord : https://discord.me/drugwars
To support the development of Drugwars you can vote for our witness : https://steemlogin.com/sign/account-witness-vote?witness=future.witness&approve=1