Alcohol is the drug of the obedient (A totally exaggerated hate speech [or not?])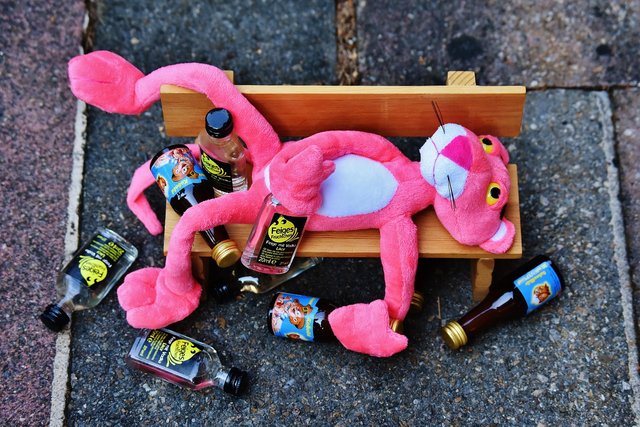 There are a few drugs which destroy braincells. One of them is methamphetamine, but another one is alcohol. Alcohol also isn't mind expanding- it's actually numbing and dumbing as fuck. It doesn't strenghten the constitution- it weakens the mind and the body at the same time. Did you ever went to a family birthday and got asked: "Why don't you take a shitload of magic mushrooms with us? Come on, it's your uncles birthday."? I don't think so. Because this would be illegal and "not correct". Therefore the social pressure to drink alcohol is huge. There is nearly no party with friends, family or coworkers without it. If you don't drink, the chances are quite high to get judged. Society hates drug addicts, sents them to prison and blames them for everything they do. Alcoholics on the other side are quite accepted. "They are just some lonely old man having a beer too much." Apropos man: Drinking beer can transform them into semi-women. It can let you grow a lovely pair of tits. Alcohols kills more people than heroin or any other drug, it's also often the reason for sexual abuse, violence in general and so on. While psychedelics can cure a depression, alcohol just represses the symptoms, until the depression comes back worse than before. Alcohol is, like amphetamines, cocaine and benzos, a drug of the system. A drug which makes you accept your shitty life, a drug which will not let you question anything, a drug which will keep you believing in nations, taxes, political partys, celebrities and the fucking patriarchy. Keep on obeing and drink your brain away!
Es gibt ein paar Drogen, die Hirnzellen zerstören. Eine von ihnen ist Methamphetamin, aber eine andere ist Alkohol. Alkohol ist auch nicht bewusstseinserweiternd - es ist betäubend und verdummend. Es stärkt nicht die Verfassung - es schwächt den Geist und den Körper gleichzeitig. Warst du jemals bei einem Familiengeburtstag und wurdest gefragt: "Warum nimmst du nicht eine fette Ladung Magic Mushrooms mit uns? Komm schon, es ist der Geburtstag deines Onkels."? Ich denke nicht. Denn das wäre illegal und "nicht korrekt". Daher ist der soziale Druck, Alkohol zu trinken, groß. Es gibt fast keine Party mit Freunden, Familie oder Kollegen ohne diesen Druck. Wenn du nicht trinkst, sind die Chancen ziemlich hoch, dass du verurteilt und kritisierst wirst. Die Gesellschaft hasst Drogensüchtige, setzt sie ins Gefängnis und gibt ihnen die Schuld an allem, was sie tun. Alkoholiker auf der anderen Seite sind durchaus akzeptiert. "Das ist nur ein einsamer alter Mann, der ein Bier zu viel hat." Apropos Männer: Bier trinken kann diese Geschöpfe in Halbfrauen verwandeln. Es kann ihnen ein schönes Paar Titten wachsen lassen. Alkohol tötet mehr Menschen als Heroin oder andere Drogen, es ist auch oft der Grund für sexuellen Missbrauch, Gewalt im Allgemeinen und so weiter. Während Psychedelika eine Depression heilen können, unterdrückt Alkohol die Symptome nur, bis die Depression schlimmer zurückkommt als zuvor. Alkohol ist, wie Amphetamine, Kokain und Benzos, eine Droge des Systems. Eine Droge, die dich dein beschissenes Leben akzeptieren lässt, eine Droge, die dich nichts in Frage stellen lässt, eine Droge, die dich an Nationen, Steuern, politische Parteien, Prominente und das verdammte Patriarchat glauben lässt. Mach weiter und trinke dein Gehirn weg!
Disclaimer: Even I sometimes drink alcohol, but at least I know, that I am a controlled sheep. Baa.
Disclaimer: Auch ich trinke manchmal Alkohol, aber zumindest weiß ich, dass ich ein kontrolliertes Schaf bin. Mäh.