Since she was very little, she had been infatuated with the idea of Santa Claus, giver of presents. She really liked the thought of good people being rewarded, though she disagreed that Santa should only come at the end of the year. She thought Santa should come whenever they could, so the children can be happy all year round, and not wait until December for their presents.
This girl came from a well to do family and when she told her wishes to her parents, they felt very proud of her and supported it immediately. That's why all year round, from time to time this little Santa was busy spreading presents to other children.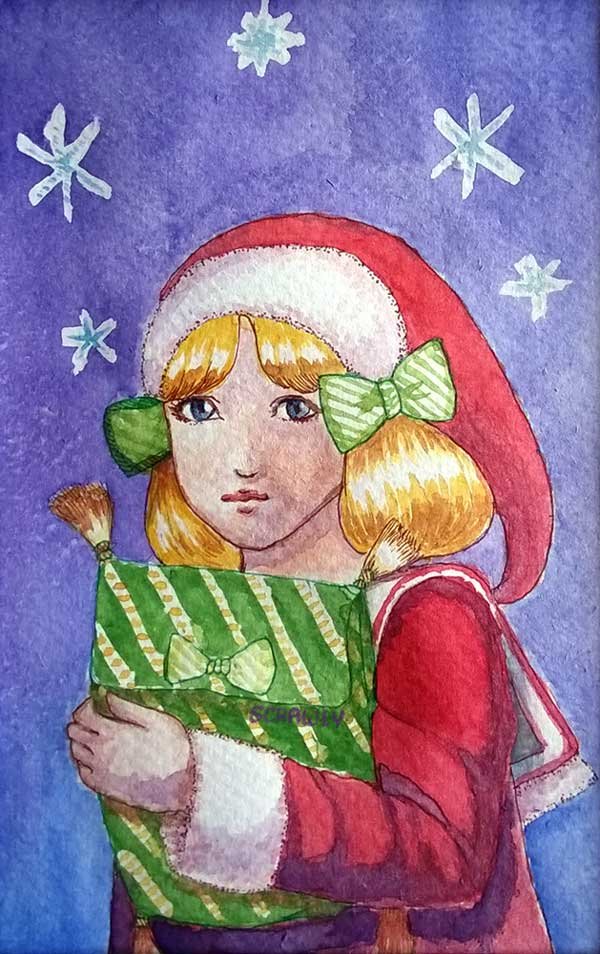 Copyright @scrawly - All Rights Reserved
Another watercolour practice, this time I want to create a more colourful piece with strong colours. Putting and blending the colours are still difficult and I make her arm a tad long here, oh well XD.
Status: New illustration


My Steemit Journey
I joined this website to share my art journey and to improve my skills. I'm also here to meet nice and chatty people, especially if they're passionate about art. Follow me if you want to be a part of my adventure, or say hi to me on popular Steemit discord servers, I frequent most of them.
I am a curator for curie, c-squared, and a moderator in Steem Artists. If you are an artist, join us at Steem Artists discord channel here: https://discord.gg/ENN8KCb :).
See you around ♪