It is here! It is Halloween, but also the end of this year's Inktober. It's been a blast and I am grateful to have been able to participate in this display of ideas and skills with the help of drawing.
Here's my prompt for today's theme, which is Ripe. A field full of pumpkins, ready to be harvested and transformed into creative jack'o'lanterns, but that's not all. There is also, quite far in the distance, a table with one cake on it. That is because today's also the birthday of one of my friends from childhood.
Happy birthday, mate! One pumpkin for each year you've been alive on this wonderful Earth!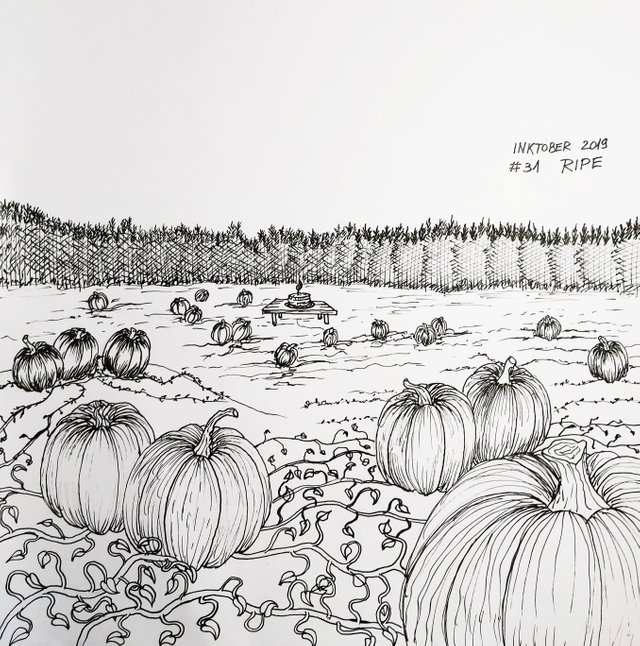 Hope you've enjoyed today's drawing! I would like to share some things regarding the posts that I will do in the near future, so that you will be able to follow them if you are interested.
What can you expect next
First of all, I will focus on building a visual library. That means drawing objects from reference so that I can understand how they are created, what shapes stand at the base of the object and how can I create some using my own imagination.
I will hopefully do those exercises digitally, so you can expect to see as much of the process as possible. If you are interested in me posting those processes of analyzing objects, please let me know by leaving a comment below. If there will be no comments, I will simply share the finished images for your enjoyment.
I think the learning process is incredibly important, so I'll get back to doing it as much as possible. Thank you for being here and I hope you'll have a great day, friends!