My Old Undertale Art (1/4)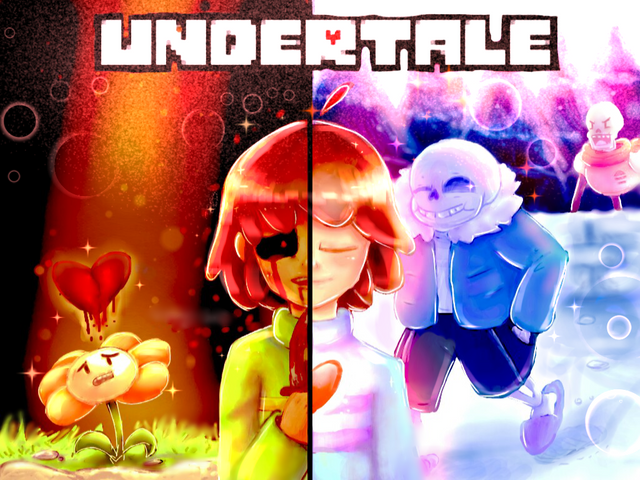 Hewwo everyone my old art is here. This was actually for a contest on Google Plus, the prizes is just to make it to be a community banner.
Ofcourse I join in because.. (Ehem free publicity on the Undertale community :P)
But for some reason the contest kept getting delayed and it never became a community banner (despite everyone voting for mine.. Like why)
This took like HOURSS more time than my normal ones, so I was kinda salty about it.. Because all I want is for my art to be a banner on that community and nothing else.. But meh whatever, atleast I tried to push my own limits with this contest. :(
Anyways
Thoughts
Well.. I really like the lighting on this one, it feels very atmospheric and bright and colorful. How dark and miserable Chara looks like with how fun and bright Frisks side is with Sans and ofcourse papyrus. And flowey the flower ofcourse suffering his own karma.
Though I dont know whats going on with the title of UNDERTALE is kinda messed up like that..
Ohhhhhh now I know it's because there wasn't a border tool on ibispaint and I have to do the border manually.
I really like the grass on Floweys side and the snow is sooo PRETTY and the trees as well, I actually didn't know if I could make a good looking tree, but since its not really visible then I was glad.
One thing I didn't realize was Chara having individual teeth, like damn, my old self has given this a lot of details what the fricc.
I also kind of remembered not having alot of confidence for the hair of both of them, but I'm glad it all worked out and looks pretty nice in the end
Not so fun fact:
I used ibispaint and picsart for this art.
---
Anyways so I have made some progress on the storytime video thing I was talking about in the last post and my program crashed TWICE and I HAD TO RESTART OVER FOR 2 TIMES AAAAAAAA and plus the file didnt save anything GAAAAH I WAS RAGING grgwg1hwa.
I KNOW I TURNED AUTOSAVE ON BUT WHY DIDNT IT WORK AAAAAAAAA. Fucking premiere proooo.
Anyways thats all for today folks sorry if this is short because I didn't have any progress to show cuz this is like.. An art from 2 years ago. I haven't got much time to do stuff cuz I'm still making the video