¡Hola mis steemians!
Hoy les quiero mostrar el dibujo con el que me decidí a participar en este divertido concurso.
La idea es dibujar un campamento, sea en la playa o en la montaña, y poner a volar tu imaginación para demostrar mediante tu dibujo lo que es un verdadero y muy colorido día de acampar; preferiblemente usando un estilo retro.
---
Hello my steemians!
Today I want to show you the drawing with which I decided to participate in this fun contest.
The idea is to draw a camp, be it on the beach or on the mountain, and let your imagination fly to show through your drawing what a true and colorful day of camping is; preferably using a retro style.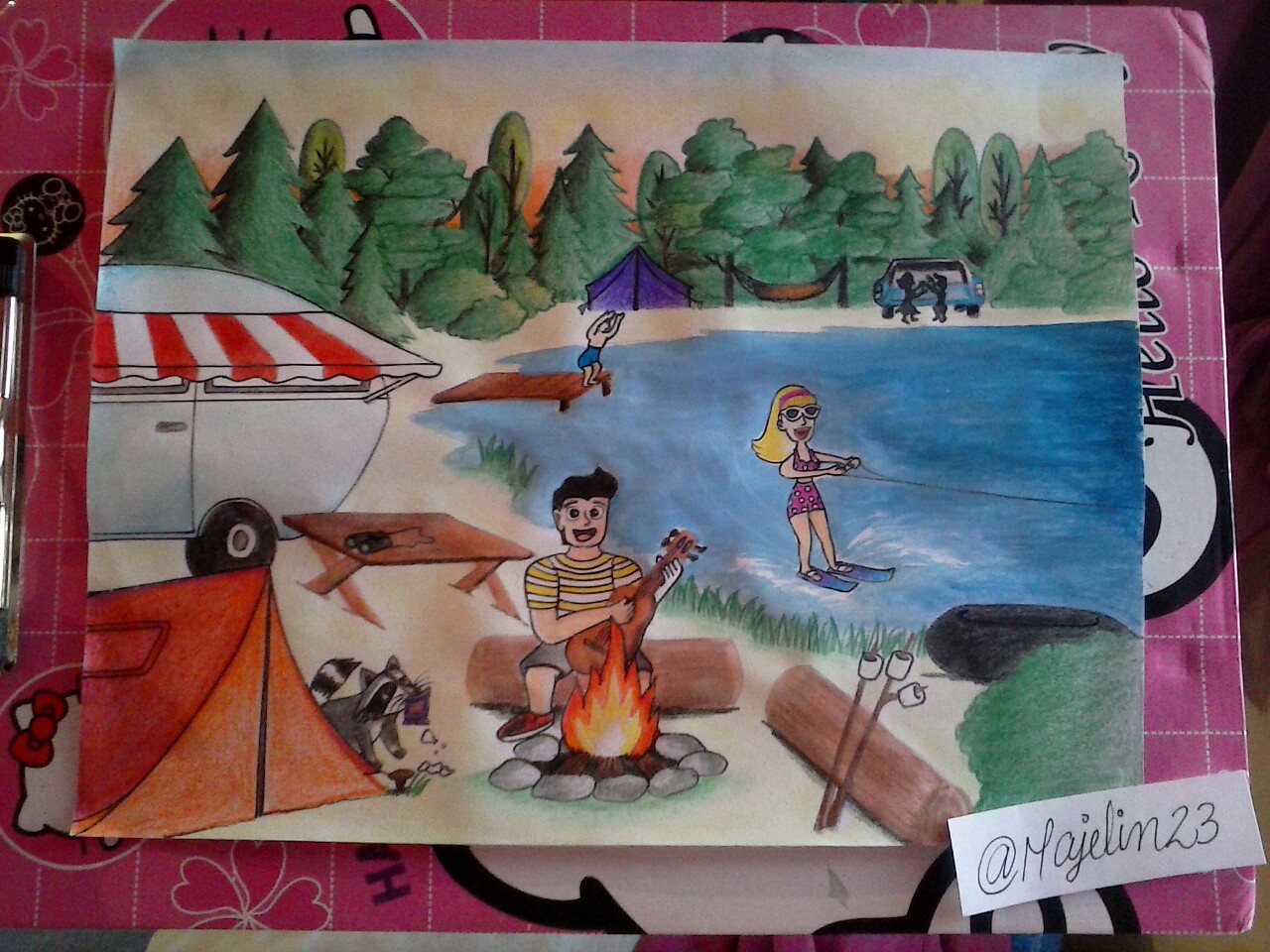 Proceso del dibujo/ Drawing process:
1.- Con un lápiz de grafito, empecé por dibujar las figuras de la parte baja; realizando sólo sus contornos.
1.- With a graphite pencil, I started by drawing the figures from the bottom; making only its contours.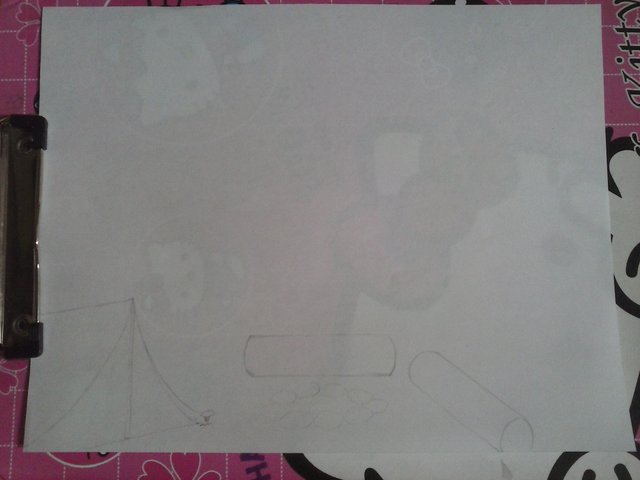 2.- De la misma forma continué con los demás elementos del dibujo.
2.- In the same way I continued with the other elements of the drawing.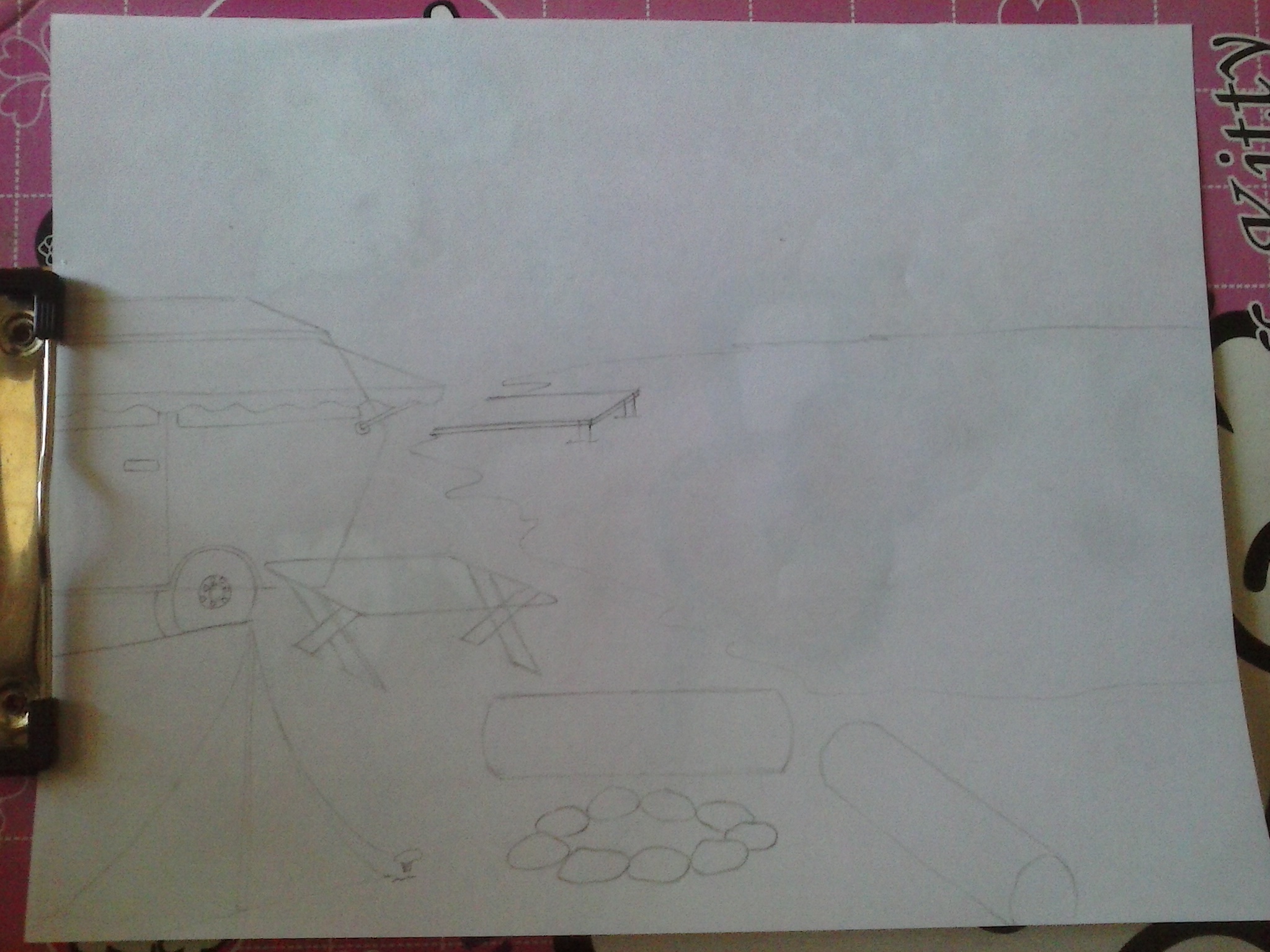 3.- Luego me enfoqué en los detalles de cada personaje y en las diferentes áreas del dibujo.
3.- Then I focused on the details of each character and the different areas of the drawing.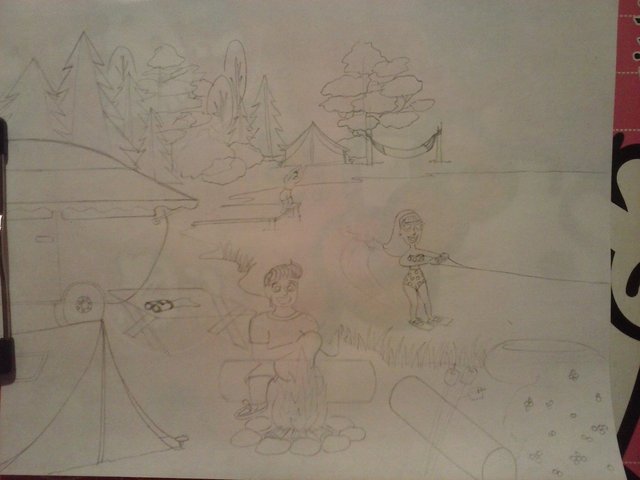 4.- Para simular el atardecer usé tizas de color naranja, amarillo y azul cielo, difuminándolas con algodón.
4.- To simulate the sunset I used orange, yellow and sky blue chalks, blending them with cotton.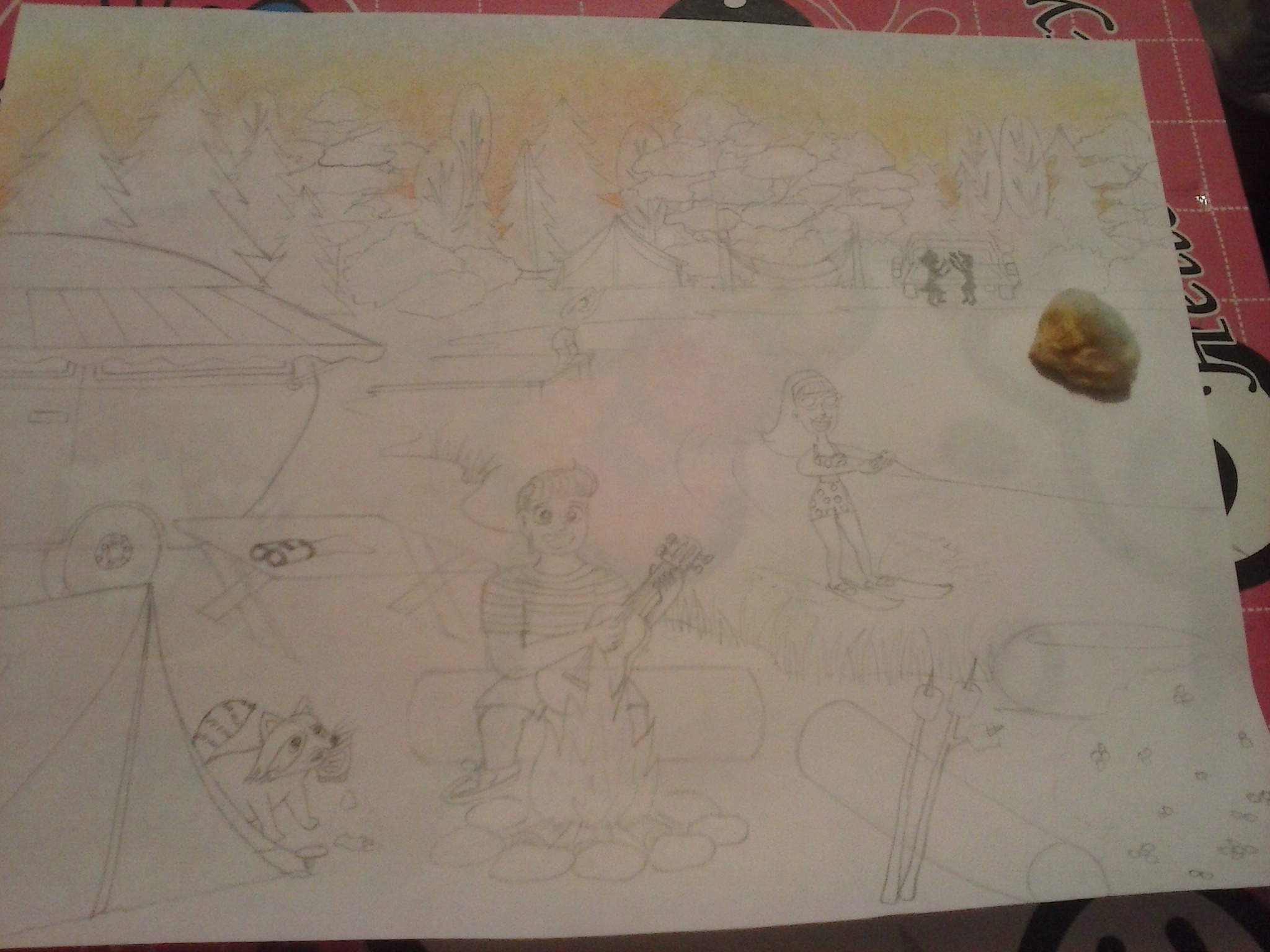 5.- Con un color negro y distintos tonos de verde procedí a pintar la naturaleza, en este caso representada en su mayoría por árboles y arbustos. Así también, fui pintando con los colores correspondientes todo lo demás.
5.- With a black color and different shades of green I proceeded to paint nature, in this case represented mostly by trees and shrubs. Also, I was painting with the corresponding colors everything else.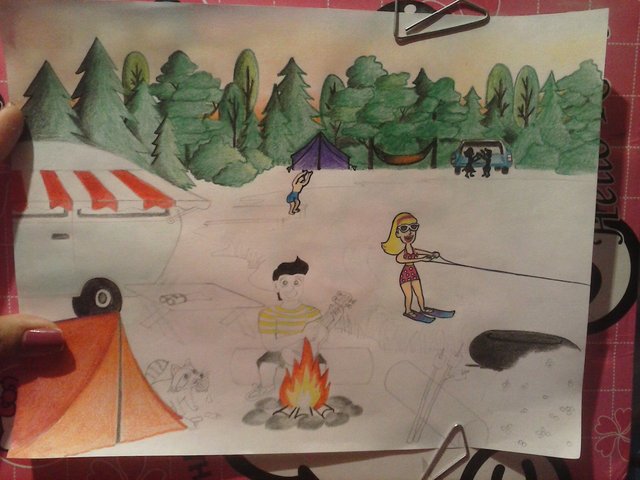 6.- Para pintar el lago usé acuarela, combinando los tonos azules con el blanco. Después seguí coloreando y dando los últimos retoques.
6.- To paint the lake I used watercolor, combining blue with white. Then I continued coloring and giving the finishing touches.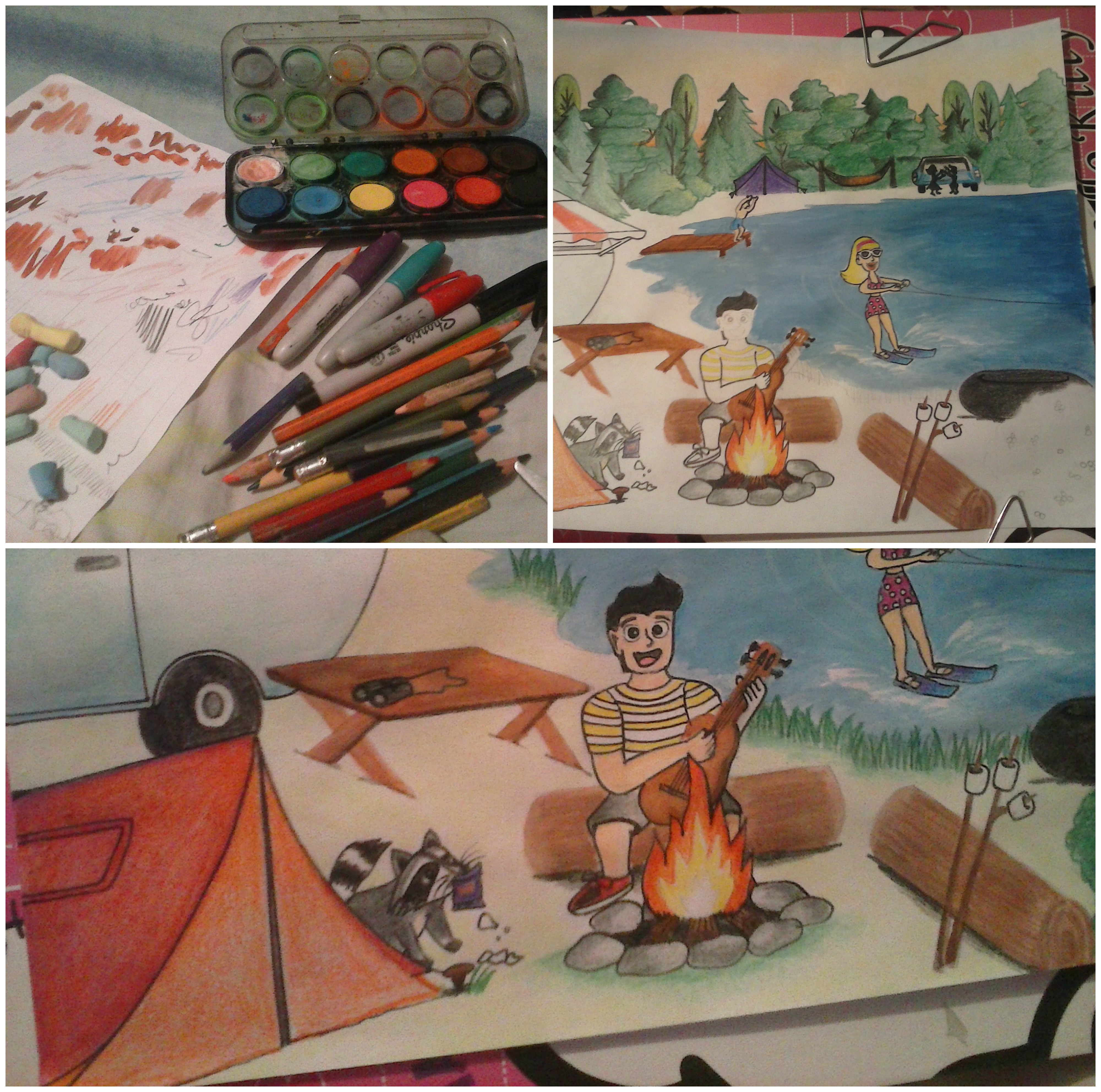 7.- ¡Listo! He terminado mi dibujo. Por cierto, vieron al lindo mapache?
7.- Ready! I have finished my drawing. By the way, did you see the cute raccoon?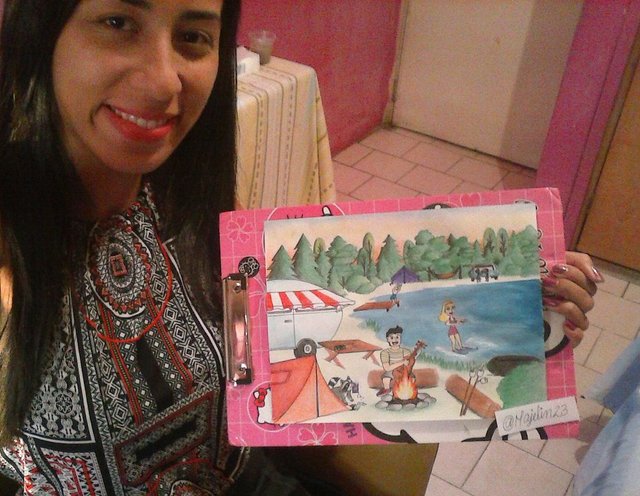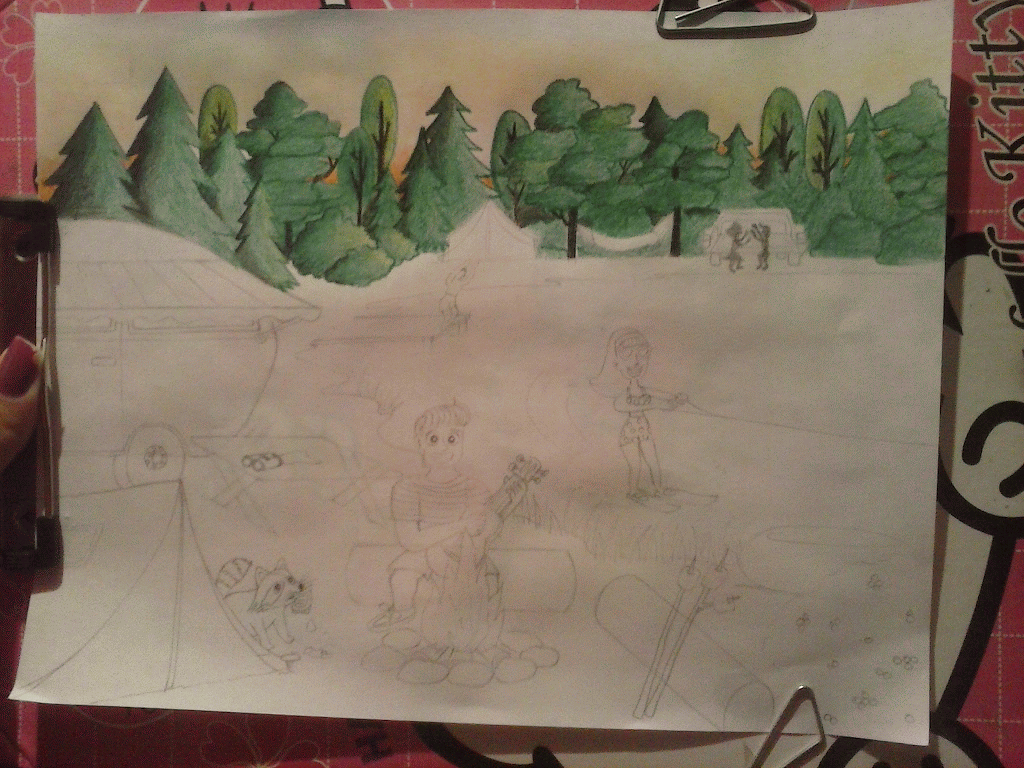 ¡Campamento sin fogata y malvaviscos no es campamento! / Camp without campfire and marshmallows is not camping!
Espero les haya gustado el resultado, tenía tiempo sin colorear y la verdad fue divertido poner en práctica esas cosas que ya casi había olvidado.
Me inspiré en los años 50, época del rock and roll, donde estaba de moda la vestimenta con lunares y los grandes autos clásicos como el que se encuentra al fondo del dibujo.
Intenté representar distintas actividades. Mientras iba dibujando me iba imaginando por ejemplo que los chicos del fondo estaban bailando al ritmo de Elvis Presley; así mismo en todo lago no puede faltar un muelle para echarte un chapuzón y, quien sabe, aprovechar de practicar un poco de esquí acuático.
Para terminar el día; sentarse alrededor de una acogedora fogata, asar unos deliciosos malvaviscos y cantar a la luz de la luna.
Gracias a @agneslaczo por crear el concurso y mucha suerte a todos los participantes 😉
---
I hope you liked the result, I had time without coloring and the truth was fun to put into practice those things that I had almost forgotten.
I was inspired by the 50s, rock and roll era, where polka-dot dress and big classic cars like the one at the back of the drawing were fashionable.
I tried to represent different activities. While I was drawing I was imagining for example that the guys in the background were dancing to the rhythm of Elvis Presley; likewise in every lake you can not miss a pier to take a dip and, who knows, take advantage of practicing a little water skiing.
To finish the day; Sit around a cozy campfire, roast some delicious marshmallows and sing in the light of the moon.
Thanks to @agneslaczo for creating the contest and good luck to all the participants 😉