Marked
Athar looked back.


Was there a noise? Was it in his head? Doubt was a price too high. A luxury one could not afford when time was running out. The once high-born elf gritted his teeth and pushed further ahead. Time. He was almost out of it.

The mark writhed upon his forehead, sending sharp, punishing, undulating agony throughout his body. It was changing shape, yet again. Each evolution sending Athar closer to the end. Each jagged form, a toll upon his mind, the sacred domain of his soul.

Surrender. Release. Let go.

The other voice smiled inside of him, licking its intangible lips in anticipation.

Aren't you tired?

Athar's eyes flashed crimson in the dark. His senses and powers were leagues past what were known and accepted as natural limits. He laughed, bitter and high.

"I was born under the star Atharion when it eclipsed its dark brother, the doomed star, Mor. I was first born to the House Qarda. I was born to rule."

Oh, yes?

"Atharion Qardaeum. Second of my name."

Mouthful moniker. Himself was not as perfect as you people made him out to be.

"Silence. My time yet. Still mine."

The Marked worms always struggle, ... and always so pitifully.

Athar could sense his followers were gaining on him now. A memory from buried moments sighed its pale wisdom, painted in the visage of his mother's face. Her tender hand touched him, "The strong forgives. There is divinity in mercy. Remember your great, great, great grandfather's ordeals."

Famous tales. He wondered now if there was any truth to them. Intolerable weakness. He rebuked himself. One must not listened to the other voice.

The First Atharion Qardaeum was a heroic figure so immense that by the time of his death, the entire nation had gone into a frenzy of mourning. He was a month shy of his twenty-ninth name day, and three months short of meeting his first born. His days ended, but his fame grew.

From a young age, Athar knew every stories, every feats, every miracles. He had felt great flame of excitement and pride deep within his chest, when stories were told of how Atharion Qardaeum had led a small band of selected elves across the Waste of Barduzu, which was said to be impossible for mortals to cross. His great, great, great grandfather had accomplished the impossible by tricking a dragon to ferry them through. Almost every bed time, he had requested this story, over and over again.

His mother, she was fond of the gentler tales. Her blue eyes, passed down to him, would twinkle as she tried to coax young Athar to listen to another story instead.

"Shall we hear tonight of how he had saved the person that had betrayed him at the end?"

The elf frowned, his face twisted up into a mask of sorrow and anger. His heart had betrayed him. A strange voice issued from his mouth that sounded like despair. He no longer believed. His heart had betrayed him.

Really, now. I told you, why would anyone do that for? Why would you forgive someone who took everything away from you? They made it up after he died.

He wished to command the whisper to cease, but he no longer had the strength to pretend.

Hey, it's all good, worm. You are due what you have sought for, and with this body, you won't have any problems.

Athar stood still in the middle of the clearing in the forest. He was running out of time. His eyes had changed colours and soon, the marks would assume their final truth. An ancient rune of a forbidden contract. He had given his words to the other voice inside of him when an old grudge had finally sprung up against his family like an ugly boil ruptured.

"They made the stories up, ... that he had forgiven the traitor so that there wouldn't be war. Another civil war would have been catastrophic for the royal family."

His own voice slipped through the lips that had started to feel distant. "He paid with his life. A final and grand chapter of a divine soul that was merciful and infallible."

A final and grand lie.

"My family. We ate it up. We forgot. We believed the lie."

Not the other. They remembered. They had unfinished business. Unresolved treachery.

"So, father to son, generation to generation, they passed down their hideous and dark purpose. To wipe the Qardaeum out."

And now, they are here. Where it had all begun, and where the last of the Qardaeum stands.

Athar could hear rustling in the thicket, the sounds of boots stomping upon the ground. They came. They came with numbers, and with weapons, and with hatred in their eyes.

"What did we ever do to them to hate us so?"

That is one story we do not have time for, worm. It is time to dance. What will it be? Will you die with forgiveness in your heart, or will you take the final mark?

The enemy was within his line of sight. A small army, already drunk on their assured triumph.

One of their men was shaking a grotesque stick up and down in his grip, sharpened at both ends, to host his decapitated head. Black thoughts swirled within Athar's mind of the fates suffered by his family.

"My mother said that there was divinity in mercy."

Athar took out his slender blade, readying it at his side to the roaring laughter of his enemies.

"What are you going to do on your own against twenty, nay, thirty of us, you idiot? Accept your fate, and die."

The elf felt the other voice's form inside of him, and upon his forehead. Time. Time was at its end.

"I am only mortal, but I hope my enemies will be divine."

With one last breath, the once high-born elf surrendered to the other being within and he felt a strange and sudden plunge as if he was sinking rapidly into the ground for leagues and leagues and leagues in a matter of seconds. He watched, almost with a serene detachment, as the demon took hold of his body and turned his opponent's bodies into screaming and severed limbs. A smile formed upon his lips, which were no longer his.

Athar felt peace. His last thoughts floated softly.

"Forgive me."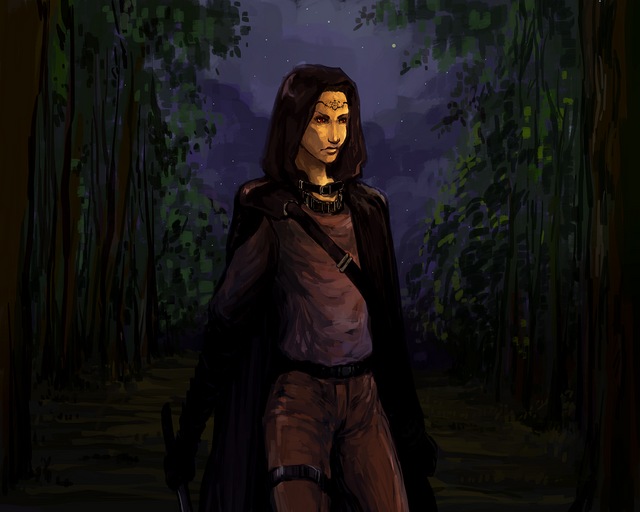 - Epilogue -
A consciousness formed, somewhere in the dark, and its shape was its name.
Young and full with rage, a woman pronounced the forbidden contract and made the sacrifice. She opened her heart and invited the other voice in. Athar shifted for the first time in uncountable years. His limbs were stiff and unfamiliar but he remembered hunger. He was hungry. He scratched into her forehead the beginning of his name.
When she gave in to the darkness, he would finally be able to return to the world one more time.
Hello, worm.

Close Up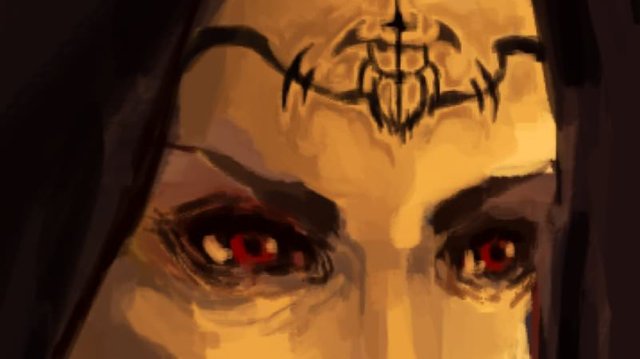 Progress Shots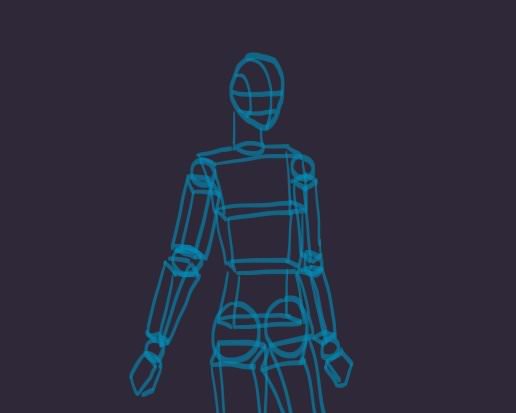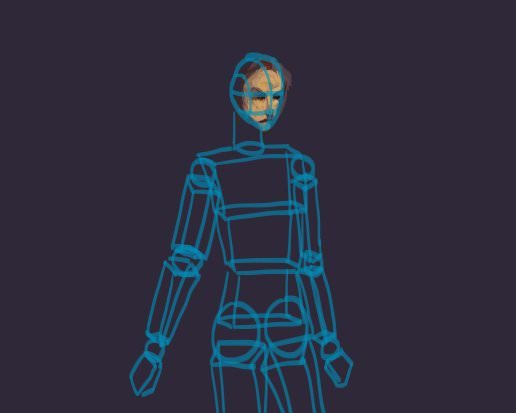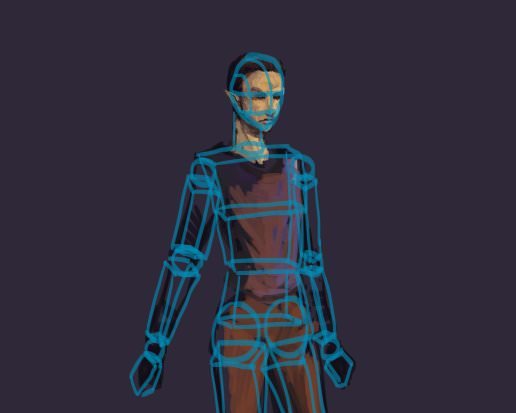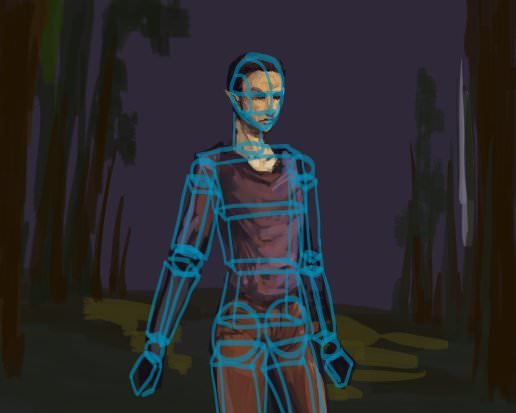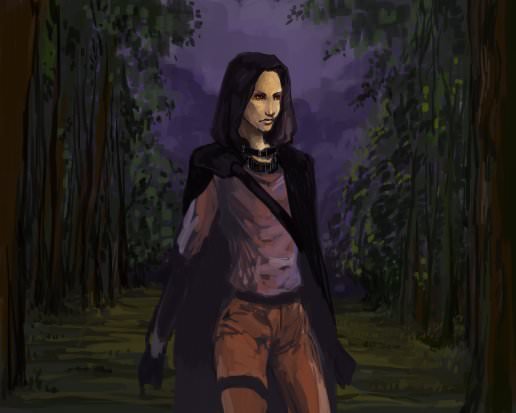 Alternative Version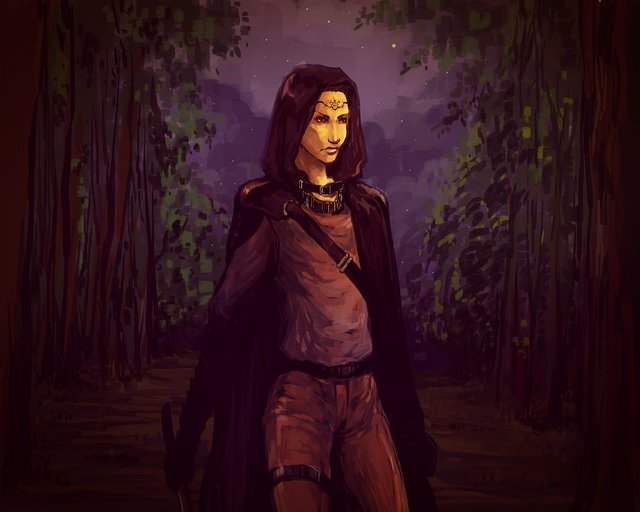 Struggle gif: https://imgur.com/a/q3oiZCU

Oil and watercolour brush. Pen tool for detailing.
Copyright @goodnode. All Rights Reserved.