dPoll Weekly 47
dPoll Report: Weekend Edition
Table of Contents
About dPoll
dPoll Witness
What happened on dPoll last week?
Our wonderful group of Sponsors
About dPoll
dPoll is a polling application on top of Steem. It utilizes an account based voting system and stores poll and voting data on the blockchain. You can find it at dPoll.io.
Here is a handy How-to for creating dPolls.
dPoll Witness
In a time where witnesses are shutting their servers because of economic reasons, dPoll is ready to support the Steem blockchain as a platform witness.
If you have a free spot in your witness list consider voting for @dpoll.witness via this handy link.

If you have any feedback, go to our issues page at Github, check out the source code at github repository. or drop by at our Discord server.
What happened on dPoll last week?
@shaka hosted the 27th iteration of his collage contest:
LMAC #27 - The Finalists! Vote for your favorite entry and help decide who the winners will be!
So far, two contestants are head to head and a third is following closely behind.
Come on! Jump in! Cast the deciding vote!
This poll will be closed soon
---
This poll by @aschatria could have had a different title. For example: "OMG!!! Did you know how many Steem games there actually are???".
Sometimes it is better to be a little subtle. Like this:
What is your favorite STEEM game?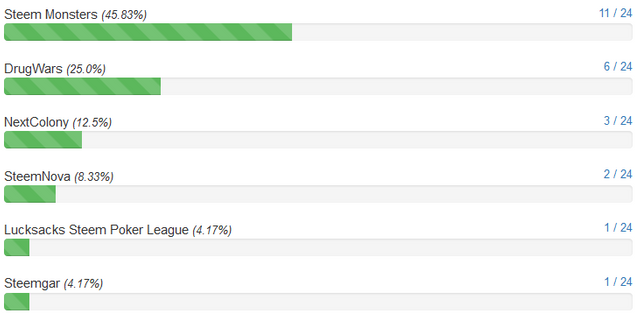 You can find a list of games at https://steemprojects.com
---
@liberosist created some waves last week with this post: (Very) Basic stuff Steem needs to fix: my personal list. @xplosive picked up one of the aspects and was wondering what his audience thinks:
Would you agree with a one week (7 days) power down time?
56% of voters disagreed with the proposed one week power down time.
---
@vimukthi created his own little experiment with the goal of finding out where he could get the most interactions on Steem with his contests:
How Much of An Engagement Boost Do You Get By Using dpoll Contests Instead of Steemit/Busy/SteemPeak etc?
And here are the results of his experiment:
Did You Expect These Engagement Boost Results?
Turns out most voters in the first poll were underestimating the increased interactions by a wide margin.
---
The last hard fork gave us the SPS - Steem Proposal System. @enforcer48 wants to know if you already checked out the proposals and voted:
Have you voted on the Steem Proposals System?

---
@vimukthi has also been thinking about the changes HF21/22 have brought to Steem:
Have We Traded Content Indifferent Bots To Content Indifferent Voting Trails?
---
This one is a first. @turbobro made an introductory post via dPoll:
Introduction Post - Hello there!
---
Another curious poll started like this (by @aschatria):
"I always wanted to know what it's like to be a human. Well, I also wanted to be a swan."
FANTASY - THE BURIAL OF THE THUNDER GOD ... OR HOW IT FAILED
---
Jeff Bezos says it is good practice to think about what will stay the same in the future. @upvotenev showed that it is not that easy to do:
Do you think oil will be needed in 100 years ?
Results are split 50/50.
---
Our wonderful group of supporters
29 Sponsors are supporting dPoll with a total of 19045 SP in delegations.
Thanks to our wonderful sponsors for their support of dPoll:
| Sponsor | Delegation level [SP] |
| --- | --- |
| @realself | 5'000 |
| @chitty | 4'000 |
| @pharesim | 2'500 |
| @shaka | 2'000 |
| @utopian.pay, @favcau | 1'000 |
| @voronoi | 750 |
| @ryanlj, @tolgahanuzun | 500 |
| @techslut, @boontjie | 250 |
| @espoem, @crokkon, @forykw, @isnochys, @axeman | 100 |
| @mahsumakbas, @devann, @nerdtopiade, @akomoajong, @abbak7, @bluerobo, @akdx, @vimukthi, @d-zero | 50 |
| @hatoto, @murattatar, @tdre, @mobi72 | 25 |
Sponsors will receive a weekly reward for supporting the project. If you want to support the development and engagement on dPoll, you can delegate some Steem Power and instantly become a sponsor.
---
---
Join dPoll on Discord: https://discordapp.com/invite/ZcV8SGr
---
If you want to support @dpoll.curation, you can also delegate Steem Power.
Steem connect links to delegate: