dPoll Weekly 42
dPoll Report: Weekend Edition
Table of Contents
About dPoll
Announcement of last weeks winners
What happened on dPoll last week?
Our growing group of Sponsors
Some stats on dPoll
About dPoll
dPoll is a polling application on top of Steem. It utilizes an account based voting system and stores poll and voting data on the blockchain. You can find it at dPoll.xyz.
Here is a handy How-to for creating dPolls.
dPoll has acquired a new domain. From now on it lives on dPoll.io. dPoll.xyz links are being redirected to the new domain. @emrebeyler made an announcement Poll.
If you have any feedback, go to our issues page at Github or drop by at our Discord server.

See it online at dpoll.xyz, and the source code at github repository.
---
Winners of Competition No. 41
Congratulations to the winners!
@abbak7 scored another hat trick in our final dPoll Competition.
What happened on dPoll last week?
@demotruk wants to know if it is alright to have a little hick up because of a hard fork:
Are the Changes/Improvements in Hard Fork 21 worth Steem being down for a few hours?
We see at this question that blockchain technology can be unpredictable. By now we are at HF 22 and on the brink of a 23 with actual downtime.
Witness life can be hard. you are preparing for a chill Sunday to reflect on the past week and suddenly it means all hands on deck and night shifts.
---
@cwow2 is at it again with a mission to fighting dusty votes:
Comment and get steem added to dustsweeper #5 Giveway
---
@literalypotato has some suggestions for dPoll:
Should dpoll.io Have An Upvote Button?
Basically 95% want an upvote button.
Note from dPoll: we are aware that it is convenient and highly desired to have an in situ button, instead of having to jump on another front end to vote the post there.
Here is the reasoning behind the decision to not include a button.
We only ask for Comment and CommentOption scopes via Steemconnnect.
Meaning that with the access token gained, we can only broadcast comments/posts on your behalf. However, we can not upvote with your authority.
This protects you in the case of an attacker gaining access to dPoll servers. They could abuse the comment and posting option, but can not steal your voting power.
---
Hard Fork 21 introduced the Steem Proposal System where it is possible to get funding for projects that improve Steem. You can find it at https://steemproposals.com.
@vimukthi wants to know if you already checked them out:
Have You Voted For Any of The STEEM Proposals?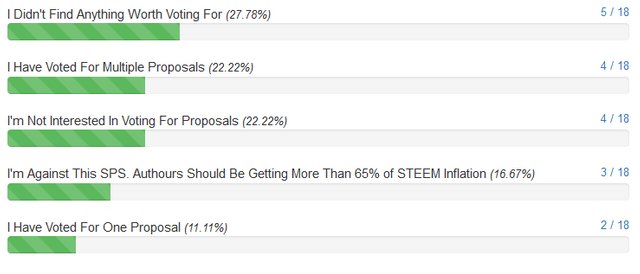 ---
@d-zero wants to know if the current amount of downvoting power is enough:
Are we getting too much free downvotes or too little?

---
@xplosive wants to know who burns Steem:
Have you ever burned (sent to @null) any Steem or Steem Dollars (SBD)?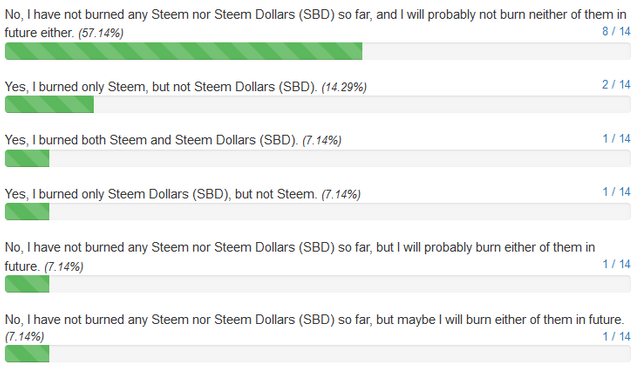 ---
@mattockfs has an idea to support red fish accounts. Would you use it?
What are your thoughts on using a comment-vote accumulator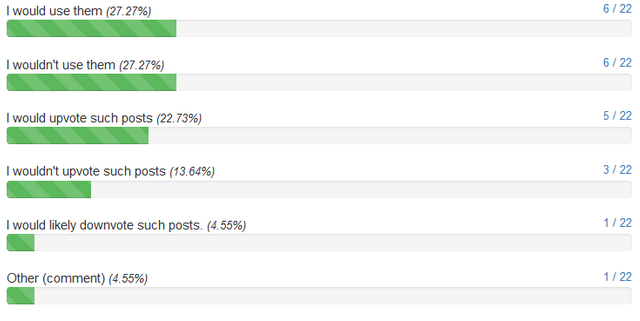 ---
Our wonderful group of supporters
29 Sponsors are supporting dPoll with a total of 29093 SP in delegations.
Thanks to our wonderful sponsors for their support of dPoll:
| Sponsor | Delegation level [SP] |
| --- | --- |
| @bobbylee | 10'000 |
| @realself | 5'000 |
| @chitty | 4'000 |
| @pharesim | 2'500 |
| @shaka | 2'000 |
| @utopian.pay, @favcau | 1'000 |
| @voronoi | 750 |
| @ryanlj, @tolgahanuzun | 500 |
| @techslut, @boontjie | 250 |
| @espoem, @crokkon, @forykw, @cwow2, @isnochys | 100 |
| @mahsumakbas, @devann, @nerdtopiade, @akomoajong, @abbak7, @bluerobo, @axeman, @akdx | 50 |
| @hatoto, @murattatar, @tdre, @mobi72 | 25 |
Sponsors will receive a weekly reward for supporting the project. If you want to support the development and engagement on dPoll, you can delegate some Steem Power and instantly become a sponsor.
---
dPoll is currently in 104th place on stateofthedapps.com across all listed dApps - including apps on Etherium/POA and EOS.
---
Join dPoll on Discord: https://discordapp.com/invite/ZcV8SGr
---
*Standard rules of decency apply. The dPoll team will reserve the right to exclude certain entries from the competition, if necessary.
---
If you want to support dPoll.curation, you can also delegate some Steem Power. Quick Steem connect links to delegate: