dPoll Competition Week 40
dPoll Report: Weekend Edition
Table of Contents
About dPoll
Competition No. 40
Announcement of last weeks winners
What happened on dPoll last week?
Our growing group of Sponsors
Some stats on dPoll
About dPoll
dPoll is a polling application on top of Steem. It utilizes an account based voting system and stores poll and voting data on the blockchain. You can find it at dPoll.xyz.
Here is a handy How-to for creating dPolls.
If you have any feedback, go to our issues page at Github or drop by at our Discord server.

See it online at dpoll.xyz, and the source code at github repository.
dPoll Competition No. 40
Starting this Sunday, every poll created until next Saturday will be eligible to enter the competition.
There are two ways to win:
Price pool for most votes cast:
1st Place wins 3 Steem
2nd and 3rd Place each win 1 Steem
One random voter for the winning dPoll will receive 1 Steem
Entry: you will have to create a poll on dPoll.xyz and try to accumulate as many votes for your question as you can. Deadline is Saturday the 24th of August 2019 12 PM UTC*.
Team members of dPoll are excluded from participating in the prize pool.
---
Winners of Competition No. 39
Congratulations to the winners!
@abbak7 got all the cakes this week. Good job!
What happened on dPoll last week?
@reggaesteem made an extensive post about the proposed changes of ReggaeSteem:
ReggaeSteem/JAHM Token Update & Community DPoll #1
---
@glenalbrethsen wants to know what you will do after HF21: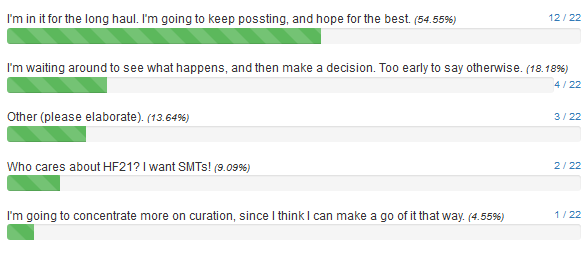 ---
@maarnio1 made a summary post of all the previous trading predictions and asks how the current month will turn out:
How will the crypto contests perform in July?
---
@deathcross wants to check the current sentiment about Steem ATL:
Where Is The New 2019 Bottom Of Steem Price?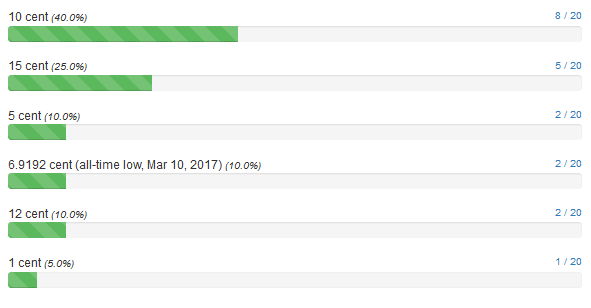 40% think it will be around 10 cent. Let's see...
---
@akdx is stepping out of the world of crypto and wants to feel the sentiment of the world economy:
Is global economy heading towards recession?
67% think there is a high risk of recession.
---
@steemseph is interested in everyday addictions:
What is the most addictive substance you've tried to quit?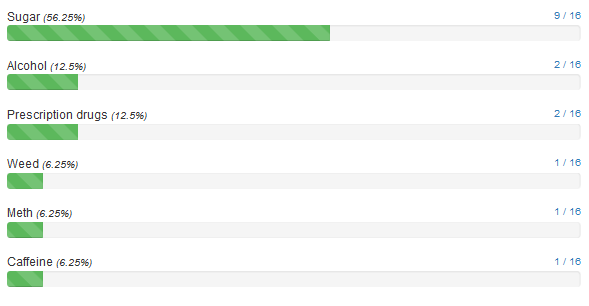 ---
@demotruk is missing some aliens. Where are they? Who are they? What about us?
What is your preferred solution to the Fermi Paradox?
Most of you think that intelligent life is very rare or doesn't exist at all.
---
@xplosive might be on a path to find one answer to the Fermi Paradox question:
What is your opinion about chips implanted into the brain / human brain - computer interface (for example Neuralink, Facebook brain mouse, etc.)?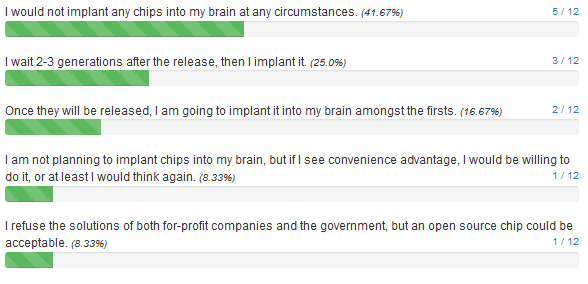 Increasing fusion between brain and computer could lead to a virtualized society without the need to explore distant galaxies.
---
@hermannsol follows this with another approach of gauging economic sentiment:
Is it easy to get a job in your home country?
79% say that it is easy to find a new job.
---
Our wonderful group of supporters
28 Sponsors are supporting dPoll with a total of 28559 SP in delegations.
Thanks to our wonderful sponsors for their support of dPoll:
| Sponsor | Delegation level [SP] |
| --- | --- |
| @bobbylee | 10'000 |
| @realself | 5'000 |
| @chitty | 4'000 |
| @pharesim | 2'500 |
| @shaka | 2'000 |
| @utopian.pay, @favcau | 1'000 |
| @voronoi | 750 |
| @ryanlj | 500 |
| @techslut, @boontjie | 250 |
| @espoem, @crokkon, @forykw, @belemo, @isnochys | 100 |
| @mahsumakbas, @devann, @nerdtopiade, @akomoajong, @abbak7, @bluerobo, @axeman, @akdx | 50 |
| @hatoto, @murattatar, @tdre, @mobi72 | 25 |
Sponsors will receive a weekly reward for supporting the project. If you want to support the development and engagement on dPoll, you can delegate some Steem Power and instantly become a sponsor.
---
dPoll is currently in 96th place on stateofthedapps.com across all listed dApps - including apps on Etherium/POA and EOS.
---
Join dPoll on Discord: https://discordapp.com/invite/ZcV8SGr
---
*Standard rules of decency apply. The dPoll team will reserve the right to exclude certain entries from the competition, if necessary.
---
If you want to support dPoll.curation, you can also delegate some Steem Power. Quick Steem connect links to delegate: