dPoll Competition Week 39
dPoll Report: Weekend Edition
Table of Contents
About dPoll
Competition No. 39
Announcement of last weeks winners
What happened on dPoll last week?
Our growing group of Sponsors
Some stats on dPoll
About dPoll
dPoll is a polling application on top of Steem. It utilizes an account based voting system and stores poll and voting data on the blockchain. You can find it at dPoll.xyz.
Here is a handy How-to for creating dPolls.
If you have any feedback, go to our issues page at Github or drop by at our Discord server.

See it online at dpoll.xyz, and the source code at github repository.
dPoll Competition No. 39
Starting this Sunday, every poll created until next Saturday will be eligible to enter the competition.
There are two ways to win:
Price pool for most votes cast:
1st Place wins 3 Steem
2nd and 3rd Place each win 1 Steem
One random voter for the winning dPoll will receive 1 Steem
Entry: you will have to create a poll on dPoll.xyz and try to accumulate as many votes for your question as you can. Deadline is Saturday the 17th of August 2019 12 PM UTC*.
Team members of dPoll are excluded from participating in the prize pool.
---
Winners of Competition No. 38
Congratulations to the winners!
What happened on dPoll last week?
@felipejoys offers you a hand in shaping a story.
Here is the setup:
Protagonists are living in a spin off world of Diablo 2, where they are not the heroes who defeat Diablo, but simply people who end up trying to survive the oncoming apocalyptical onslaught.
Shape the future of Reign of Evil - Play-by-Poll
---
@cwow2 wanted in on the giveaway train. But he wanted to do something different: @dustsweeper top ups!
Comment and get steem added to dustsweeper #2 Giveway
---
@vimukthi wants to find out where Steem Engine should improve UI first:
Which Short Term Development Would Help The STEEM-Engine User Experience The Most?

---
@alucian wanted to simplify: manual voting v. delegating:
Soll ich eher Delegieren oder weiter händisch Voten???
---
@gadrian is continuing his quest to find out how people use tribes:
How Deep Are You Involved with Your Favorite Tribes?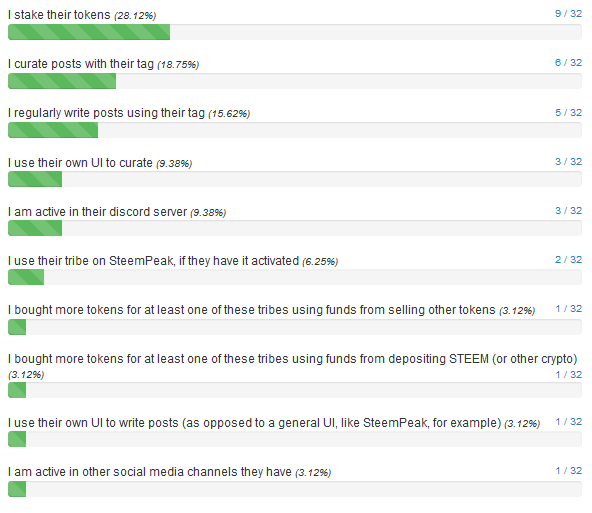 ---
@deathcross is almost getting philosophical here: large office v. home office.
Do You Think The Home Office Is More Effective?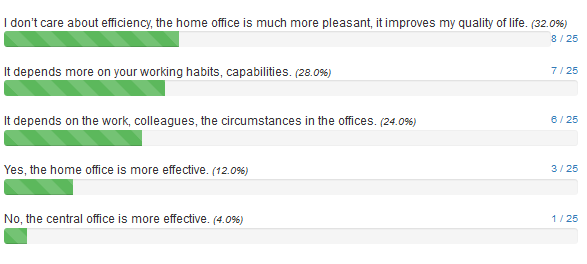 Most were going for a life style choice.
---
@bxlphabet wants to know if you are scared of needles:
---
@crowdwisdom wants to know if you properly deal with online trolls:
DO You Prefer to ARGUE or Simply IGNORE Baiting Hate Speech on Social Media?

Most have learned to not feed the trolls.
---
This is a curious question by @deathcross:
Is Bitcoin A Safe Haven Asset?

The answers are alarming.
---
Our wonderful group of supporters
28 Sponsors are supporting dPoll with a total of 28546 SP in delegations.
Thanks to our wonderful sponsors for their support of dPoll:
| Sponsor | Delegation level [SP] |
| --- | --- |
| @bobbylee | 10'000 |
| @realself | 5'000 |
| @chitty | 4'000 |
| @pharesim | 2'500 |
| @shaka | 2'000 |
| @utopian.pay, @favcau | 1'000 |
| @voronoi | 750 |
| @ryanlj | 500 |
| @techslut, @boontjie | 250 |
| @espoem, @crokkon, @forykw, @belemo, @isnochys | 100 |
| @mahsumakbas, @devann, @nerdtopiade, @akomoajong, @abbak7, @bluerobo, @axeman, @akdx | 50 |
| @hatoto, @murattatar, @tdre, @mobi72 | 25 |
Sponsors will receive a weekly reward for supporting the project. If you want to support the development and engagement on dPoll, you can delegate some Steem Power and instantly become a sponsor.
---
dPoll is currently in 87th place on stateofthedapps.com across all listed dApps - including apps on Etherium/POA and EOS.
---
Join dPoll on Discord: https://discordapp.com/invite/ZcV8SGr
---
*Standard rules of decency apply. The dPoll team will reserve the right to exclude certain entries from the competition, if necessary.
---
If you want to support dPoll.curation, you can also delegate some Steem Power. Quick Steem connect links to delegate: