dPoll Report: Weekend Edition
Table of contents
About dPoll
Competition No. 14
Announcement of last weeks winners
Sndbox Contest 11
@theycallmedan 20k SP
What happened on dPoll last week?
Our growing group of Sponsors
Some stats on dPoll
About dPoll
dPoll is a polling application on top of Steem. It utilizes an account based voting system and stores poll and voting data on the blockchain. You can find it at dPoll.xyz.
Here is a handy How-to for creating dPolls.
Recent updates to the dApp are:
Result filters. It is now possible to screen the cast votes by new parameters:

Minimum Reputation
Minimum SP
Minimum Account Age
Minimum Post Count

Every account can vote, and the default view doesn't exclude any accounts. However, you can filter the results based on parameters you think represent a genuine account.

This feature is useful if there is a lot on the line. @theycallmedan comes to mind here, where he gave away a one year delegation of 10k SP.

In the interest of transparency: every poll creator should state the filter he intends to use beforehand.

Audit option. This one was also inspired by @theycallmedan. This makes the transaction data easily available to everybody who wants to check the integrity of any dPoll. You can do this by going to the the Audit link of the poll you are interested in.

Stake Weighting. You can choos from the filter options if you want an account based view of the results or a stake weighted view. The metric is owned SP. Delegations are ignored. Results are dynamic. Power ups/or -downs will automatically be reflected.
If you have any feedback, go to our issues page at Github or drop by at our Discord server.

See it online at dpoll.xyz, and the source code at github repository.
dPoll Competition No. 14
Starting this Sunday, every poll created until next Saturday will be eligible to enter the competition.
There are two ways to win:
Price pool for most votes cast:
1st Place wins 3 Steem
2nd and 3rd Place each win 1 Steem
One random voter for the winning dPoll will receive 1 Steem
Entry: you will have to create a poll on dPoll.xyz and try to accumulate as many votes for your question as you can. Deadline is Saturday the 23rd of February 2019 12 PM UTC*.
Team members of dPoll are excluded from participating in the prize pool.
---
Winners of Competition No. 13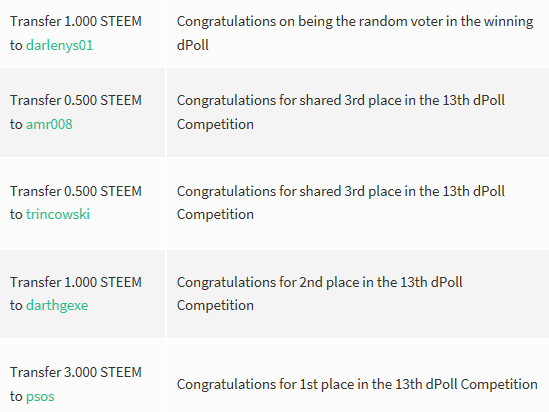 Congratulations to the winners!
Sndbox Contest 11
@sndbox was hosting Polling for Project Feedback [dpoll contest 11] for creators who are looking for feedback on their own project.
The winners are:
---
@impactn-polls won first place and a 75% upvote for feedback on on questions that were raised on the recent SOS-forum:
No 1 How important is raising merchants' awareness to encourage businesses to accept STEEM?
---
@trincowski won second place and a 50% upvote for one of the questions from the last SOS forum:
Art Curation Initiative #9 - Help Me Rewarding 3 Artists With SBI Shares [Powered by DPoll]
---
@psos won third place and a 25% upvote.
Semi-final Poll - Who makes the difference on Steem (choose 5 and nominate 2)
---
There is no need to worry if you are not working on any projects at the moment.
Sndbox is hosting many contests in different categories. Go check them out!
As long as you are doing something on Steem there should be an opportunity for you to participate.
@theycallmedan is launching the second iteration of his 1 year delegation project. This time there are 20k SP in delegations for the winner. You can submit the projects you would like to see until the 18th of February here. This time, a random entrant will win 5k SP for a year. That's not all. All entrants will win 1k SP for one year.
The dPoll will be launched on February the 19th 2019.
Stay tuned!
What happened on dPoll last week?
---
@psos launched the semi final of his project:
Semi-final Poll - Who makes the difference on Steem (choose 5 and nominate 2)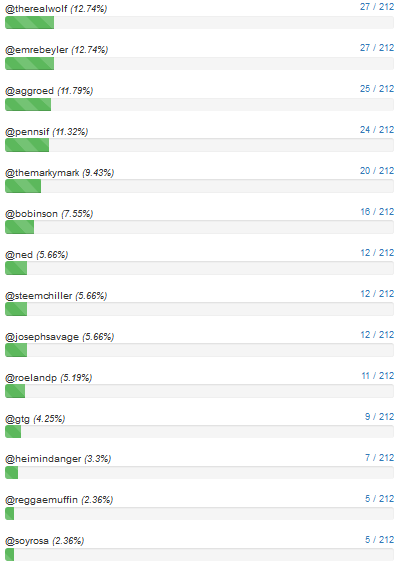 ---
@trincowski keeps on looking for art and artists:
Art Curation Initiative #9 - Help Me Rewarding 3 Artists With SBI Shares [Powered by DPoll]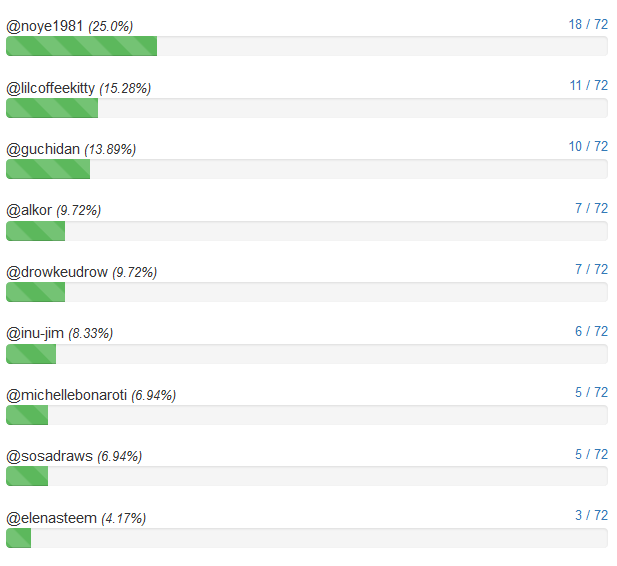 ---
@deathcross wants to know how you would behave with a basic income:
If you had an unconditional ground income, would you work?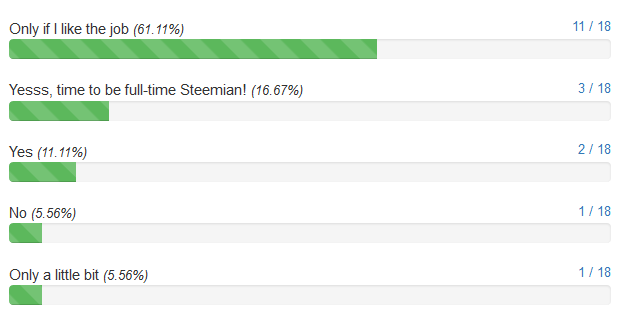 ---
@niel96 was not so much interested in income, but in windfalls:
What would you do with an extra 10k (dollar)?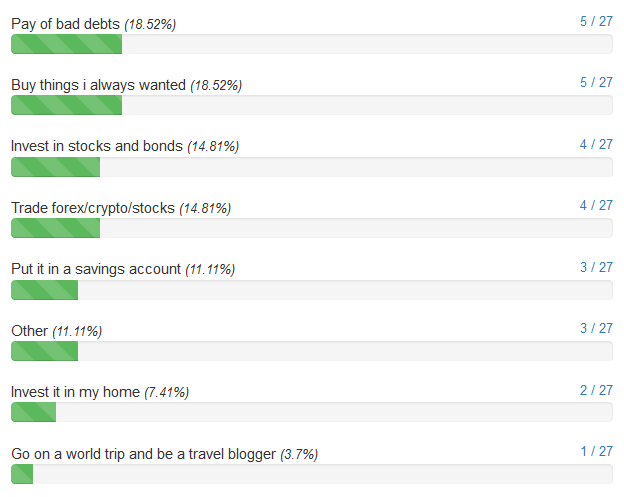 ---
@blanchy had another money question:
Would you rather 40k a year tax free for the rest of your life or 1 million as a once off payment?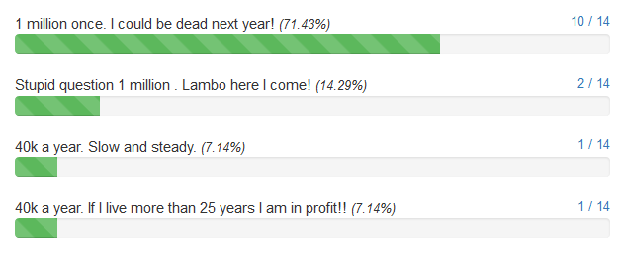 ---
@chitty wants to know if you guys buy more Steem just to play games:
How many of you are buying Steem to play Games?

---
@abbak7 with the hardest quiz on dPoll:
Would you accept a 1 SBI share? #³
This is the 3rd time in a row that he gets 100% yes on his poll.
---
@rebeccabe thinks you guys talk too much ;) :
Would you like the option to DISABLE comments on some of your Steemit posts? MY 3RD poll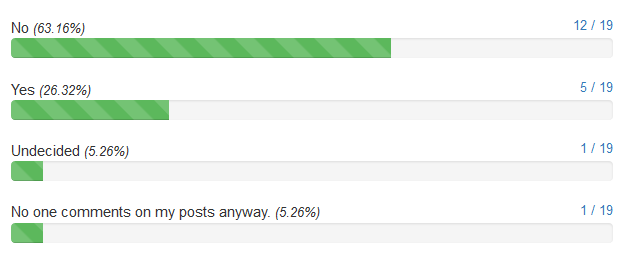 ---
@von-doom has a simple question for you:
Have you played DrugWars yet? - New game dapp on Steem!

Public Service Announcement: he might use this information to raid you ;)
---
Our growing group of sponsors
36 Sponsors are supporting dPoll at the moment, with a total of 28709 SP in delegations.
Thanks to our wonderful sponsors for their support of dPoll:
| Sponsor | Delegation level [SP] |
| --- | --- |
| @bobbylee | 10'000 |
| @realself | 5'000 |
| @chitty | 4'000 |
| @emrebeyler | 2'500 |
| @fabien, @pharesim, @utopian.pay, @shaka | 1'000 |
| @ryanlj | 500 |
| @pjau | 300 |
| @voronoi, @techslut, @favcau, @boontjie, @kabir88 | 250 |
| @espoem, @crokkon, @tibfox, @teamhumble | 100 |
| @fbslo, @ihtiht, @simplymike, @whatsup, @mahsumakbas, @aydant, @amico, @devann, @nerdtopiade, @akomoajong, @dotwin1981 | 50 |
| @isnochys, @murattatar, @bluerobo, @tdre | 25 |
| @mobi72, @tdas0 | 10 |
Sponsors will receive a weekly reward for supporting the project. If you want to support the development and engagement on dPoll, you can delegate some Steem Power and instantly become a sponsor.
Some stats on dPoll:
dPoll is currently in 46th place on stateofthedapps.com across all listed dApps - including apps on Etherium/POA and EOS. That is 5 places down from last week. The same magnitude from last week - in the other direction. The Dan pump and dump ;).
We are in 19th position on steemapps.com. 5 places down from last week. This project has been created recently by @therealwolf to increase visibility of the Steem ecosystem.
---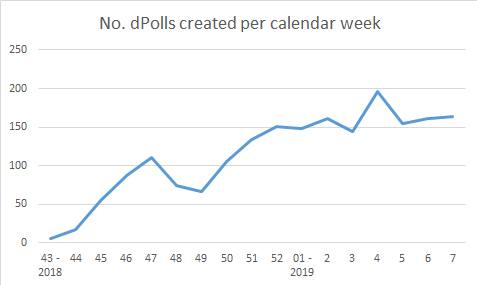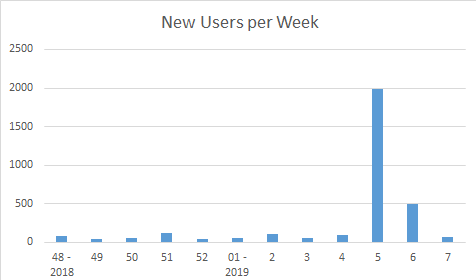 Join dPoll on Discord: https://discordapp.com/invite/ZcV8SGr
---
*Standard rules of decency apply. The dPoll team will reserve the right to exclude certain entries from the competition, if necessary.
---
If you want to support dPoll.curation, you can also delegate some Steem Power. Quick Steem connect links to delegate: