dPoll Report: Weekend Edition
Table of contents
About dPoll
Competition No. 13
Announcement of last weeks winners
What happened on dPoll last week?
Our growing group of Sponsors
Some stats on dPoll
About dPoll
dPoll is a polling application on top of Steem. It utilizes an account based voting system and stores poll and voting data on the blockchain. You can find it at dPoll.xyz.
Here is a handy How-to for creating dPolls.
Recent updates to the dApp are:
Result filters. It is now possible to screen the cast votes by new parameters:

Minimum Reputation
Minimum SP
Minimum Account Age
Minimum Post Count

Every account can vote, and the default view doesn't exclude any accounts. However, you can filter the results based on parameters you think represent a genuine account.

This feature is useful if there is a lot on the line. @theycallmedan comes to mind here, where he gave away a one year delegation of 10k SP.

In the interest of transparency: every poll creator should state the filter he intends to use beforehand.

Audit option. This one was also inspired by @theycallmedan. This makes the transaction data easily available to everybody who wants to check the integrity of any dPoll. You can do this by going to the the Audit link of the poll you are interested in.

Stake Weighting. You can choos from the filter options if you want an account based view of the results or a stake weighted view. The metric is owned SP. Delegations are ignored. Results are dynamic. Power ups/or -downs will automatically be reflected.
If you have any feedback, go to our issues page at Github or drop by at our Discord server.

See it online at dpoll.xyz, and the source code at github repository.
dPoll Competition No. 13
Starting this Sunday, every poll created until next Saturday will be eligible to enter the competition.
There are two ways to win:
Price pool for most votes cast:
1st Place wins 3 Steem
2nd and 3rd Place each win 1 Steem
One random voter for the winning dPoll will receive 1 Steem
Entry: you will have to create a poll on dPoll.xyz and try to accumulate as many votes for your question as you can. Deadline is Saturday the 16th of February 2019 12 PM UTC*.
Team members of dPoll are excluded from participating in the prize pool.
---
Winners of Competition No. 12
Congratulations to the winners!
What happened on dPoll last week?
@shaka launched his 6th Let's make a collage contest. The goal is to support artists on Steem.
LCMA #6 - The Finalists! Please vote for your favourite entry and help deciding who the winners will be!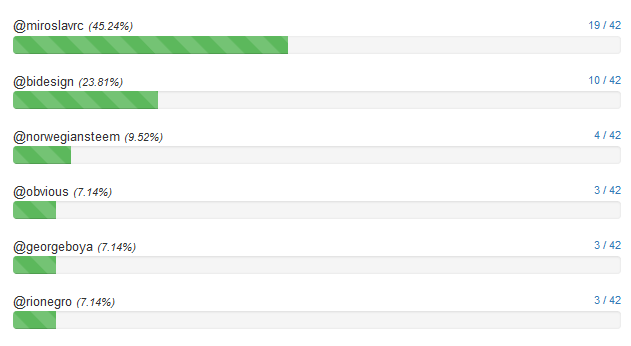 If you don't want to wait on @shaka for your art fix, you can also follow @letsmakeacollage and check out the #letsmakeacollage tag.
---
@vikisecrets had the big gaming questions:
Do you prefer to game with a controller or mouse & keyboard
59% preferred mouse and keyboard.
---
@von-doom hosted a giveaway:
MonstersPoll Giveaway #3 Winner Announcement + MonstersPoll Giveaway #4
---
@deathcross was into security:

---
@science.fiction wanted to know how dPollers think about the Fermi Paradox.
The paradox contrasts the very early development of life in earths geological history and the absence of any sings of life outside earth.
Do youbelieve that Aliens exist somewhere and that some have actually visited us?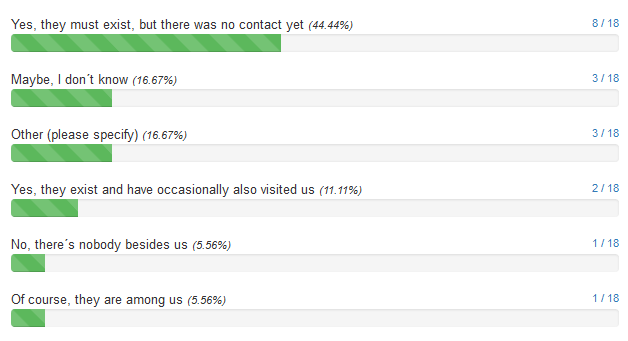 ---
@rebeccabe wants to fight small aliens:
If you had to fight a small outer space alien which would you do?
Begs the question: what does @rebeccabe think about the Fermi Paradox in the above poll by @science.fiction.
---
@elear wanted to know what kind of benefits users would like to receive in a upcoming crowdfunding for Utopian:
Which perks would you like to have the most on an upcoming crowdfunding campaign for Utopian?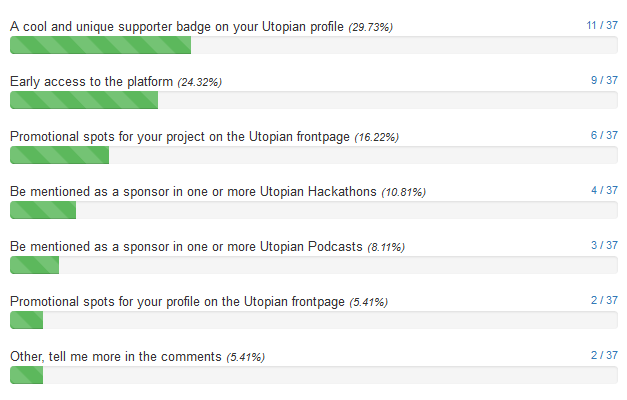 ---
Our growing group of sponsors
36 Sponsors are supporting dPoll at the moment, with a total of 23948 SP in delegations.
Thanks to our wonderful sponsors for their support of dPoll:
| Sponsor | Delegation level [SP] |
| --- | --- |
| @bobbylee | 10'000 |
| @chitty | 4'000 |
| @emrebeyler | 2'500 |
| @fabien, @pharesim, @utopian.pay, @shaka | 1'000 |
| @ryanlj | 500 |
| @pjau | 300 |
| @voronoi, @techslut, @favcau, @boontjie, @sereze @kabir88 | 250 |
| @espoem, @crokkon, @tibfox, @teamhumble | 100 |
| @fbslo, @ihtiht, @simplymike, @whatsup, @mahsumakbas, @aydant, @amico, @devann, @nerdtopiade, @akomoajong, @dotwin1981 | 50 |
| @isnochys, @murattatar, @bluerobo, @tdre | 25 |
| @mobi72, @tdas0 | 10 |
Sponsors will receive a weekly reward for supporting the project. If you want to support the development and engagement on dPoll, you can delegate some Steem Power and instantly become a sponsor.
Some stats on dPoll:
dPoll is currently in 41st place on stateofthedapps.com across all listed dApps - including apps on Etherium/POA and EOS. That is 30 places down from last week. The same magnitude from last week - in the other direction. The Dan pump and dump ;).
We are in 14th position on steemapps.com. 10 places down from last week. This project has been created recently by @therealwolf to increase visibility of the Steem ecosystem.
---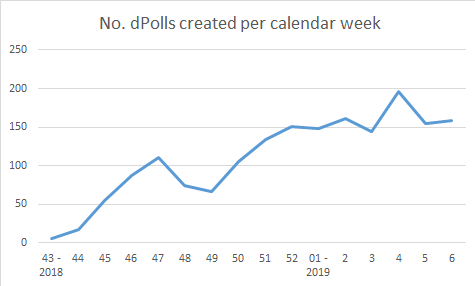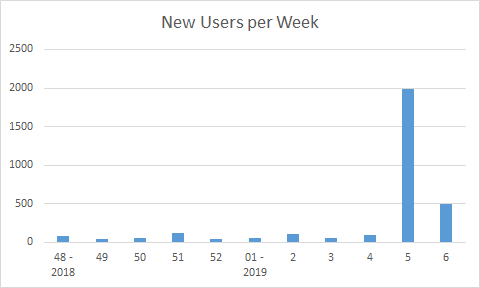 Join dPoll on Discord: https://discordapp.com/invite/ZcV8SGr
---
*Standard rules of decency apply. The dPoll team will reserve the right to exclude certain entries from the competition, if necessary.
---
If you want to support dPoll.curation, you can also delegate some Steem Power. Quick Steem connect links to delegate: