Around the Block : new teaser (#2) for upcoming documentary series
🎁 This week's update brings a sweet teaser featuring Alex Van de Sande and a fresh website with all (10+) our interviewees so far.
TL;DR
A 6-episode documentary series on the minds behind the blockchains is being produced under the radar, in the tropical lands of Brazil. Cool teaser up here 👆, introductory post with another teaser here (featuring Sergio Demian Lerner) and website here.
A fast-paced story…
We first met Alex Van de Sande in June 9th 2016, precisely 8 days before the DAO hack. Following for a while the digital traces of the sole Brazilian (yet) inside the Ethereum Foundation, we were led to a talk entitled "Building a Better Democracy in Less Than 100 Lines of Code", held at a major, antique public library. The hour and a half that followed certainly left a deep mark on the memory of those who were present. I recall in details the answer Alex gave to a guy who asked why the foundation hadn't build carbon credits on the blockchain yet. First, he estimated optimistically we'd need at least two more years before there were accessible interfaces to blockchains for average users. Then he reminded us the foundation was there to build base-layer protocols for a new web, and that applications on top of it should be built by ourselves.
Such statements appealed so much to entrepreneurs of all kinds that, in early May 2017, the rush seemed to be at its peak. Gnosis' ICO had just (arguably) valued a newly born network at a ~U$300 million capitalization, and regulation was turning into a concrete fear for token offerings.
We then sat with Alex for an interview at the Largo da Batata, in central São Paulo, and discussed the future of Ethereum beyond the utility of a massive fundraising platform.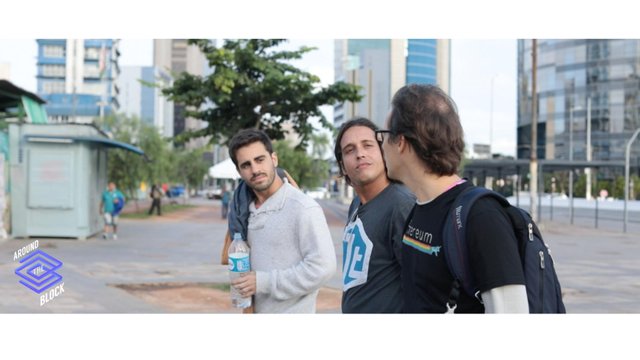 Our paths crossed again 3 months later, this time in Rio de Janeiro, where part of the Mist team is currently based. It was one week after the ~U$30 million Parity multisig hack, and again economic matters were under public spotlight. Having been in Cornell with Ethereum folks at a workshop during the incident, Alex registered some of its key moments and became sort of a public voice for the white hacker group that siphoned a hefty sum to a safe account. 
He'd assumed a similar position during the unfoldings of the DAO, and respect for his work and ethic has been unquestionable since ever. Besides finding it fascinating that such figure was moulded so close, in this corner of the world, we love the fact that Alex is a generous guy and an uplifting presence.The Ethereum contingent in Rio has expanded this year, with the addition of Everton Fraga and Victor Maia to the team. Having them join us allowed for more discussion on the roadmap of Mist, the next steps towards mass adoption of Ethereum and some of the ultimate consequences of a fully decentralized web.
… still on its early days
Alex, Ev and Victor are just few of the interviewees to be featured on Around the Block. We often hear that blockchains are appealing because they carry an unpreceded mix of technology, politics and economy. Such diversity is precisely what we try to reflect by seeking figures with distinct backgrounds and aspirations. It's also the reason why we'll have 6 episodes divided by theme, in the series, instead of having them separated according to the people featured.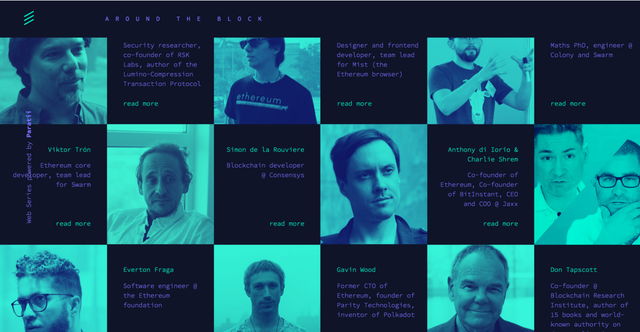 Few of the faces you can expect to find here next. See @ www.paratii.video/aroundtheblock
We of course welcome suggestions of all kinds, ranging from possible interviewees, to shooting location, to curious questions and themes to be more deeply explored.
Who are we ?
I write on behalf of the Paratii team, who sprawled from within the technology unit of a film production company and is building a decentralized video on demand player that puts 100% of earnings under the control of content producers. "Around the Block" is its original content debut.
The video along this article is just a teaser. We'll post some more, before deploying 6 episodes that constitute the series, along their full stories. The roll-out begins in Q4 2017. Further interviewees include Gavin Wood (Parity); Simon de la Rouviere (ConsenSys); Viktor Trón (ethereum); Charlie Shrem and Anthony Di Iorio (Jaxx); Alexey Akhunov, Aron Fischer(Colony), Victor Maia (Ethereum), Everton Fraga (Ethereum), Ronaldo Lemos (ITS), Don Tapscott (Blockchain Research Institute) and more.
Stay tuned and make yourself heard — is there anyone in special you'd like to see interviewed? Join the Around the Block channel on gitter, follow Paratii on Twitter and subscribe to our video channel. Suggest names, get access to some extra footage and feel free to throw ideas at us. Finally, signup for the newsletter below if you fancy exclusive updates in your inbox :)

Paratii is an embeddable video player that aims to close the gap between browsers and the Ethereum blockchain, allowing for any internet user to participate on a conscious, decentralized and fair video distribution network. "Around the Block" is its original content debut.