Tomato, Cucumber, and Onion Salad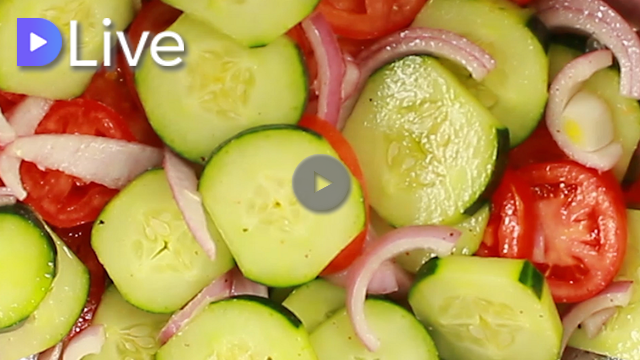 Right now is peak harvest season in most of the Northern hemisphere. Garden fresh vegetables are the best! Fresh veggies from a farmers market are a close second. Fruits and vegetables in supermarkets are usually picked before they're ripe, and aged for a while. They also spray some produce with preservative wax and/or growth inhibitors. Fresh, vine ripe, and organic is what the human body needs.
Cucumbers and tomatoes are both vine fruit. The definition of a fruit is the seed producing edible part of a plant. Onions are a root vegetable, and they're a bit more difficult to grow. Vinegar and olive oil are both natural preservatives. Salt also acts as a preservative by removing the water in the vegetables which makes mold harder to form. I called everything vegetables because in a salad, that's what they are.
INGREDIENTS
1 cucumber
3 plum tomatoes
1 small red onion
A splash of red wine vinegar
A splash of extra virgin olive oil
Sea salt
Black pepper
DIRECTIONS
Slice the tomatoes, cucumber, and onion like shown in the video and thumbnail.
Add all the ingredients to a bowl and mix.
It's that easy!
Longer format videos on my YouTube channel.
https://youtube.com/c/thexsgreencookingshow

I have many reedited videos for DLive on queue including a Cheesesteak Hoagie and Tuscan Soup. I have brand new videos with too long versions for YouTube just to promote Steem; and shorter versions with typed recipes for DLive/Steem including Thai Tom Yum Soup, how to make your own Almond Milk with no preservatives, and Vietnamese Banh Mi; and more, coming this month. As always, if you like my videos, please follow. -Ed
My video is at DLive