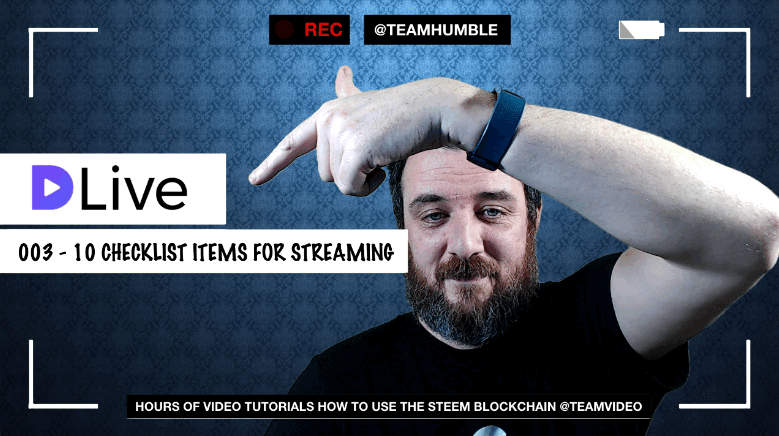 Back with another video, kinda surprised myself actually because I only had four hours and thirty minutes or so sleep last night. Terrible night sleep!
Today I'm spinning back around from episode two which might have been a massive jump from setting up to but I did explain it's so I can capture the thumbnails easier, in this one I'm gonna try and break down ten areas in ten minutes you need to concentrate on building out your stream.
These are the following.. .
scenes - best to make a master one and then scenes including that one
transition - a transition between scenes makes it look professional
hotkeys - I always put a function key next to the scene title.
audio inputs and levels - this make take some time to get perfect
video inputs (screens, games) - best to have separate scenes for inputs
holding page - need to nip to the toilet or take a call, mute that microphone
intro and outro - for start/end show
social/links overlay - don't forget to promote where to be found
music players - a stream without music can get a bit boring
overlays using dlive labs - plug in dlive labs for vote notifications etc
I've done this on purpose because I don't want you to worry or get overwhelmed when setting up your live stream for the first time, do things a bit at a time, know that you have these ten things to do to get yourself up and running and then it's just learning the keys, monitoring the output and things I'm going to teach you over the next dozen or so videos anyway.
Hopefully this will give you a bit of confidence to start streaming on @dlive as well, like I said if you need any help just drop me a line — I'll be doing a live stream chat tomorrow so you can ask me questions live about live streaming and I can show you or help you out one on one or open up a bigger topic or discussion! — you can help me setup my live chat system! :)
Don't forget to follow, retweet and upvote, that would be awesome! :)


pinterest epic wins pinboard → brand advocate for nokia, 1000heads, verisign → won vloggie for node666 (san fran 2006) → television for time team history hunters 1999 (burton on trent) → sold me.dm to evan williams in april 2011 → went to phil campbell, alabama to help raise money after tornado ripped up the town (was on sky news, bbc news)→ CNN for sxsw 2013 about austin south by southwest event → video chat with robert scoble from rackspace → music video can you spot me? → won the digital derry contest for 5k euros → crowdfunded digital signage concept called pi street → now living life through digital blockchains.


My video is at DLive