Unboxing 2017 & 2018 Steem Siver Rounds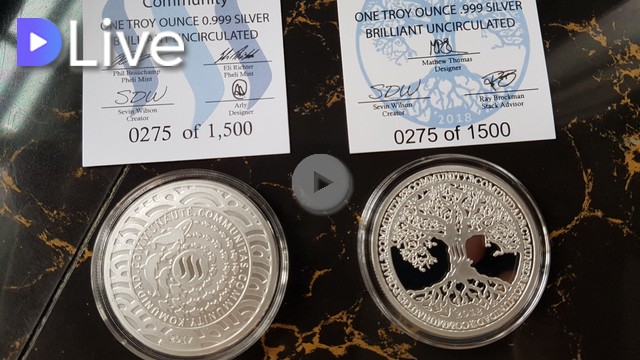 The package came in the mail earlier in July, a couple of weeks before I celebrated my first year anniversary in Steemit. I was thinking of a gift for myself to celebrate this milestone with, and I remembered that at the end of April I made a pre-order for the bundle of 2017 and 2018 Steem Silver Rounds. I am not a silver or gold stacker, I don't even own a single coin or jewelry before I got this package. Since getting this package though I started reading and watching videos about stacking precious metals, and I am becoming more and more convinced that at least a percentage of any investor's portfolio should be in some form of stack of silver and gold.
Why would someone who is not a stacker, let alone know very little about precious metal investing buy Steem Silver Rounds? I am not counting on silver appreciating in price anytime soon. I only learned about the post-economic collapse use-case theory, the use of silver in various technologies, and the mining deficit against the demand way after making the purchase. I initially thought that I made the purchase based on impulse; the coins look nice, the 2017 coin was designed by a friend, it might feel nice owning my first couple of silver coins, and maybe get encouraged to stack.
It is only now that I am about to open the package that I can make sense of why I made the decision to buy the rounds. While I am getting encouraged to invest in silver, I did not buy these for investment. I wasn't being smart, rather I bought these for their sentimental value. The twelve months I spent on Steemit so far isn't exactly smooth. It took a lot of commitment, hard work, and crazy price swings. There have been a few times when I asked myself if staying in the platform is worth my time, when I feel struggling for support, and when I feel that I am not getting heard enough to influence change within the community in the Philippines and beyond. Despite those not very awesome feelings however, overall I feel grateful for far so many things and opportunities that the platform and the community has given for 370++ days so far. I wanted to feel that in my hands, see it shine, and keep it as long as I can; and I couldn't fit any better metaphor than getting my hands on these rounds.
It was in 30th of April when I made the order. I got confirmation of my order within a few minutes. There was a confusion however when I got tow sets of email confirmation, which was clarified quickly when I reached out to @sevinwilson. Expectations were set quite clear about the timeline around when about we can expect the coins, so I just waited.
The package was shipped from Florida on the 25th of June, got to our customs administration on the 30th of June, then came to our central post office in Malolos on the 2nd of July.
In the package are:
One 2017 Steem Silver Round
One 2018 Steem Silver Round
Two Certificate of Authenticity
2017 & 2018 Steem Silver Rounds with Matching COA
As mentioned earlier the 2017 coin was designed by a friend; @bearone, in a post nine months ago titled "Steem Silver Coins 2017
" she said:
That's why community is all over the design from the word community in - English, Latin, French, Tagalog; to the minnows, dolphins and whales - all swimming around the Steemit logo. This IS a community coin and the fact that pulled this project off proves we can achieve greatness together.
The 2018 design was of @welshstacker. He described the design in this post: Round 2, Voting for 2018 Steem Silver Round!.
So I've called the idea THE COMMINI-TREE (community) for obvious reasons, it's based on the tree of life pattern. So sit back, grab a cold beer and allow me to take you through my thought process... Hold tight, it's a mine field of random thoughts!!
So the tree is meant to represent growth, not only as an individual on Steemit but as the platform as a whole. It needs strong roots and will continue to grow bigger for as long as its foundations are strong!! Told you it was cheesy..
I love both the designs, I will be holding on to these for as long as I can, and I can't wait for the 2019 rounds. Maybe then if the economy allows I will buy a few more to giveaway to Steemian friends.


My video is at DLive