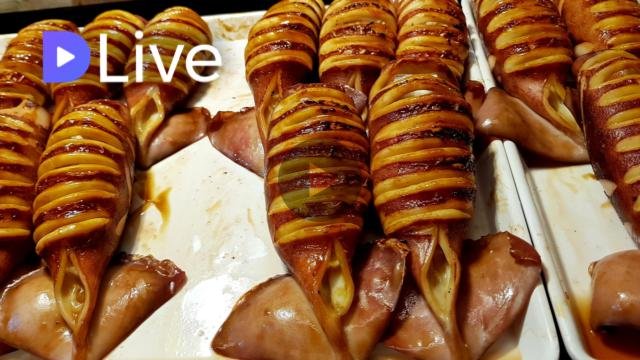 I would say one of the best things about being in Taipei is exploring the night markets. They are so ingrained into the culture here and fit into the Taiwanese way of life perfectly. Being one of the oldest night markets in Taipei, The Raohe Street Night Market is recommended as a "must visit" destination! So, I thought I'd document my trip there.
We took the Green Metro Line to Songshan Station. The night market entrance is conveniently located right across the street, next to the temple. The night markets open from 5pm to midnight every day. By the time we got there, it was around 8pm, so the heaving crowds were already out in force!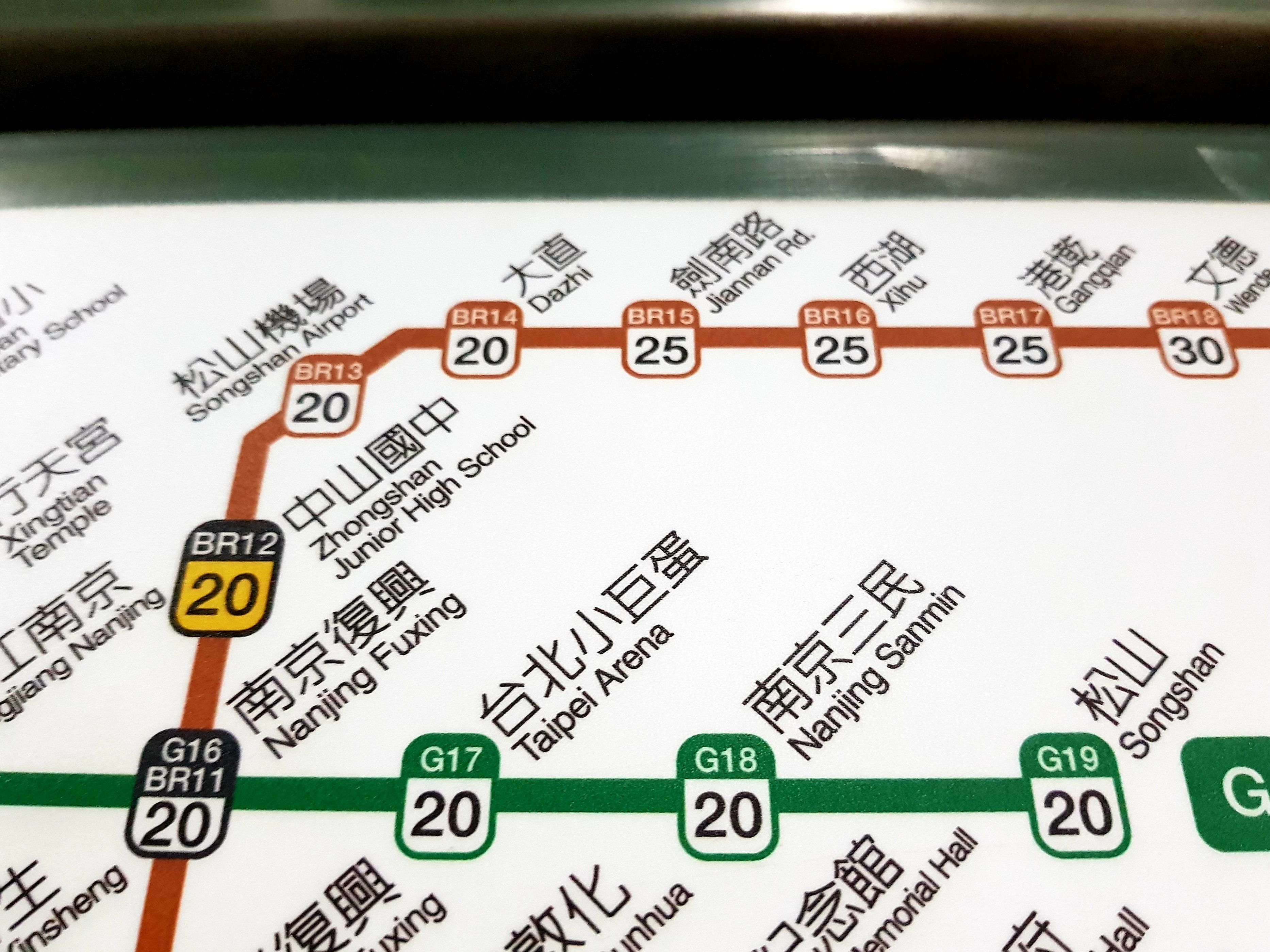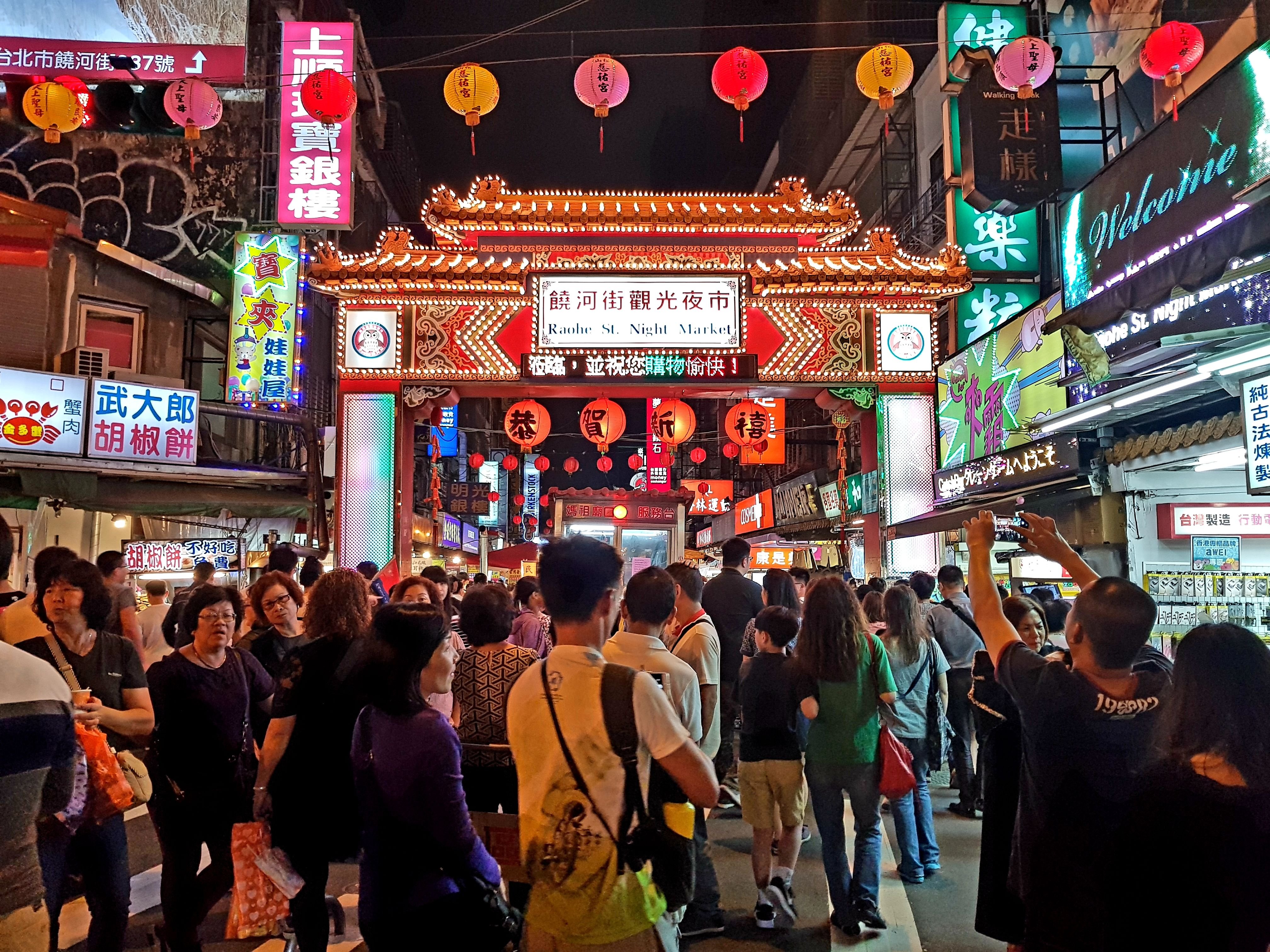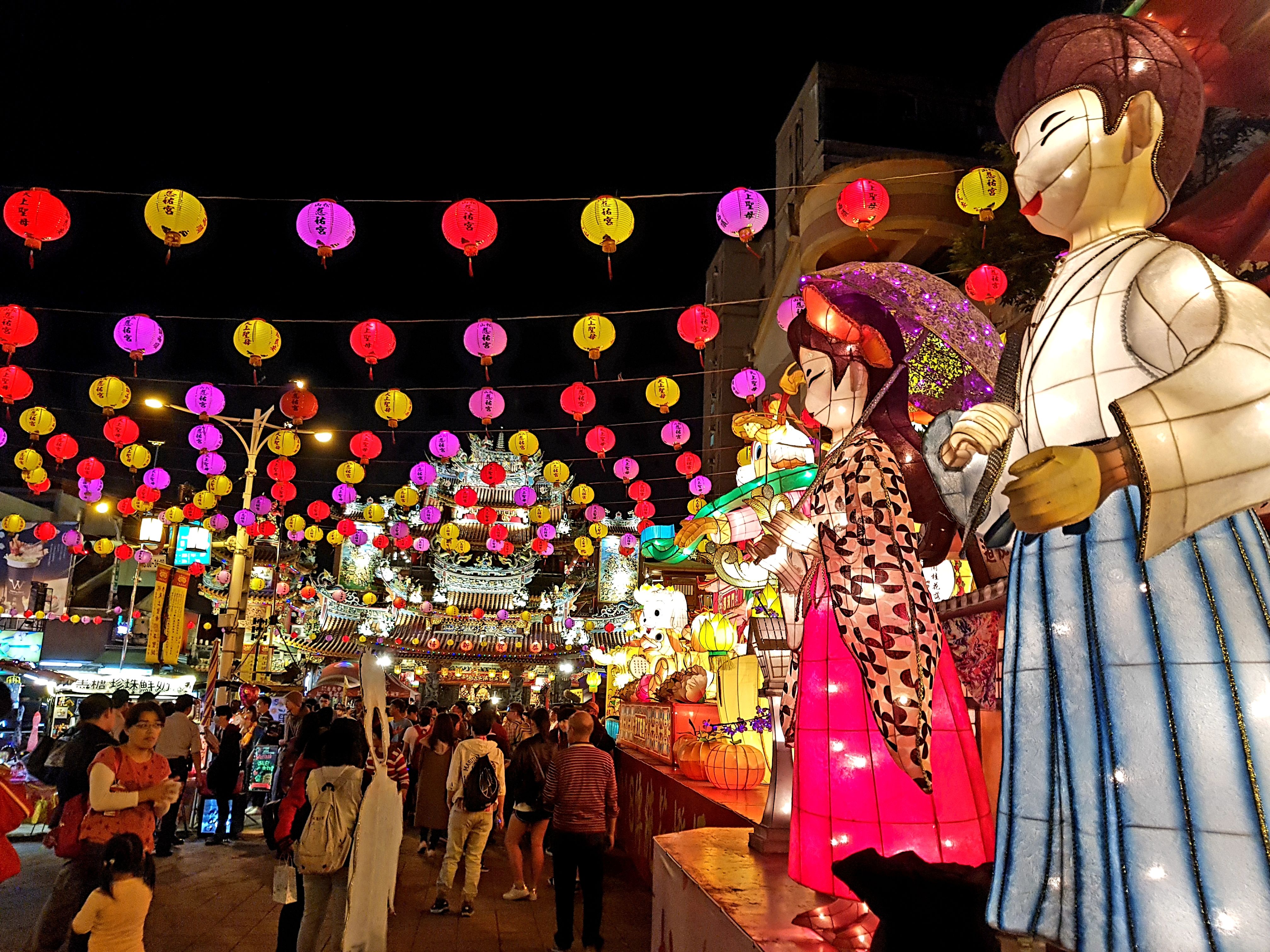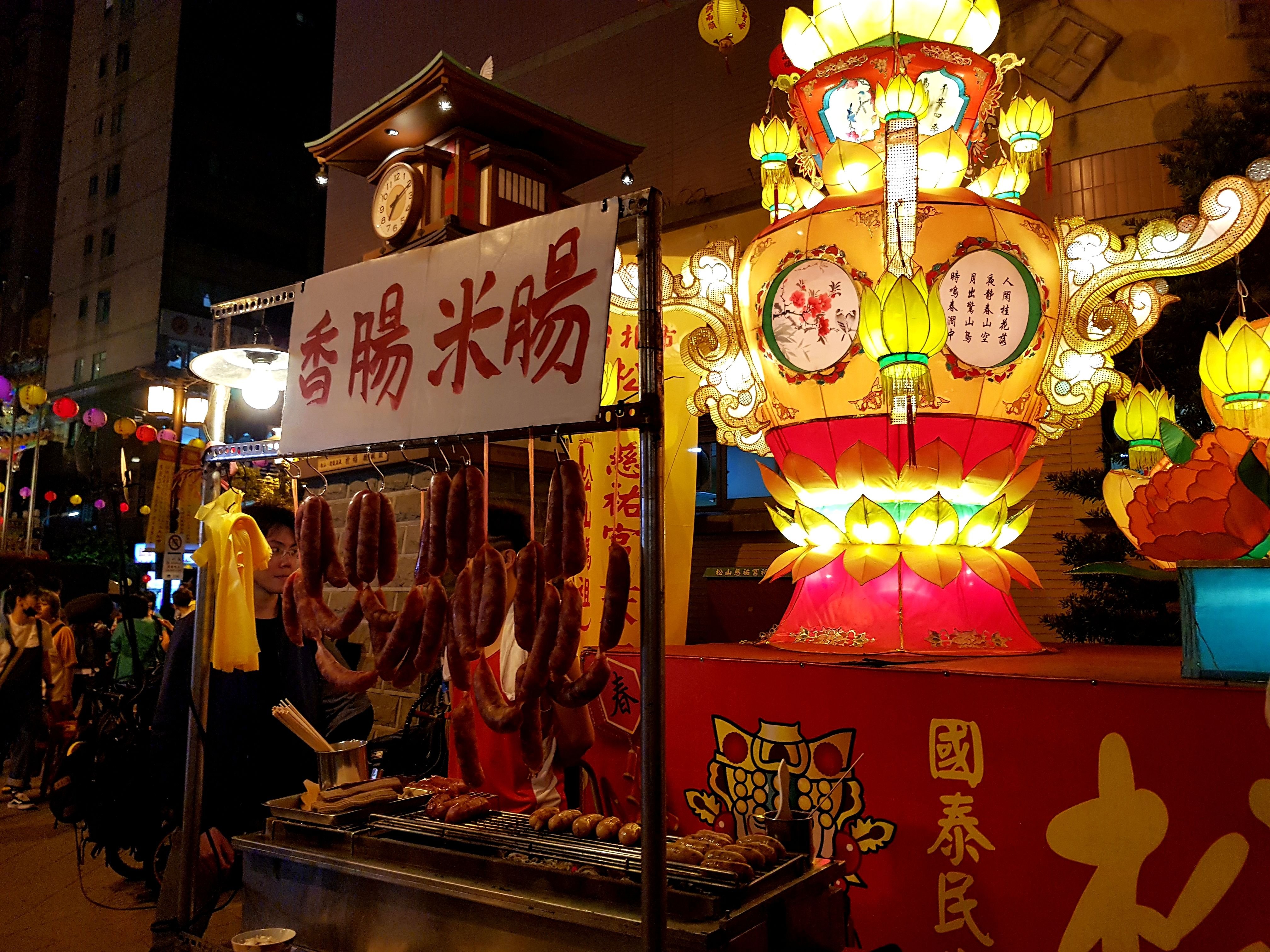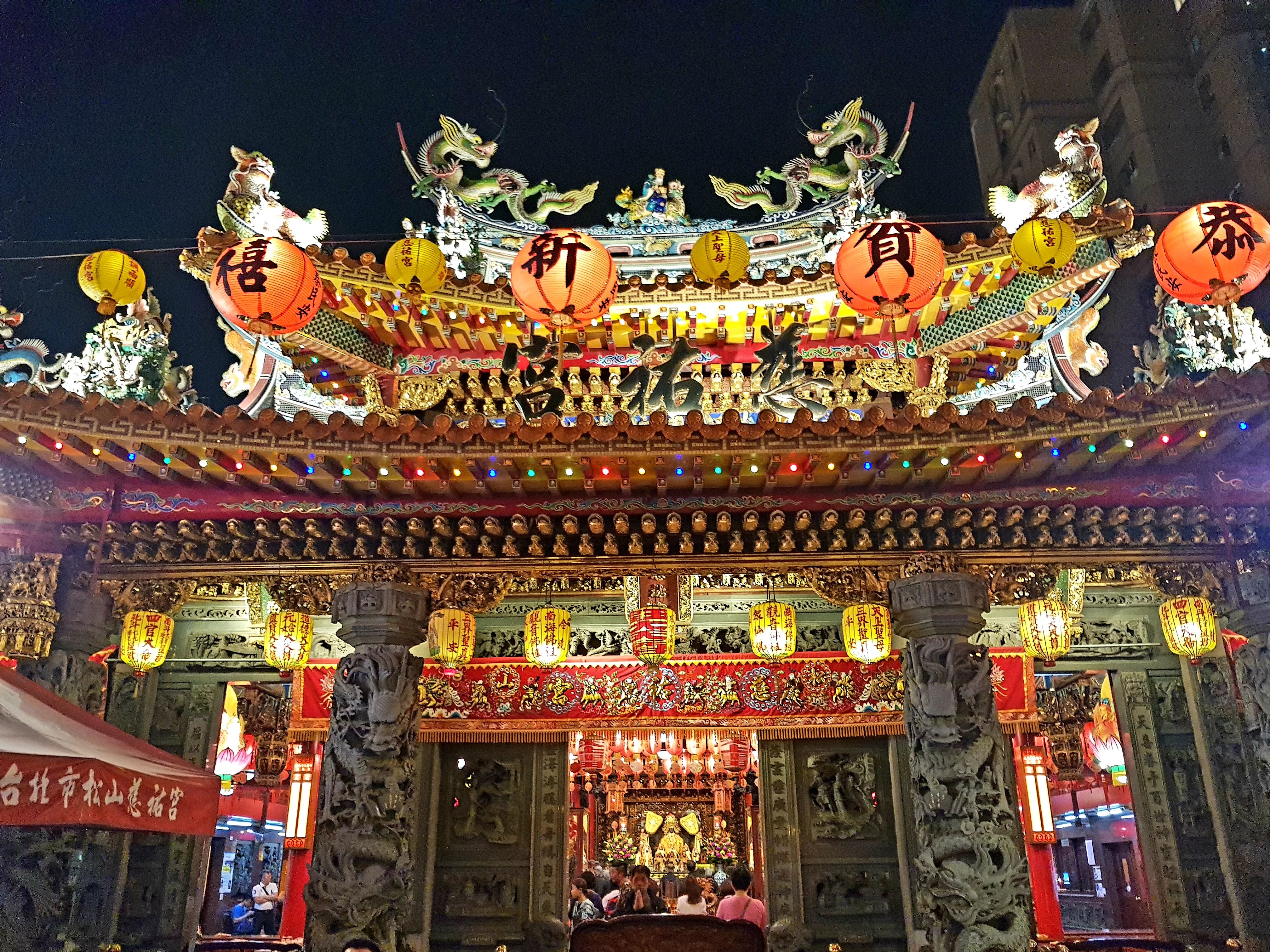 ---
Raohe Street was very busy but packed with fun and an interesting variety of night foods and snacks, quaint shops and stalls, as well as a some cool carnival games where you could win prizes.
If you have a stomach for street food, this place is your one-stop haven! Raohe Night Market cater for some more common foods and snacks found at other night markets, however it is evident they have a few specialities of their own on offer. With that in mind, these specialities are exactly what I went for and I am about to share with you a few things you've just got to try out!
Pork Pepper Buns (福州胡椒饼)
As we entered Raohe Street, there was a long queue forming outside the night market's main entrance. Situated right there was one of the most well-known street food stalls in Taiwan that only serve one thing – the extremely delicious Pork Pepper Buns. These pipping hot buns are prepared and cooked in front of you, which are then stuffed full with peppered minced meat and green onions. Check out the video above where you can view the cooking process in full!
We waited about 10 minutes but it was well worth it. One of the best things is that they serve it to you hot and fresh, straight out of the oven! From the first bite, the skin tasted crispy and flavoursome with a scented fragrance of toasted sesame seeds. The pork meat inside was also well seasoned with that dinstinct "pepper" taste and fresh green onions texture. Absolutely delicious and this is something that you won't want to miss when you go there!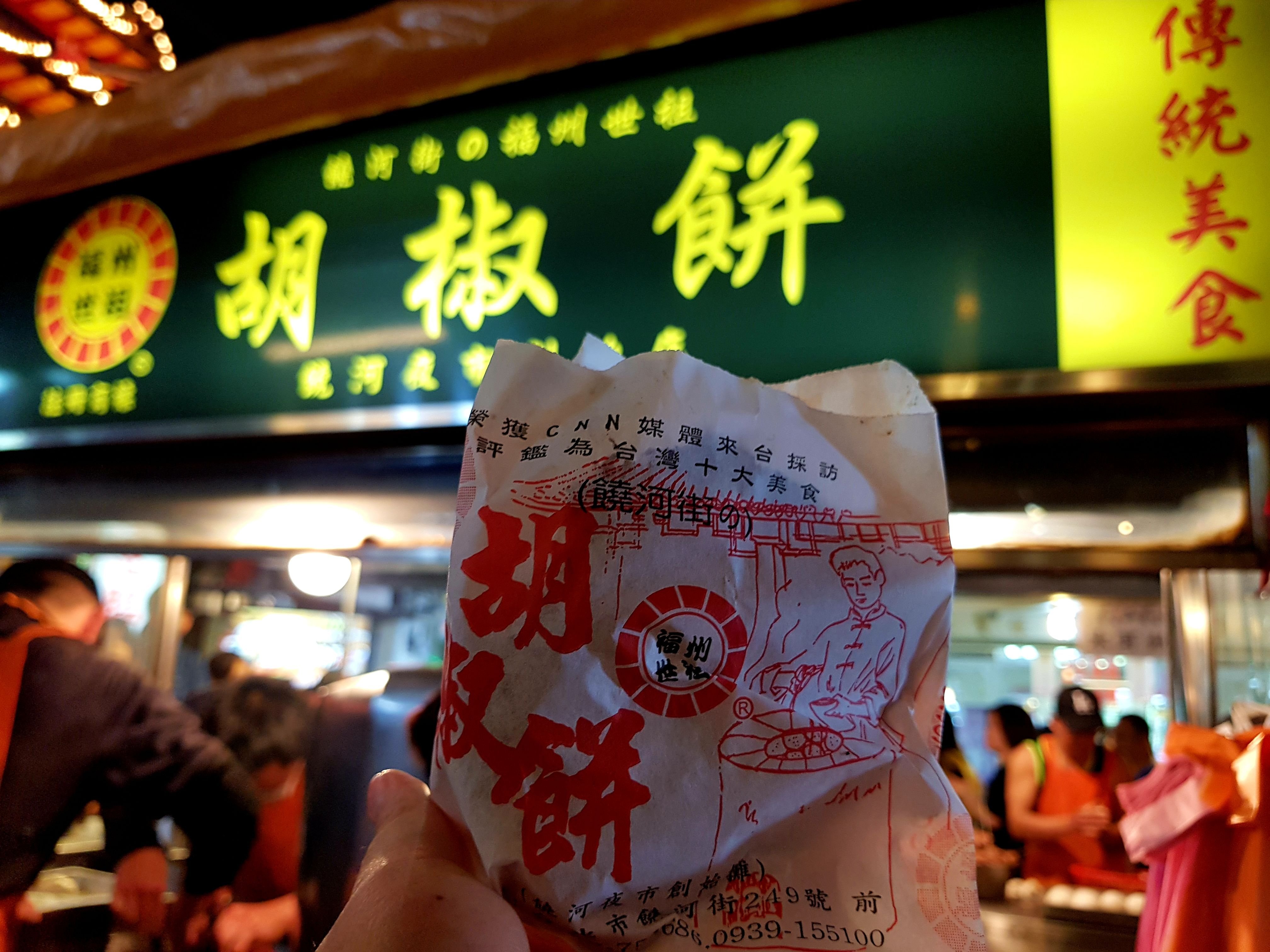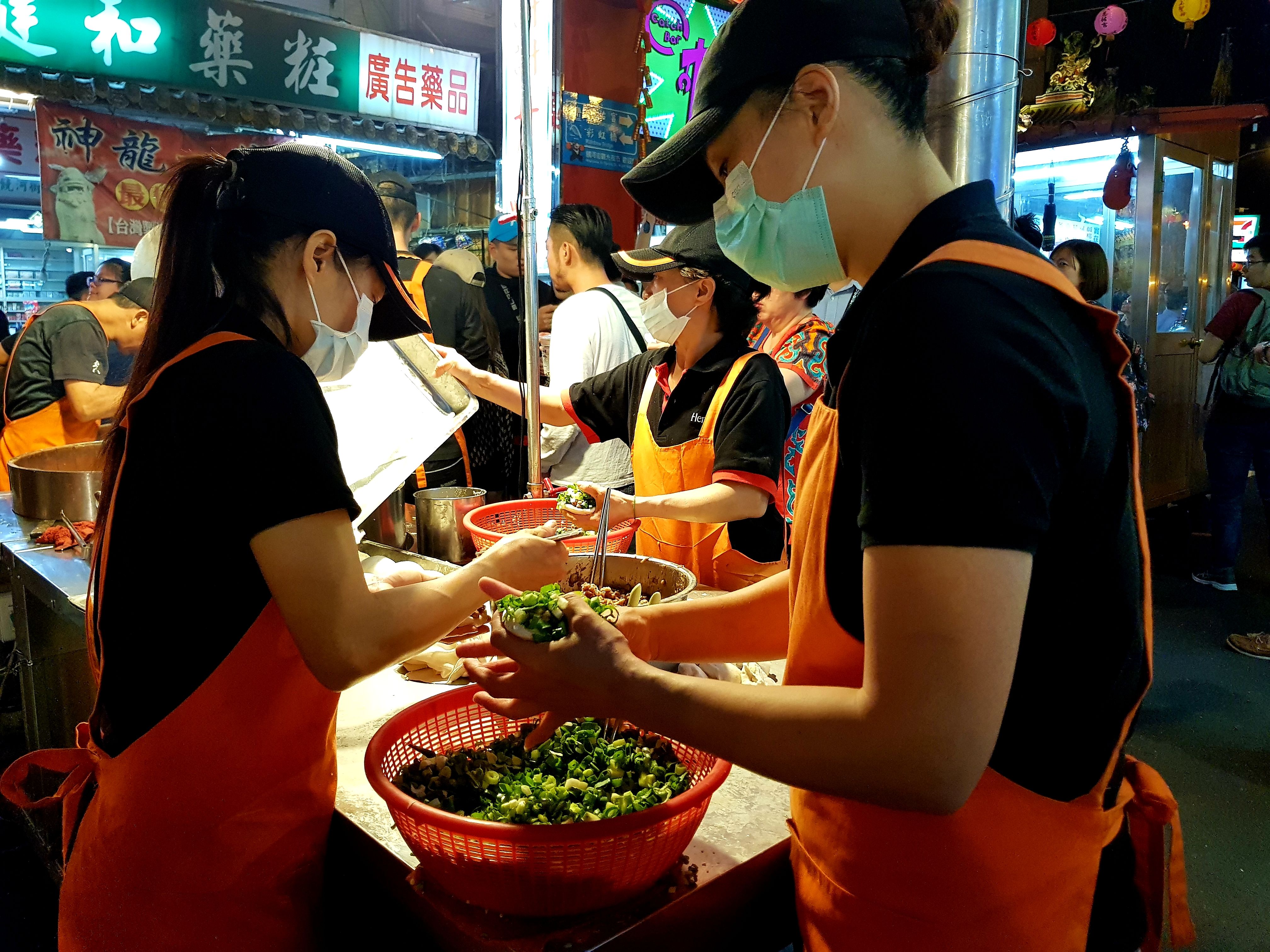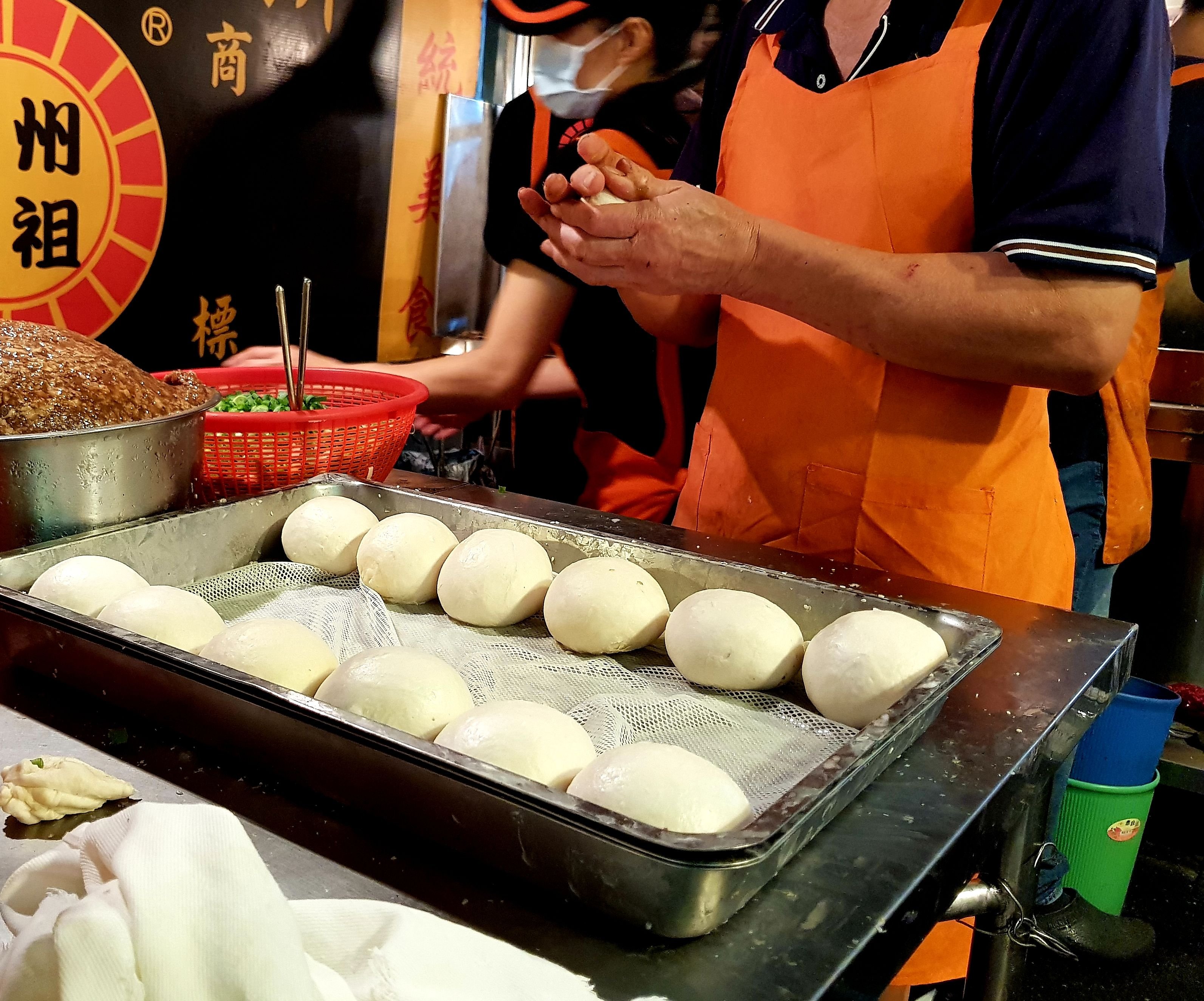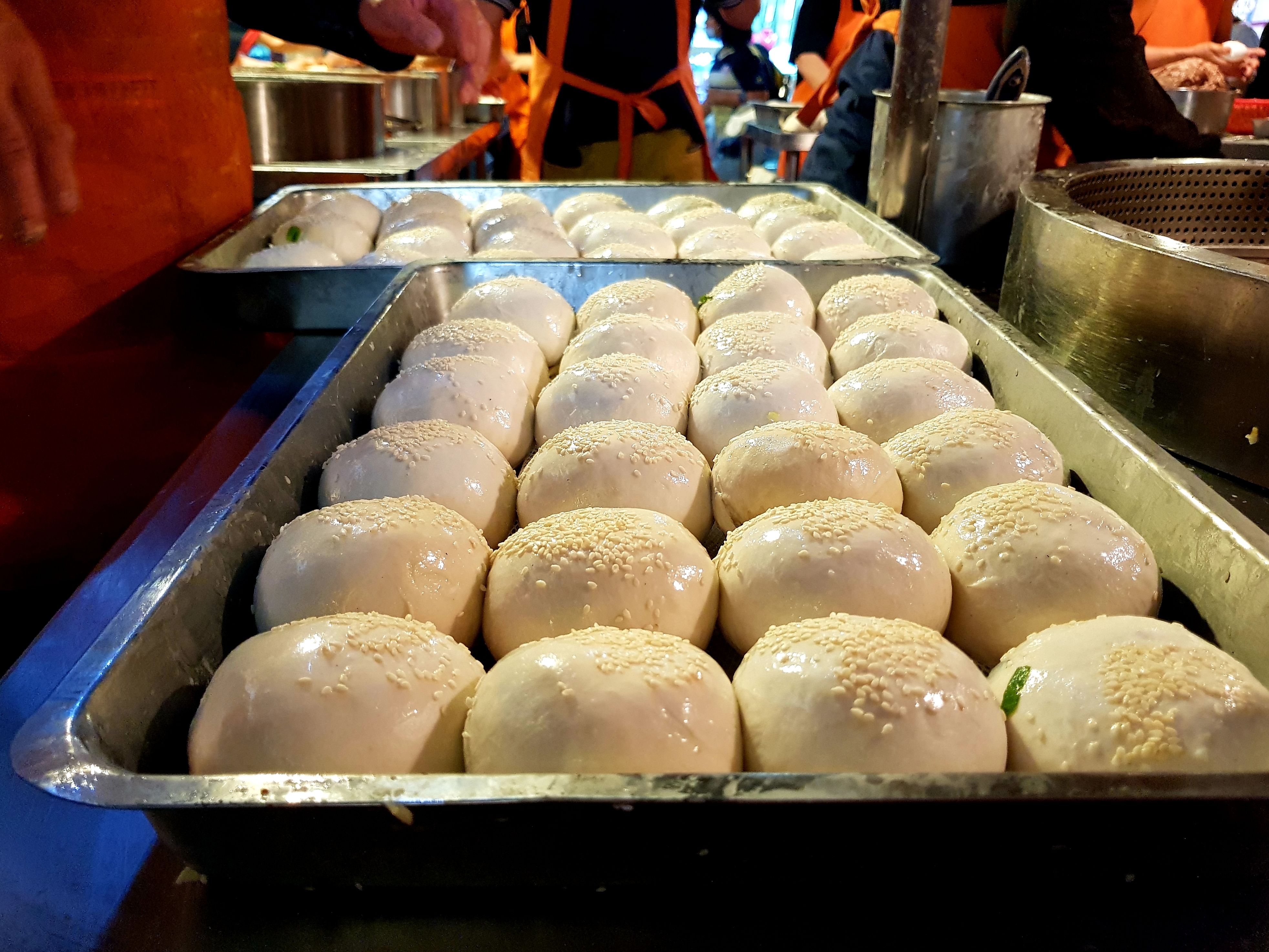 ---
Grilled Squid (烤鱿鱼)
There were quite a few food stalls selling gigantic grilled squid. Lucky me, because absolutely I love squid! It's flavour and texture. Basically, everything about it, haha!
The fresh seafood was cooked on the grill until the outside became a golden brown colour. You can choose from either the "flattened out" option that resembles a butterfly cut, or the other that leaves it in its traditional tubular shape, which is then sliced into rings before serving. We opted for the latter.
The grilled squid was absolutely amazing! So fresh and tasty, with a chewy texture whilst at the same time tender and succulent. A fantastic snack to try here and my personal favourite!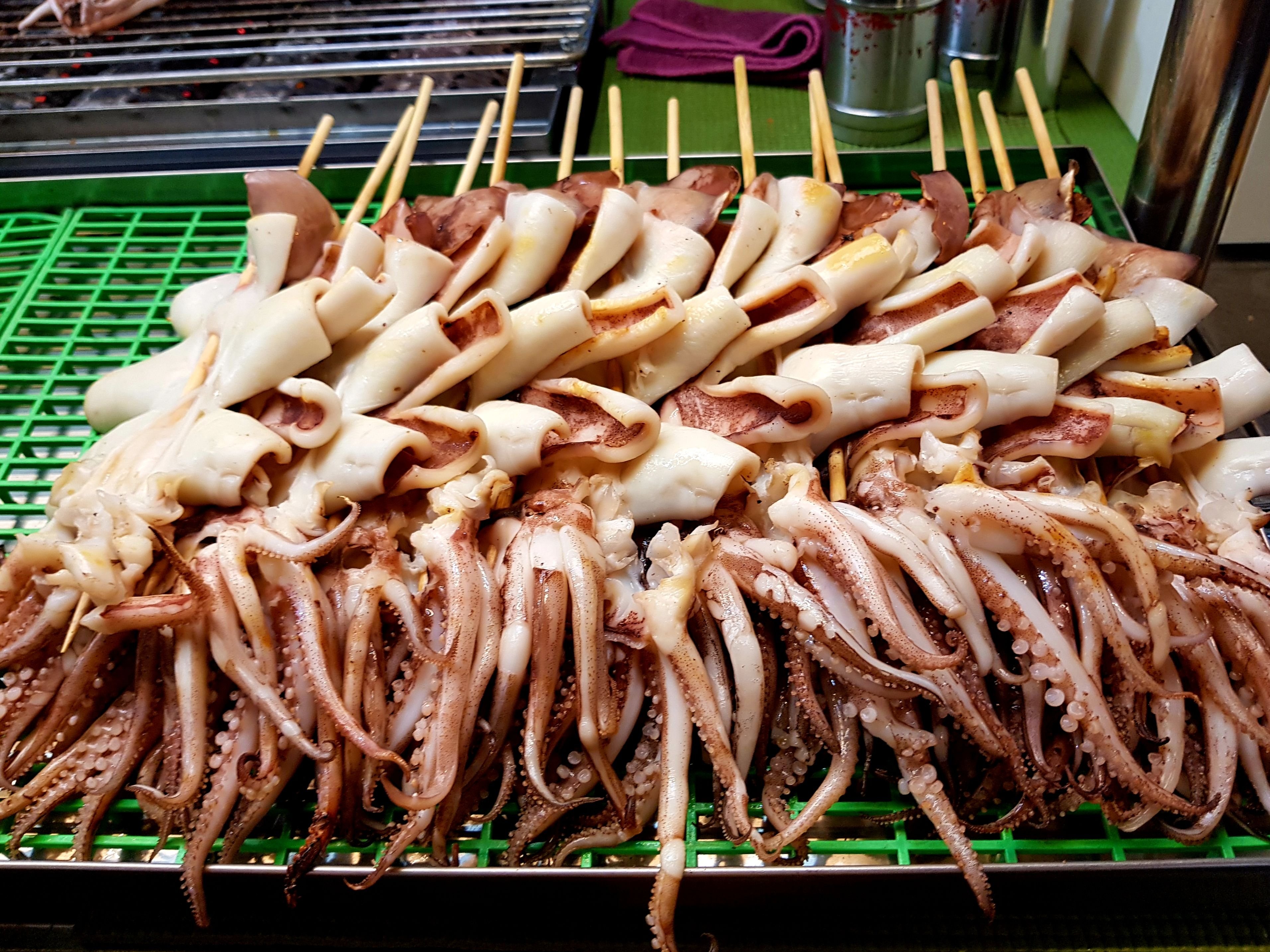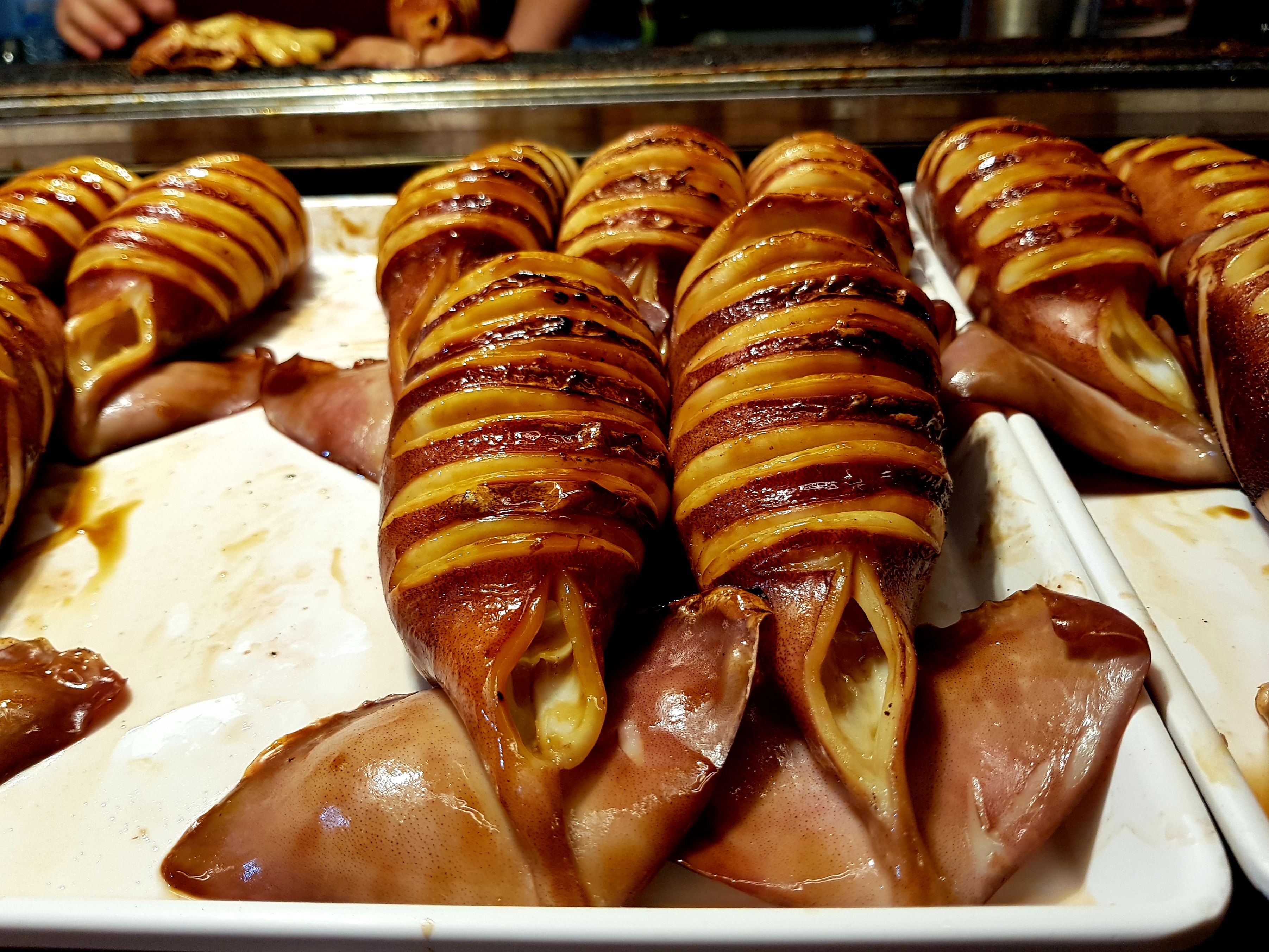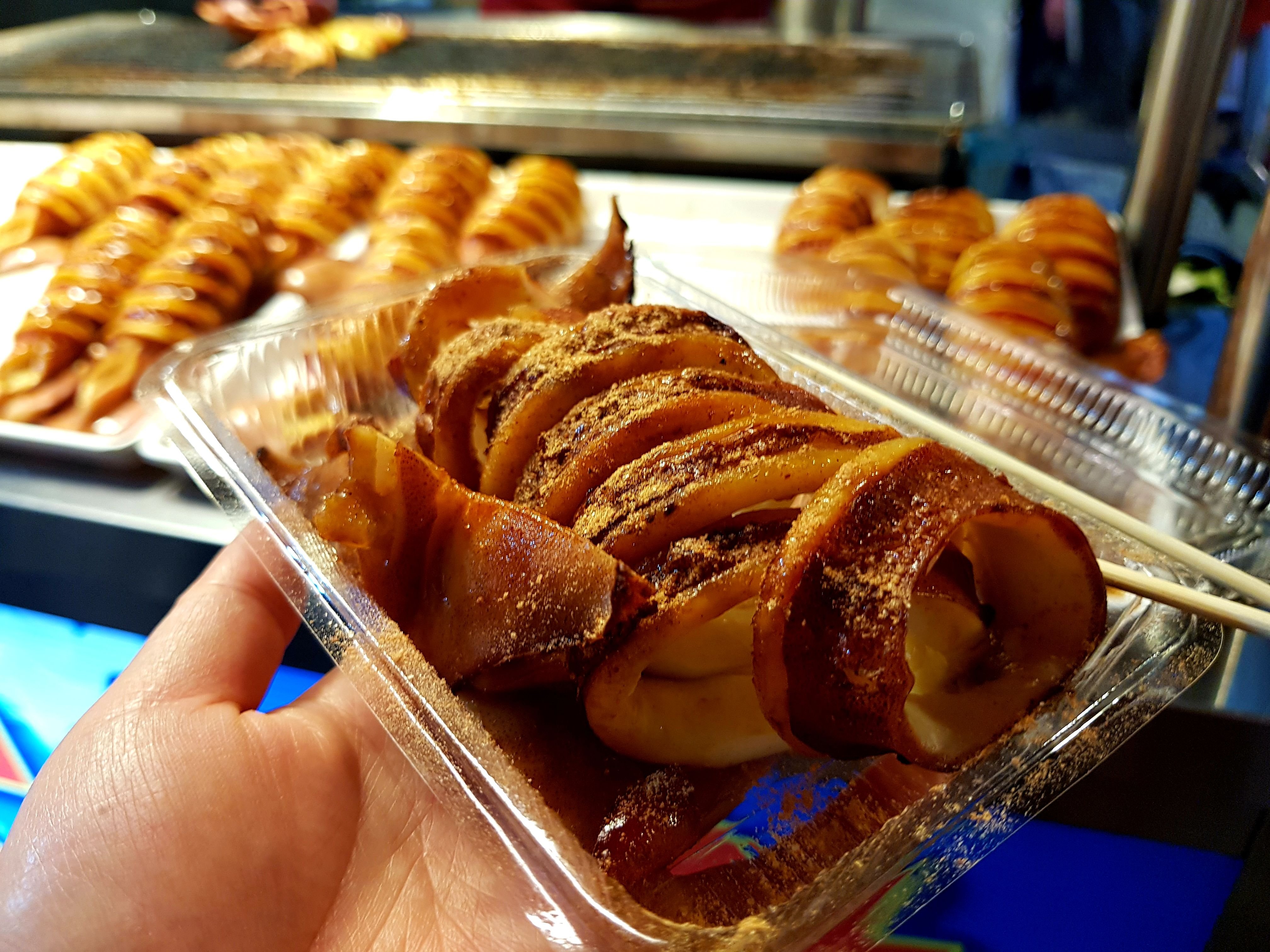 ---
Stinky Tofu (臭豆腐)
While continuing my leisurely stroll down Raohe Street, I found myself suddenly overpowered by what can only be described as "stinky tofu". This is a popular, traditional Taiwanese cuisine and believe it or not, it was recently voted as the best night market food snack in Taipei.
It is probably fair to say that this fermented, deep fried pungent snack, is not everyone's cup of tea. Having said that, if you have never tried it, I would suggest to at least give it a go. Although the smell is strong and unappealing at first, the taste is actually quite mild and feels a lot like eating soft cheese. If that is your thing, lol! The added sauce also makes it taste much more flavourful and delicious!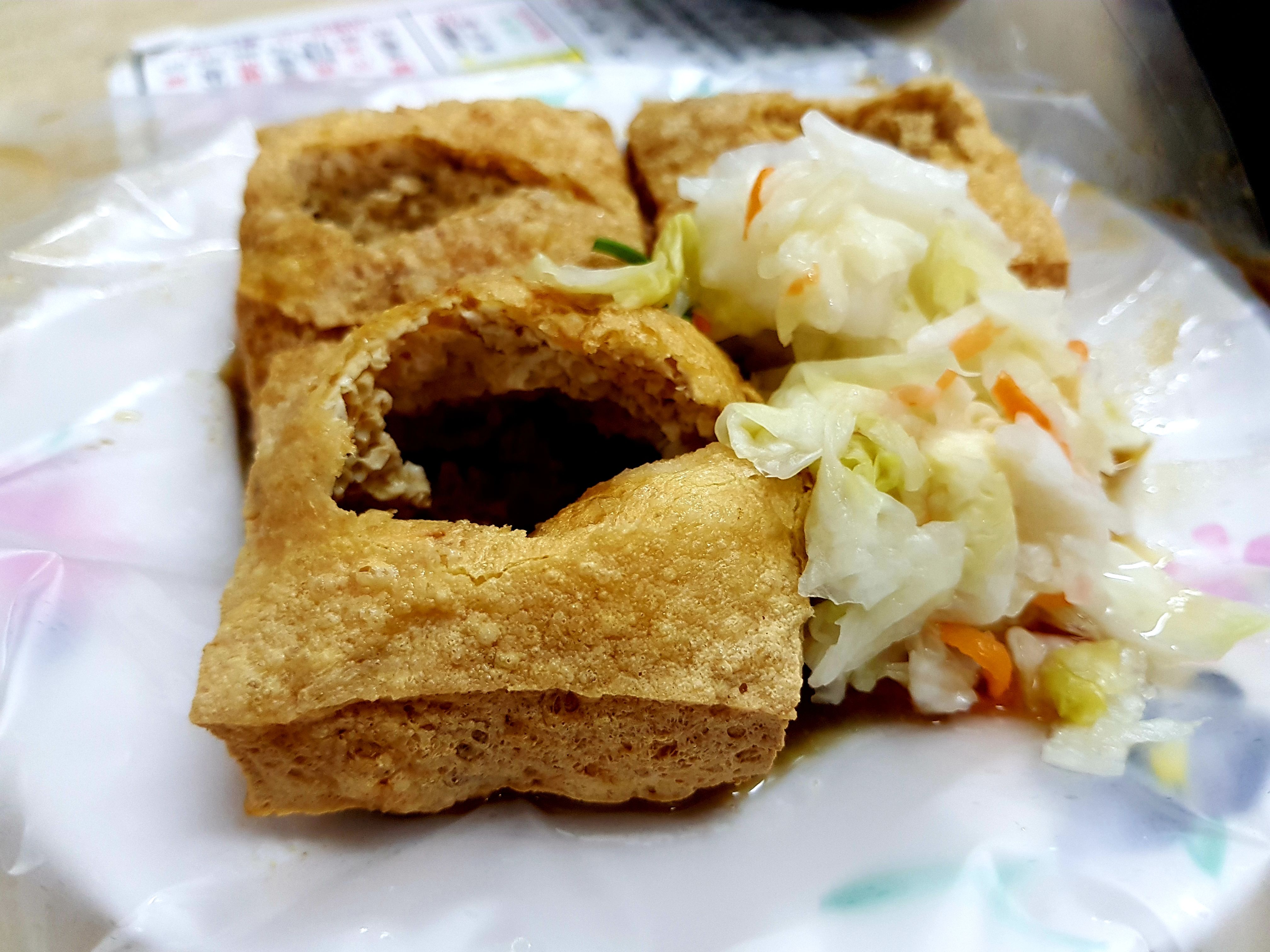 ---
Freshly Squeezed Juices (鲜榨果汁)
After some more exploration, we came across several stalls that were selling freshly squeezed juices, from pink guava to sugar cane and watermelon. They are super nutritious, nicely chilled and so refreshing! Though the papaya with milk is my absolute favourite!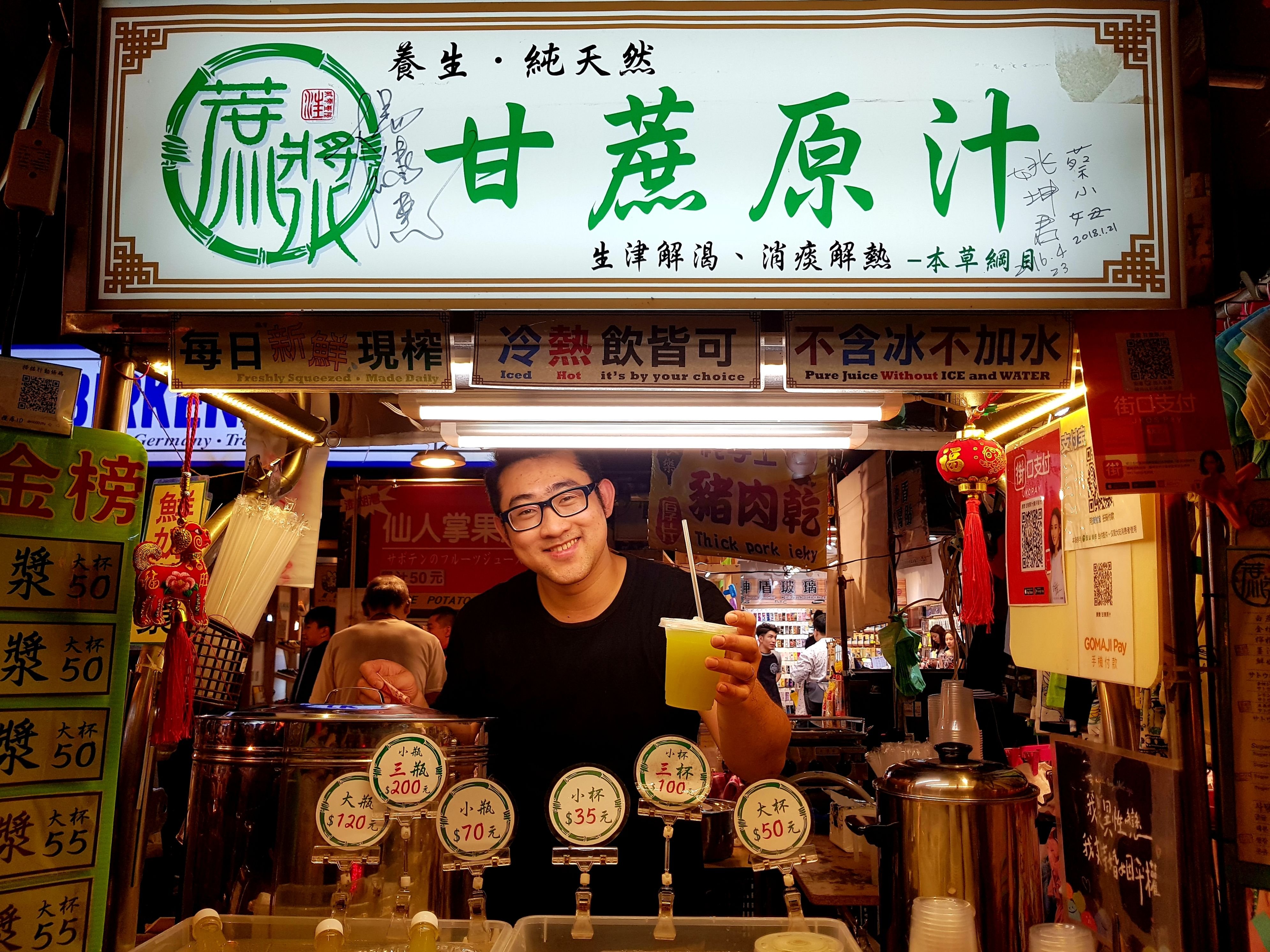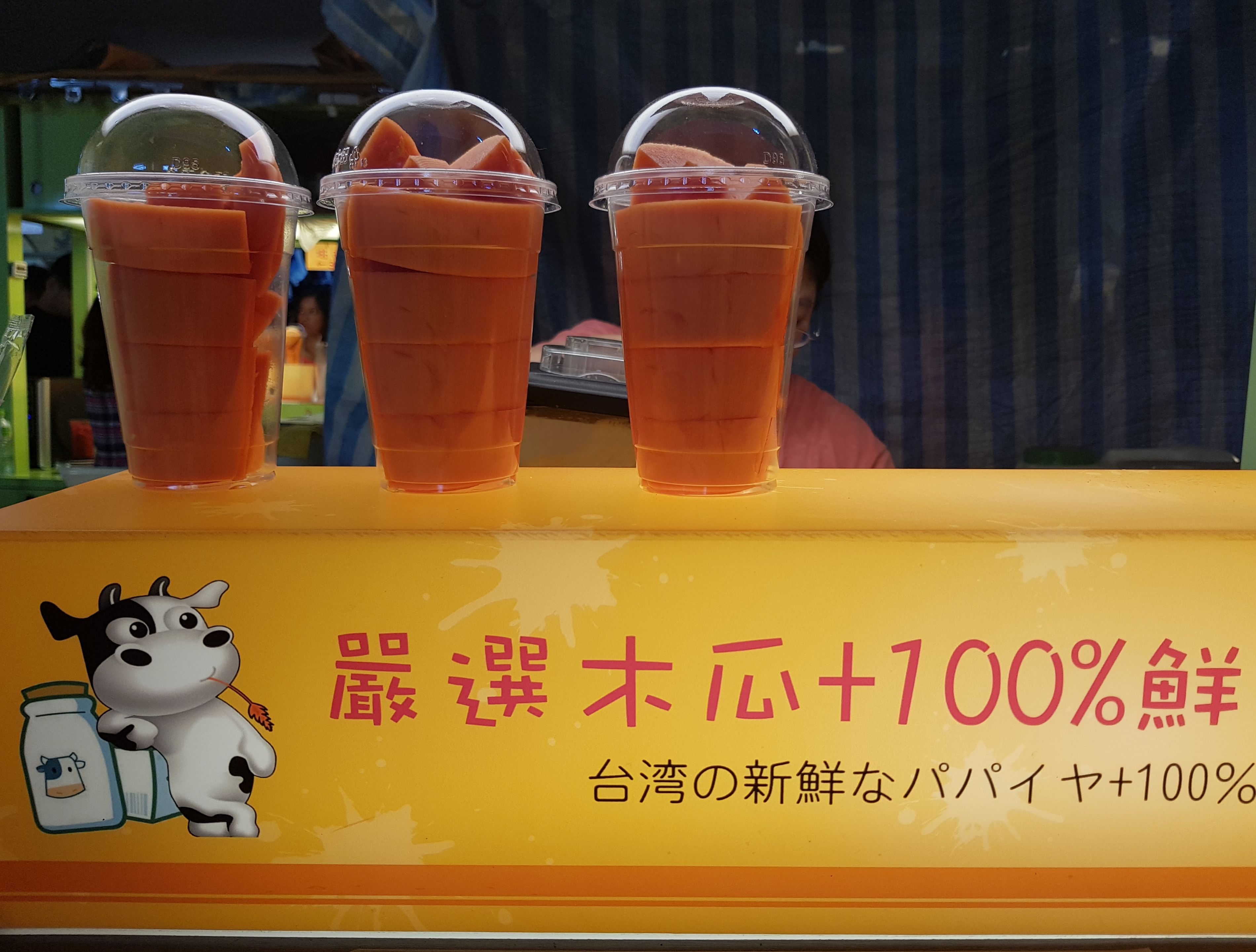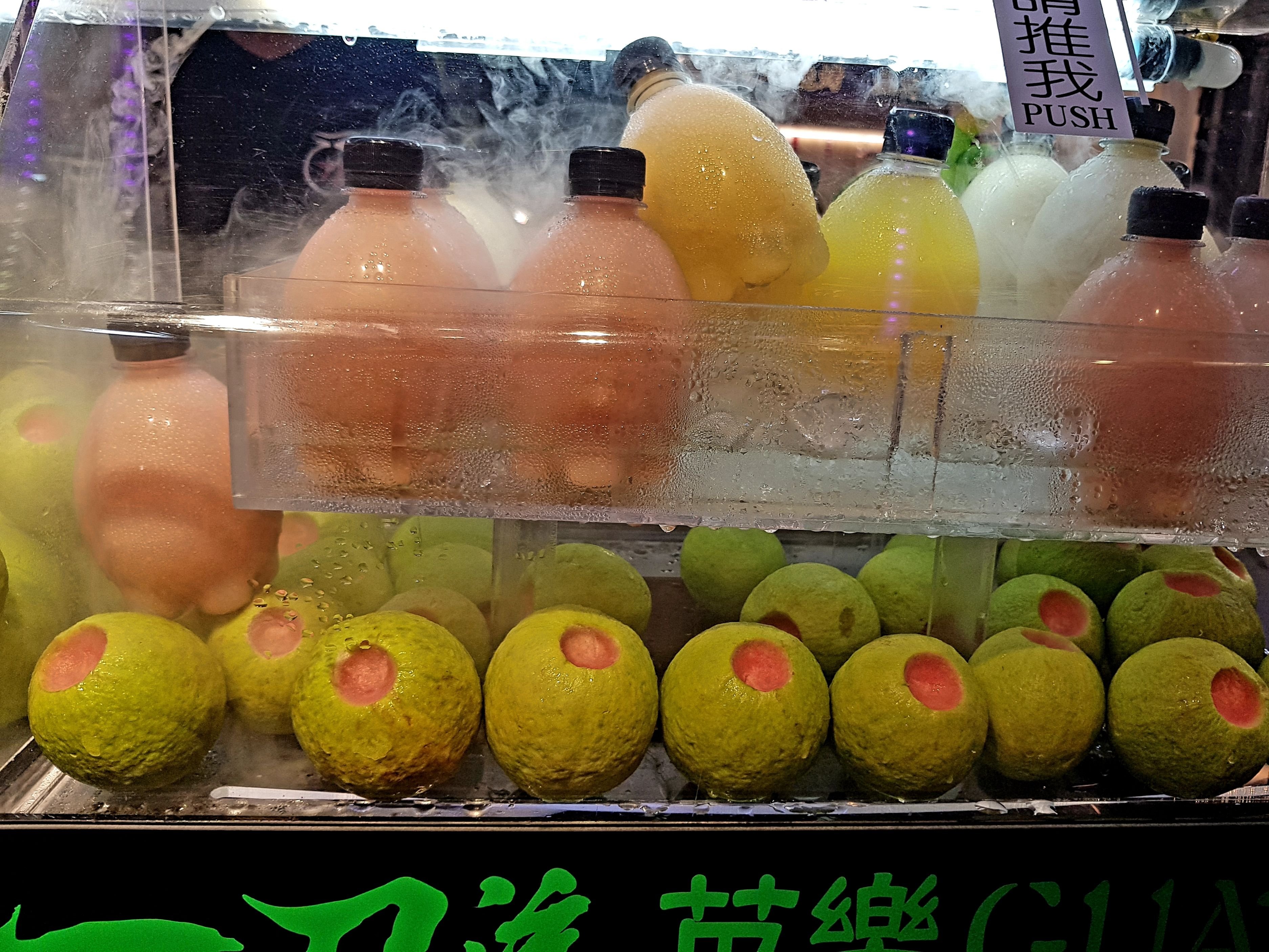 ---
Ice Cream and Peanut Wrap(花生冰激淋春卷)
This tasty dessert is basically an ice cream wrap with peanut candy shavings. It fact, it doesn't look too dissimilar to a spring roll, lol. The procedure to make it is quite simple. Firstly, the peanut candy is grounded up and sprinkled on a pancake, after which the ice cream is then added on top. The creamy and fresh ice cream combined with those sweet and crunchy peanut candy shavings, both complement each other to a tee. So very delicious and indulgent! Enjoy!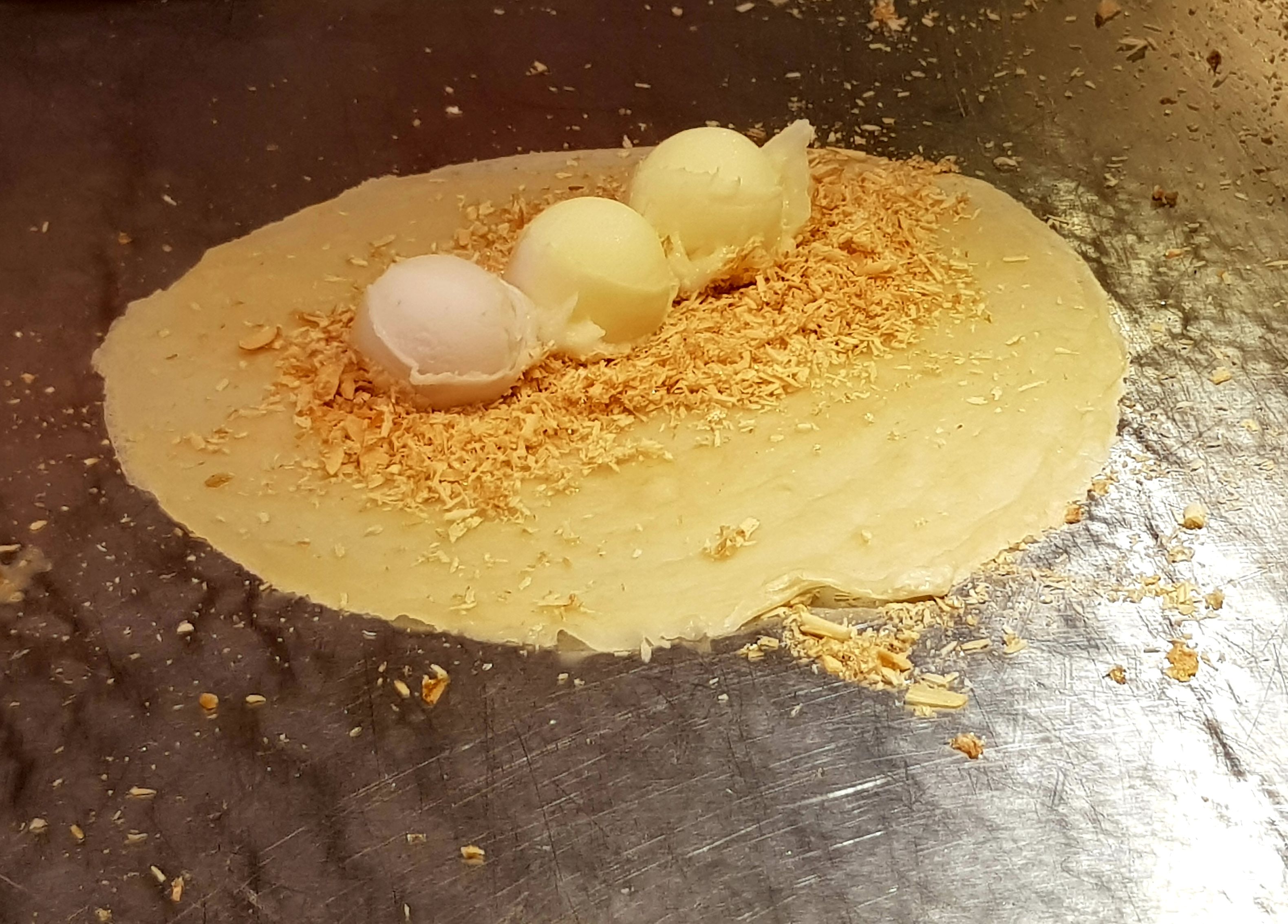 ---
I must have spent several hours in total, checking out the market from one side to the other. And I've lost count of how many tasty snacks we stopped to sample, haha. Here are a selection of some more pictures I want to share with you guys.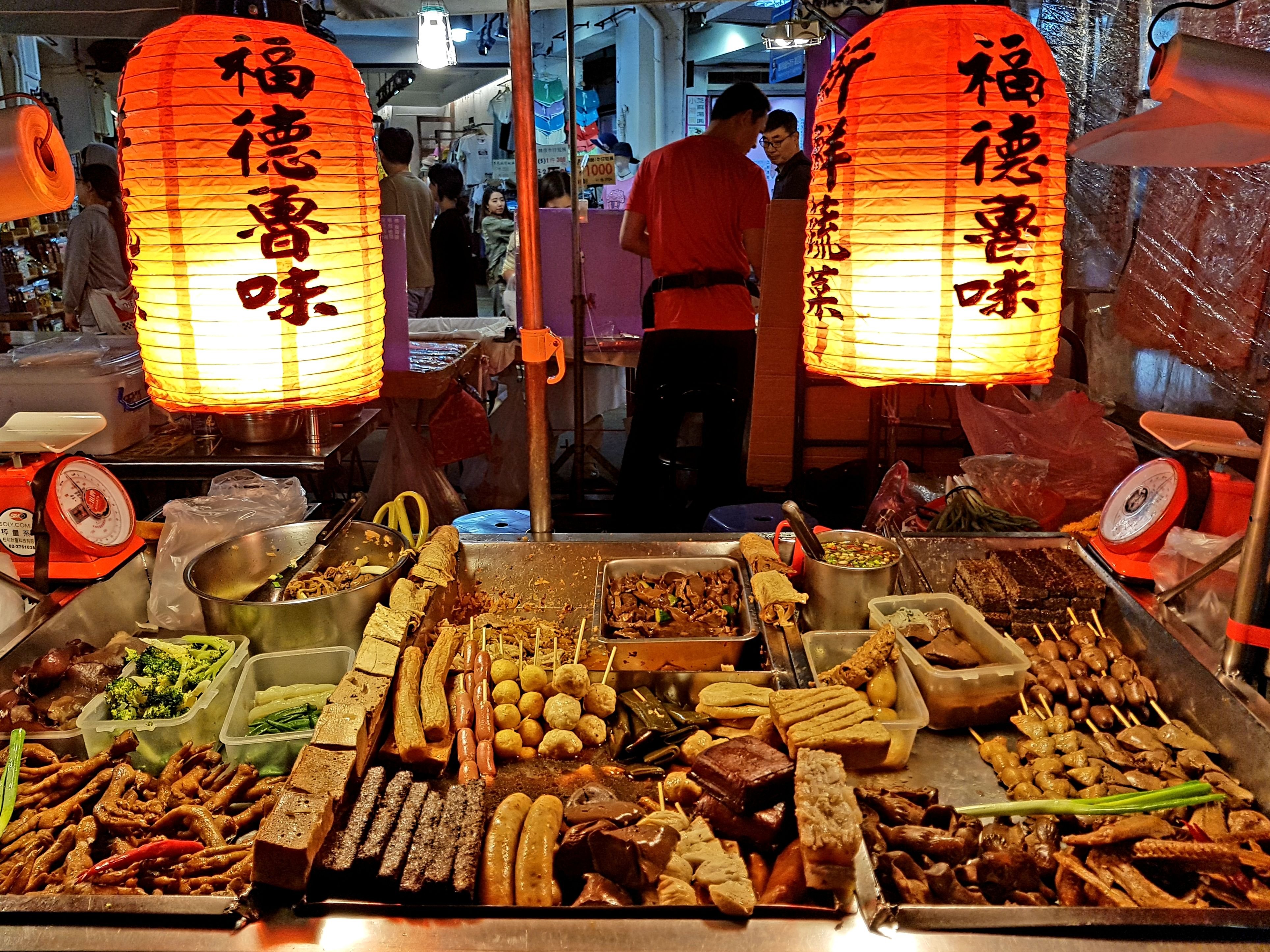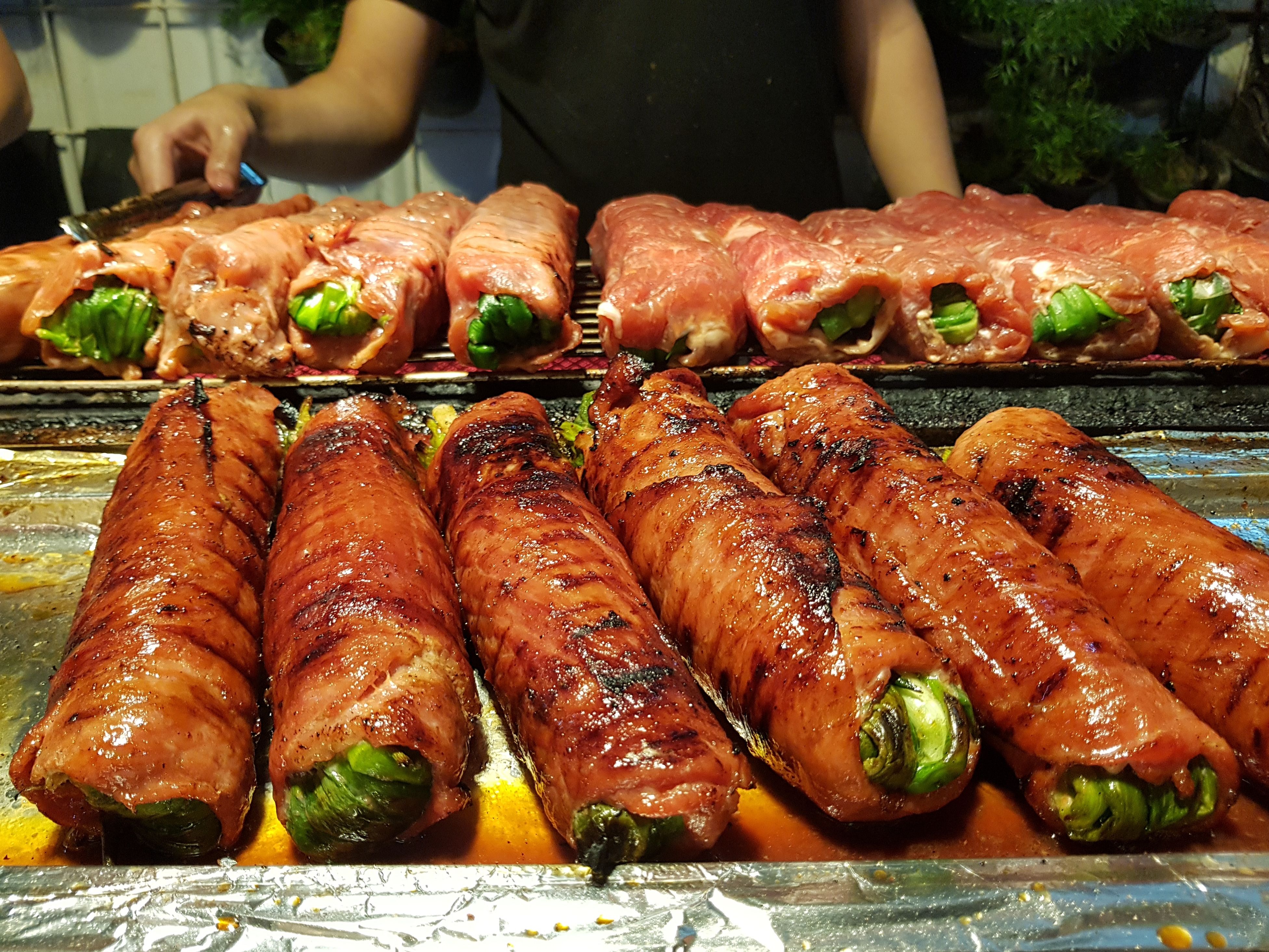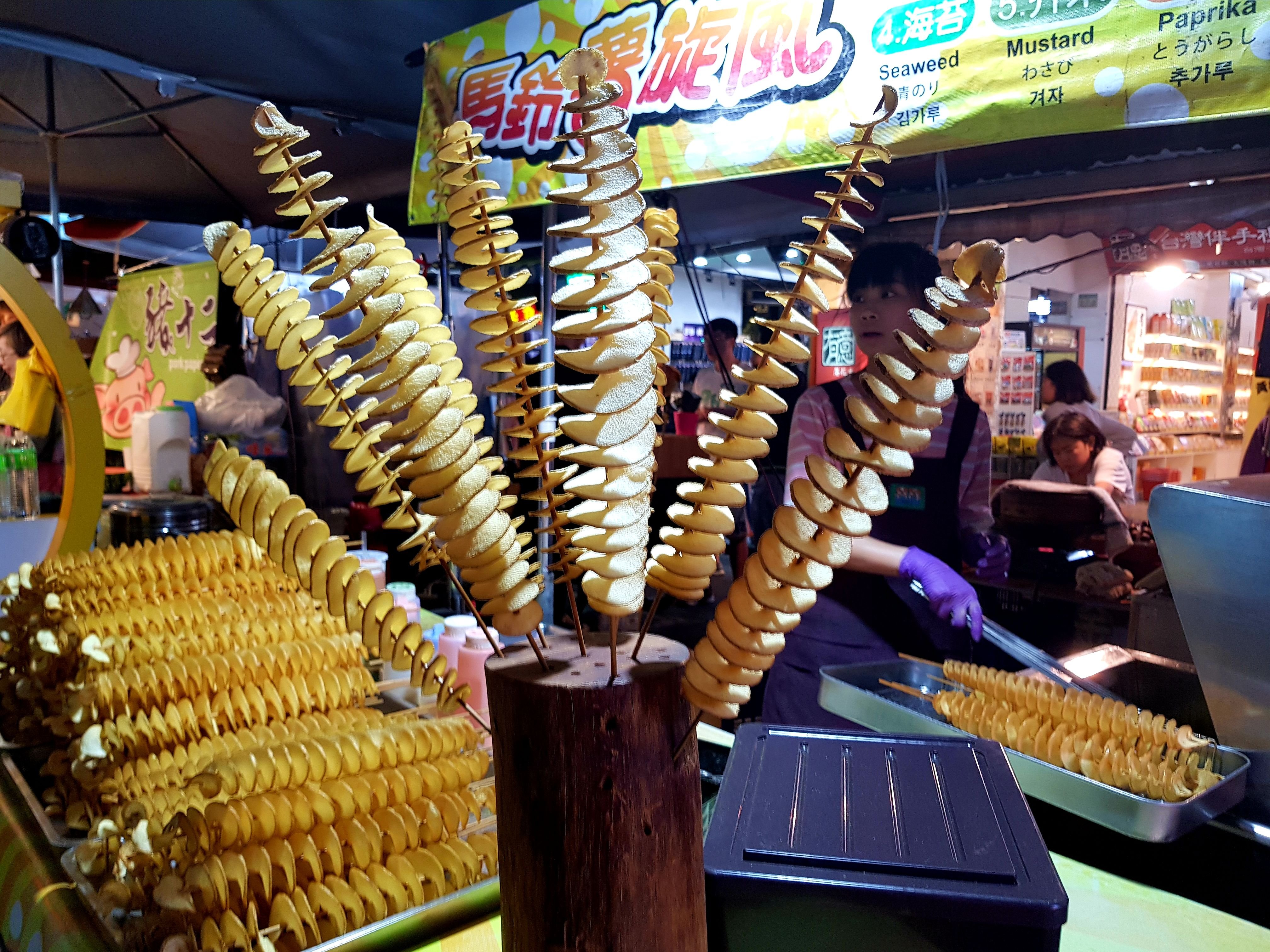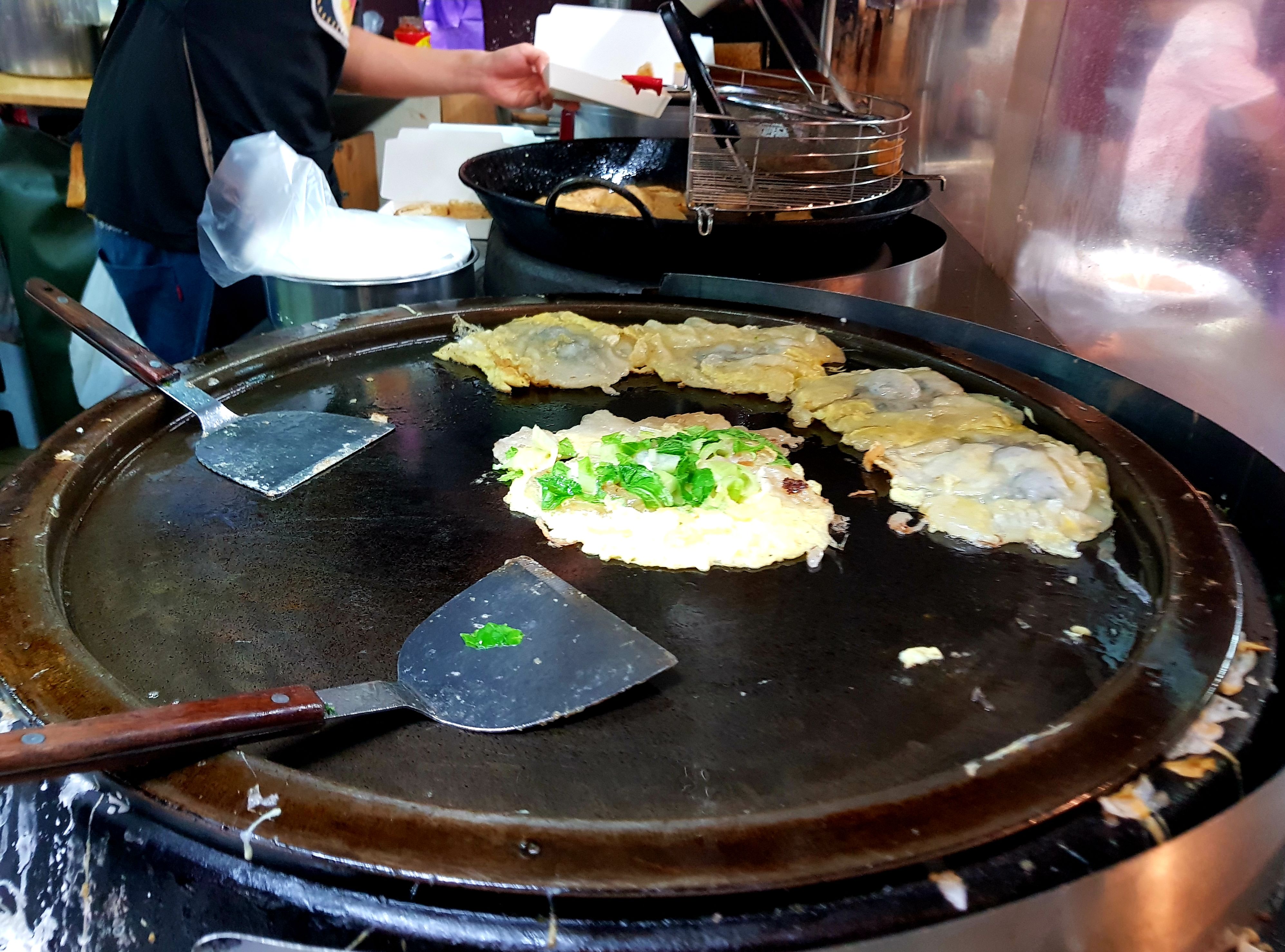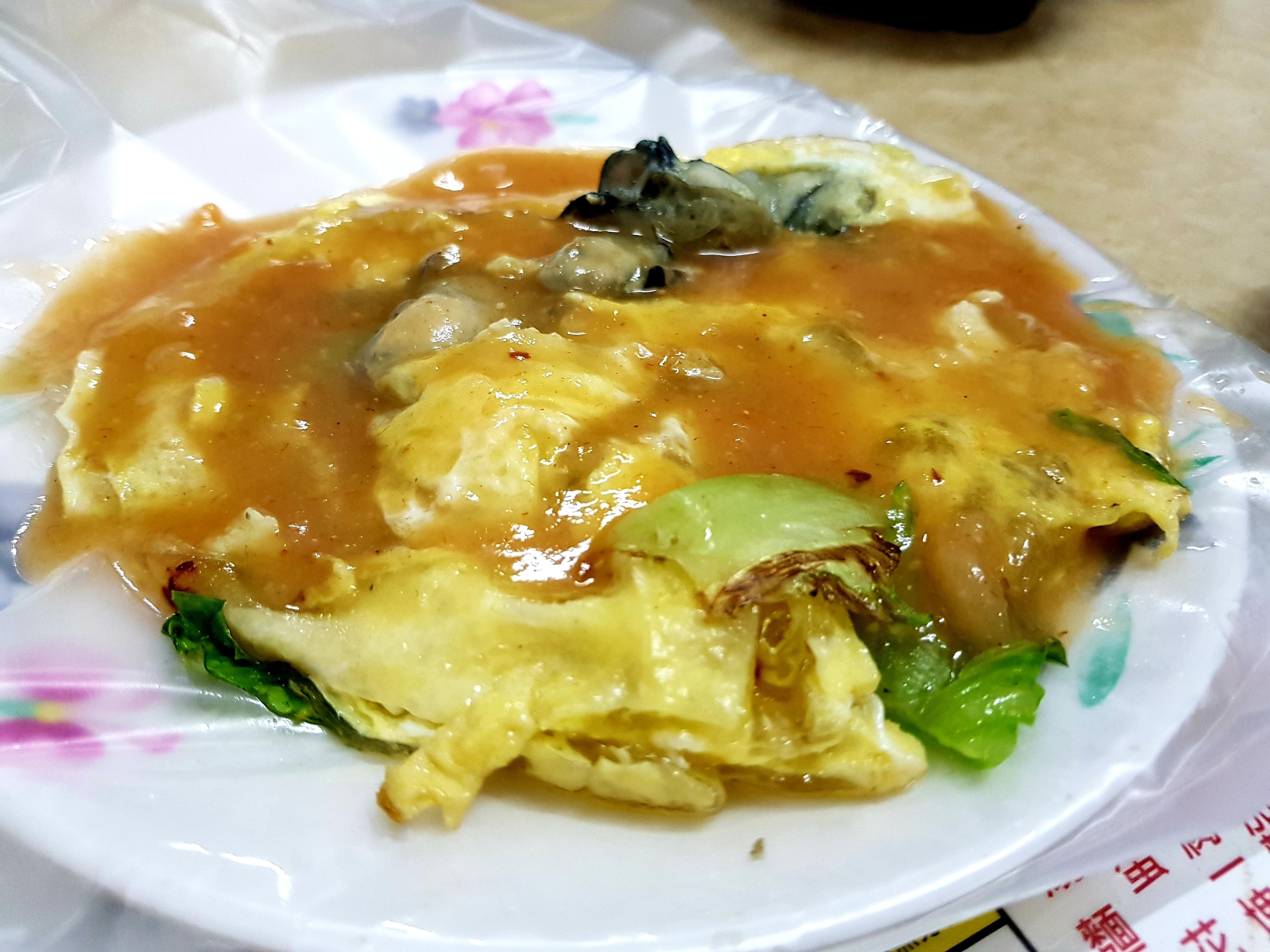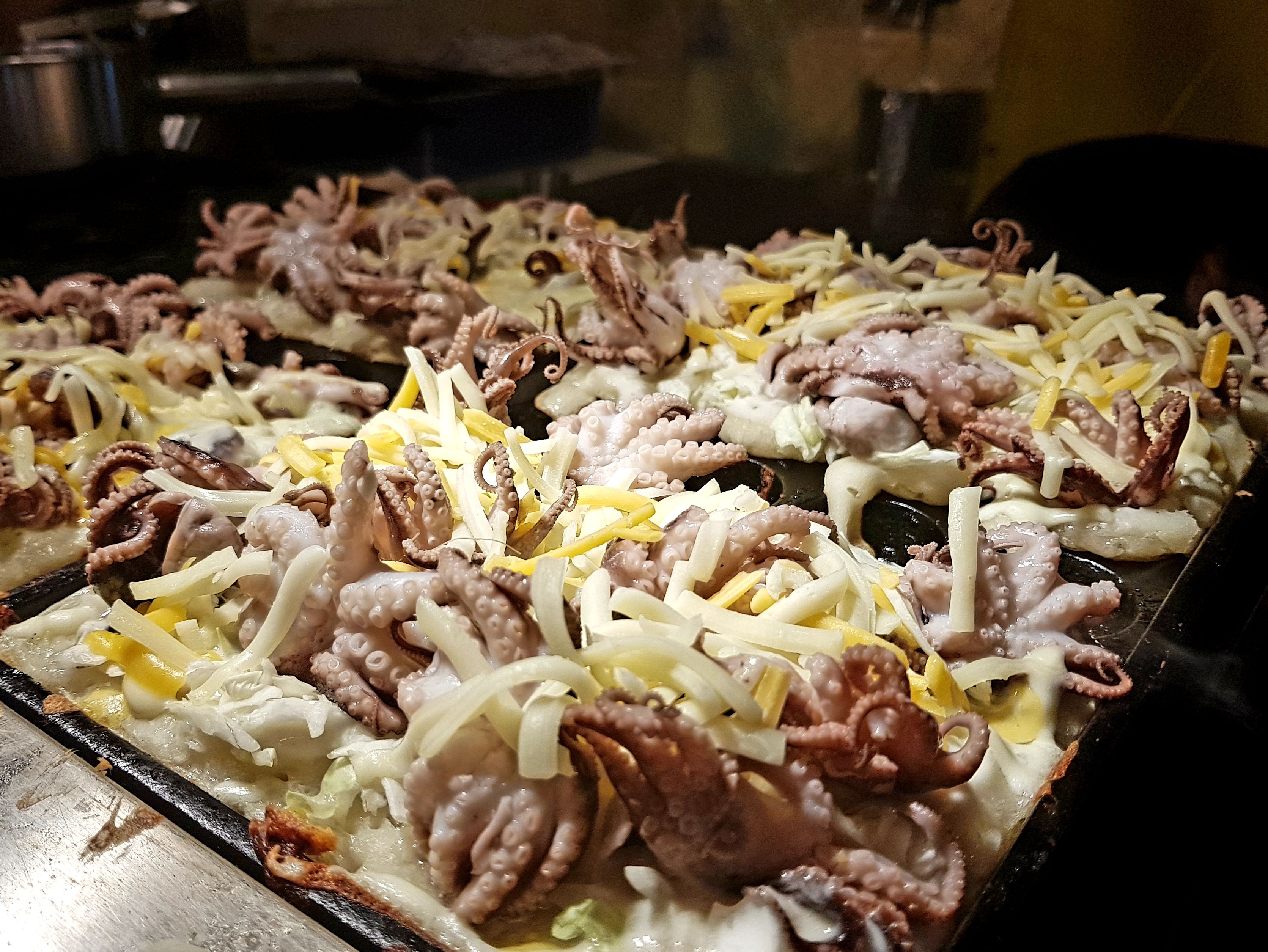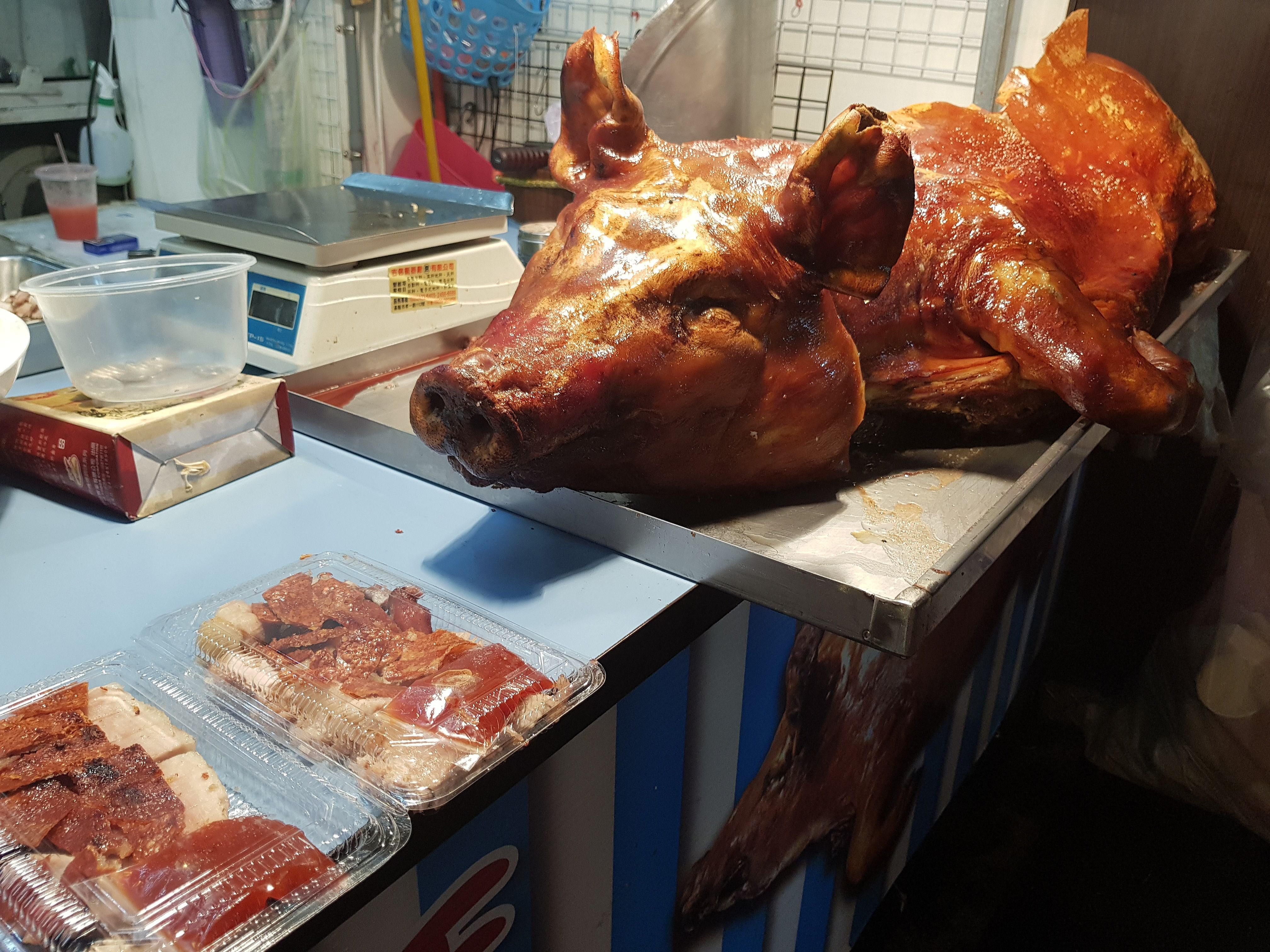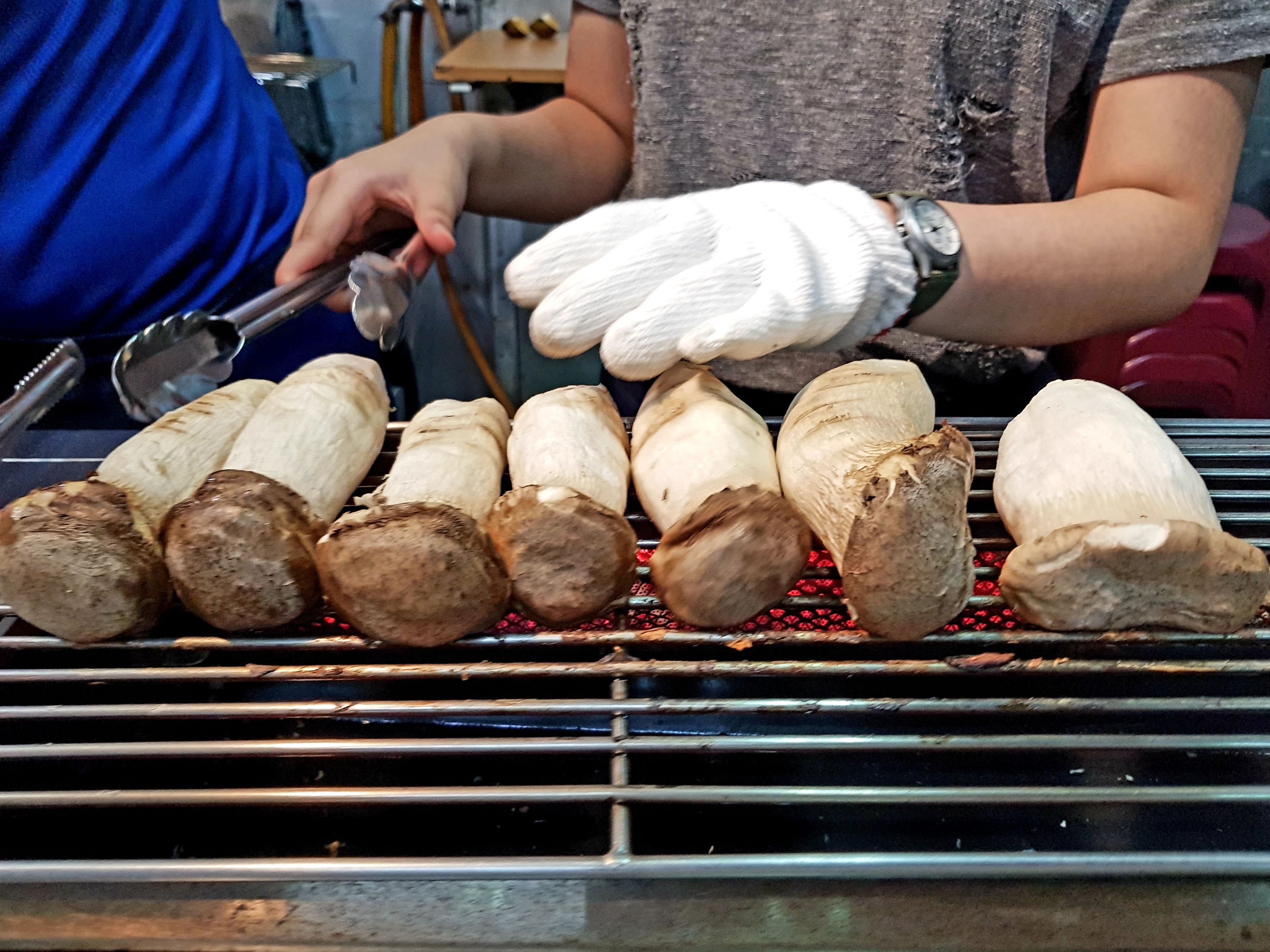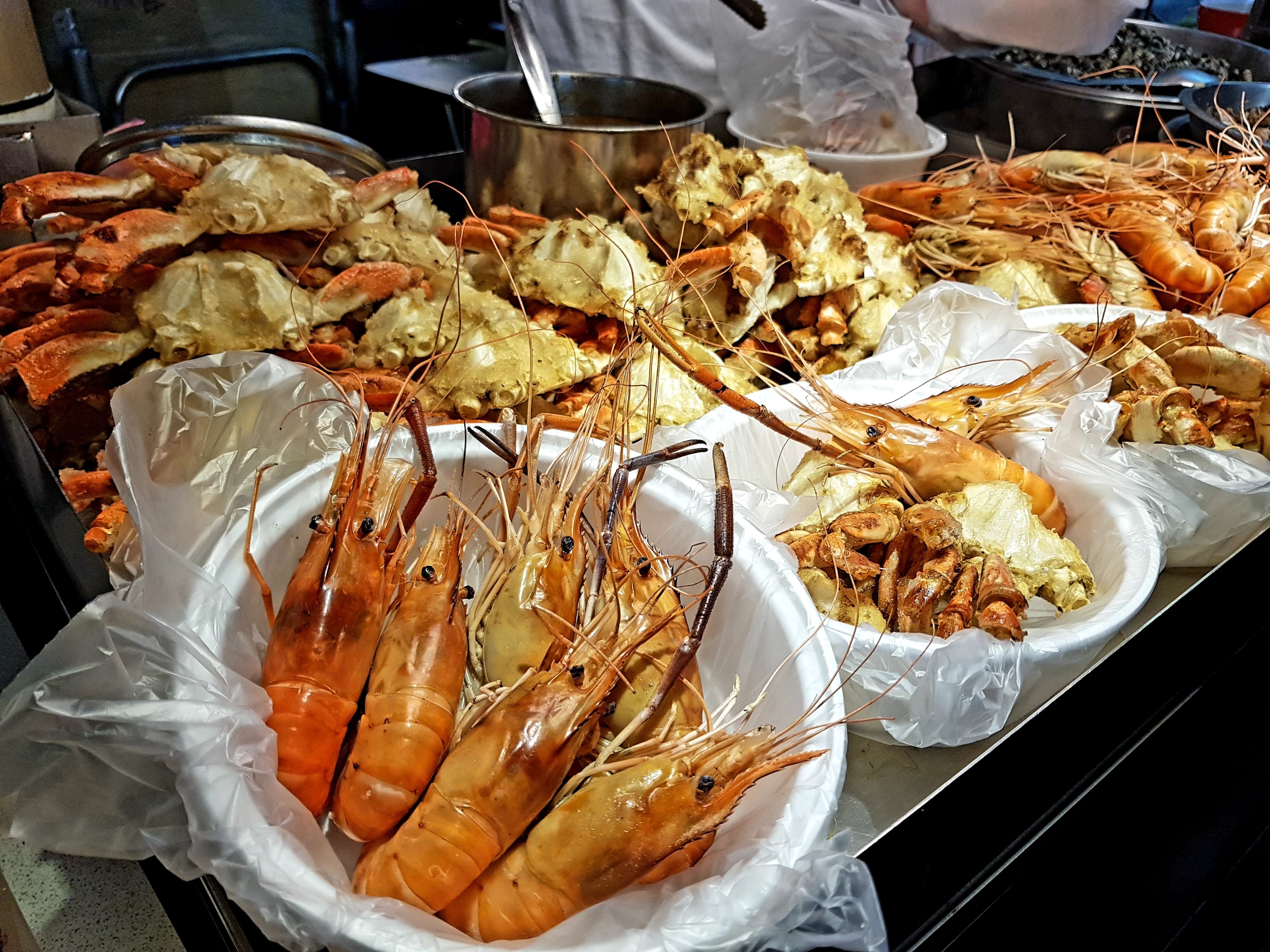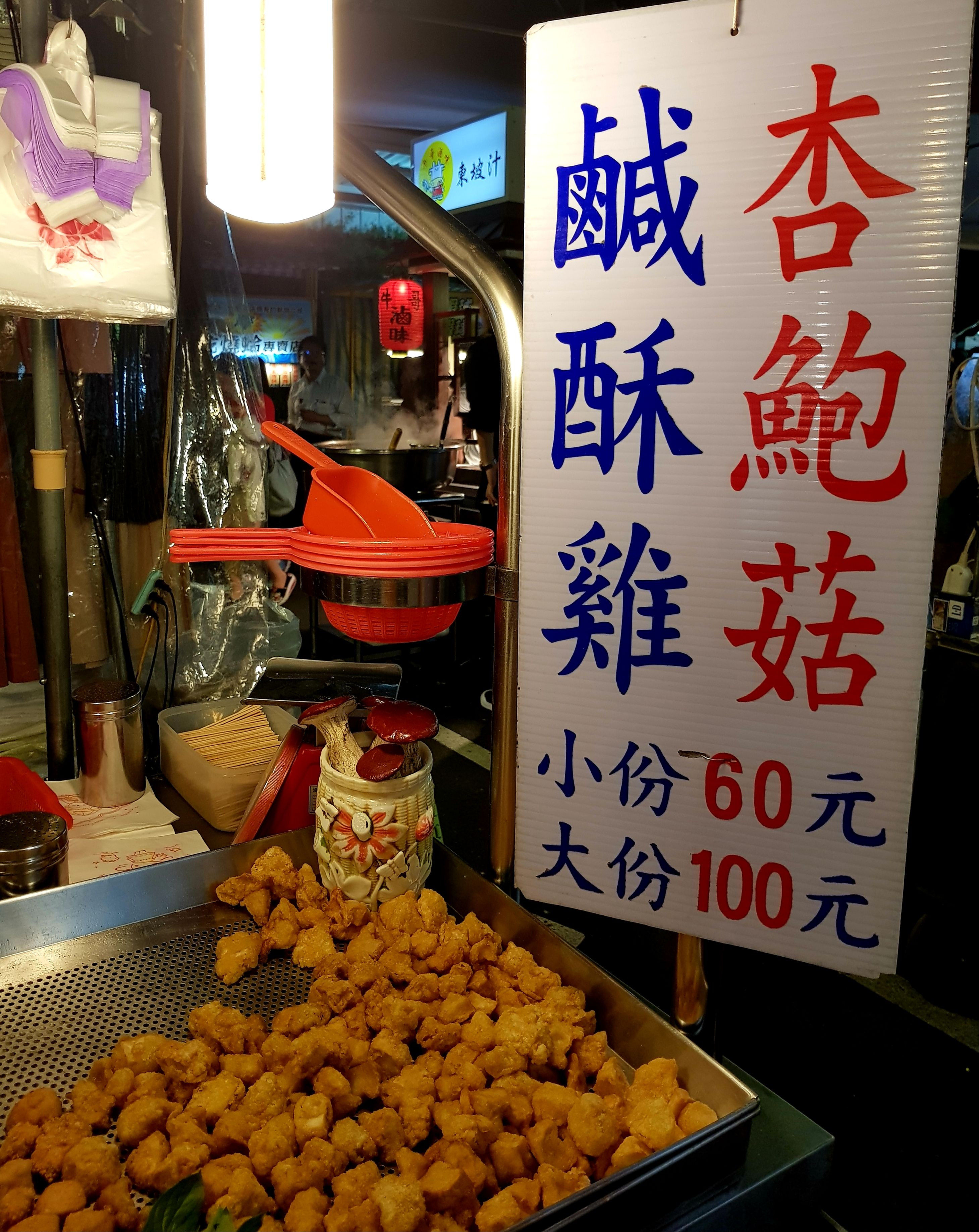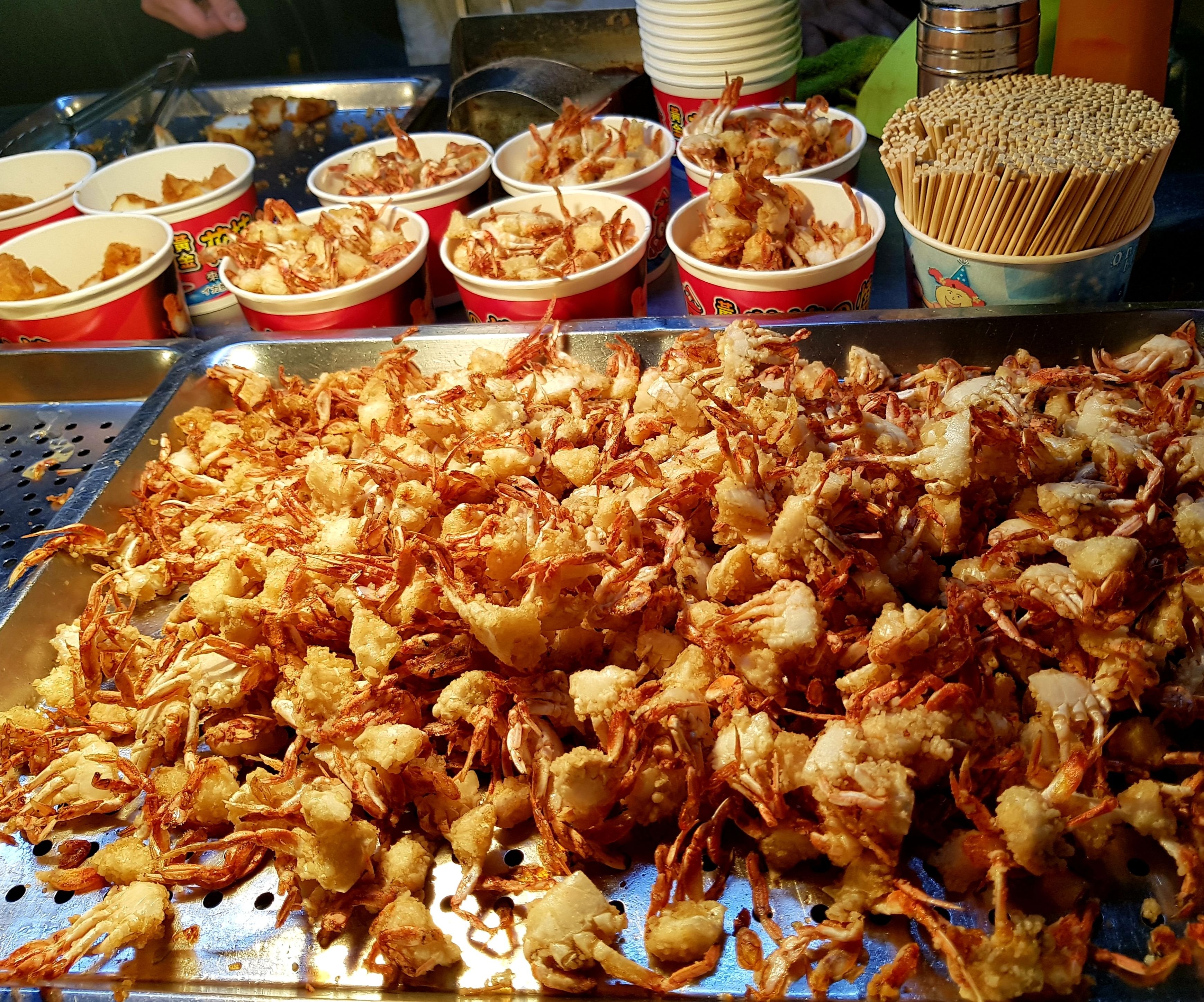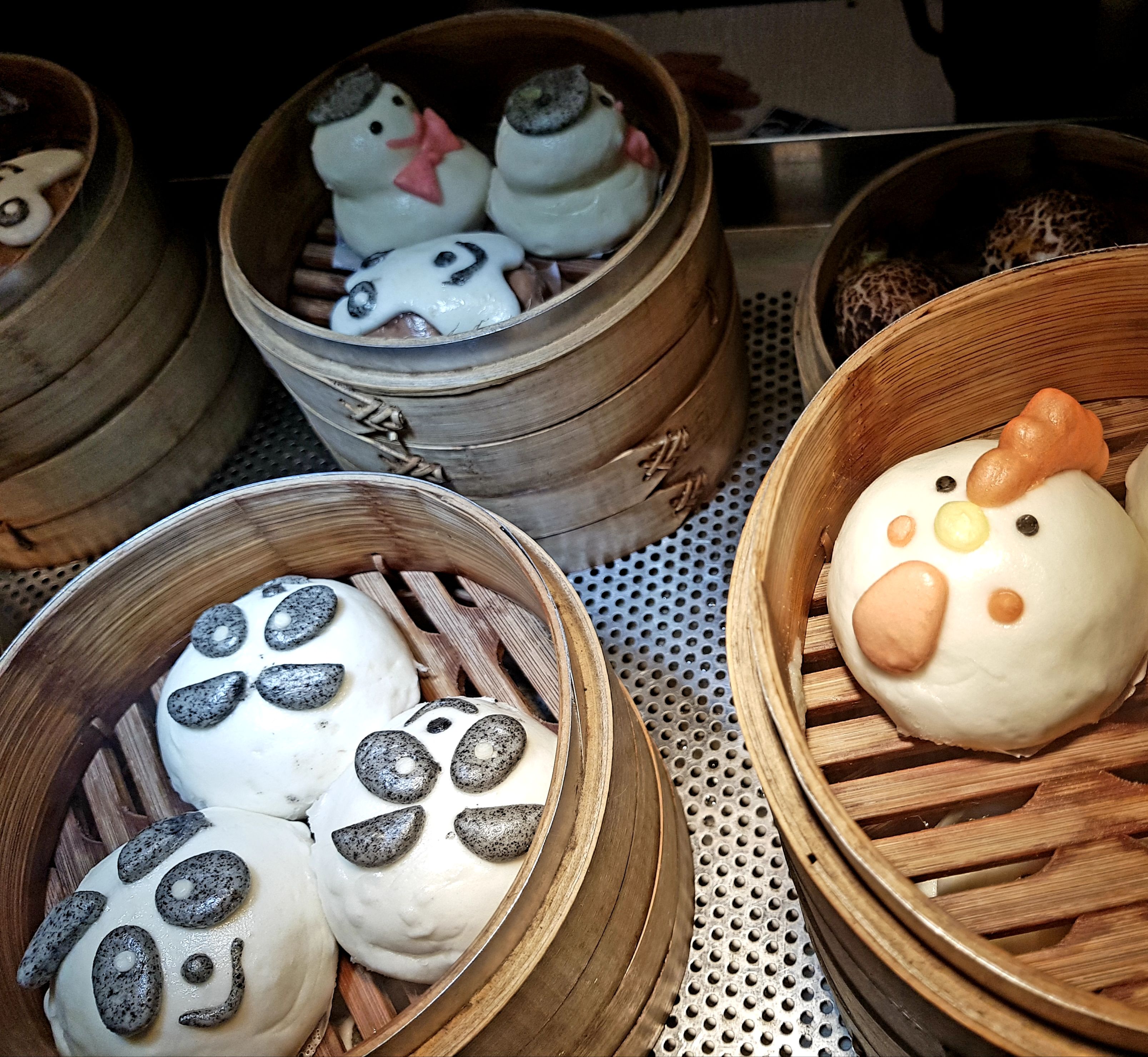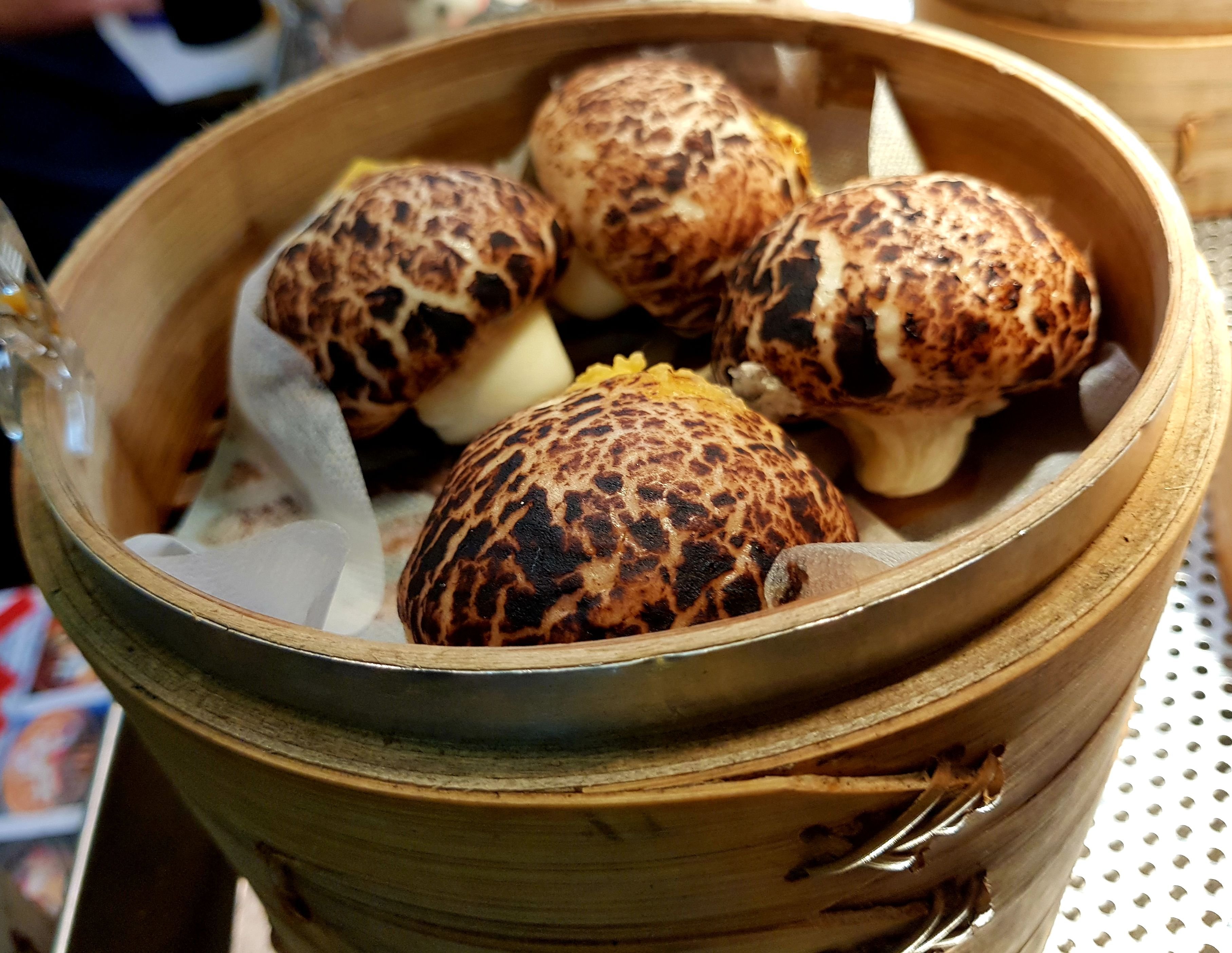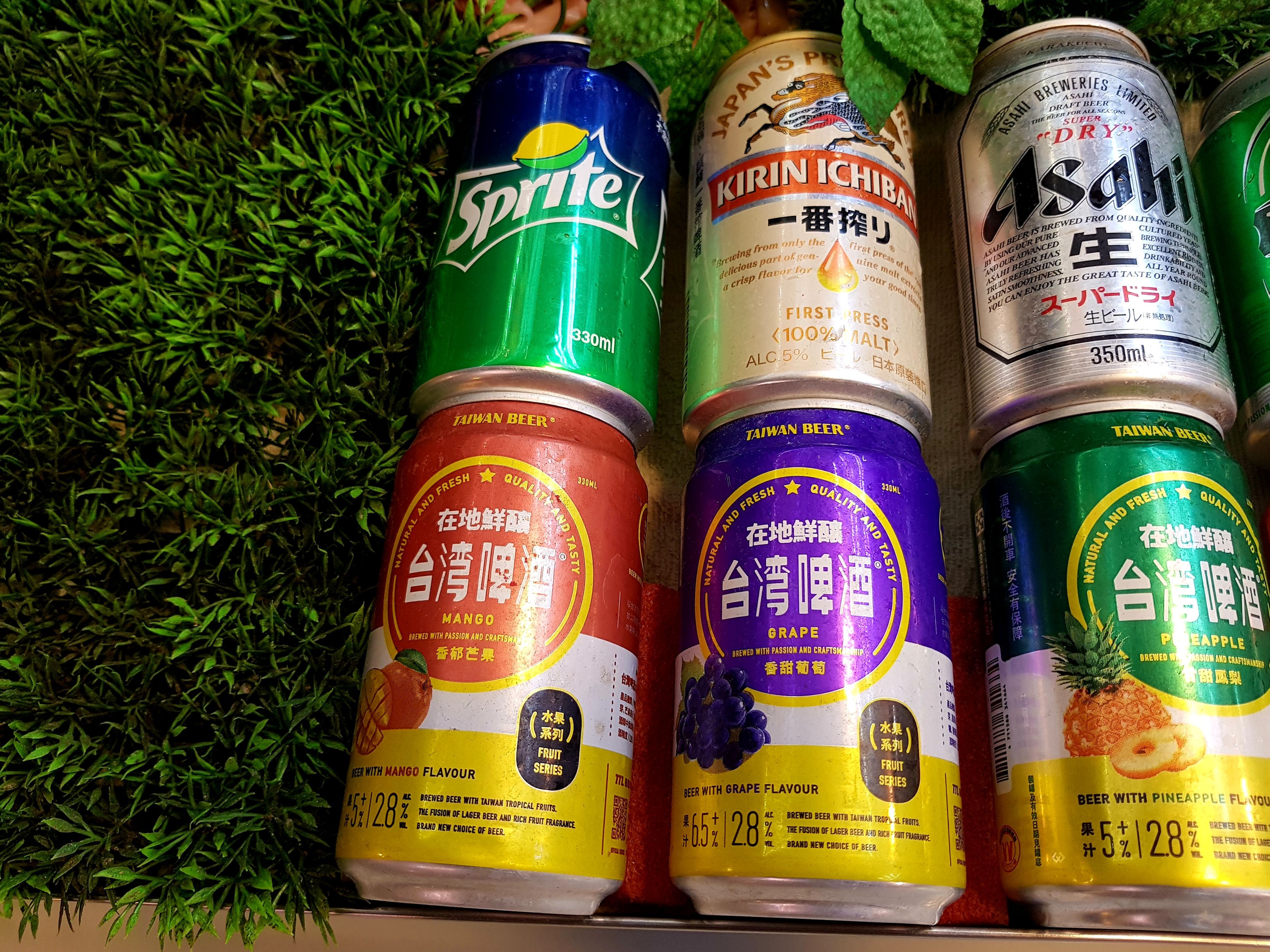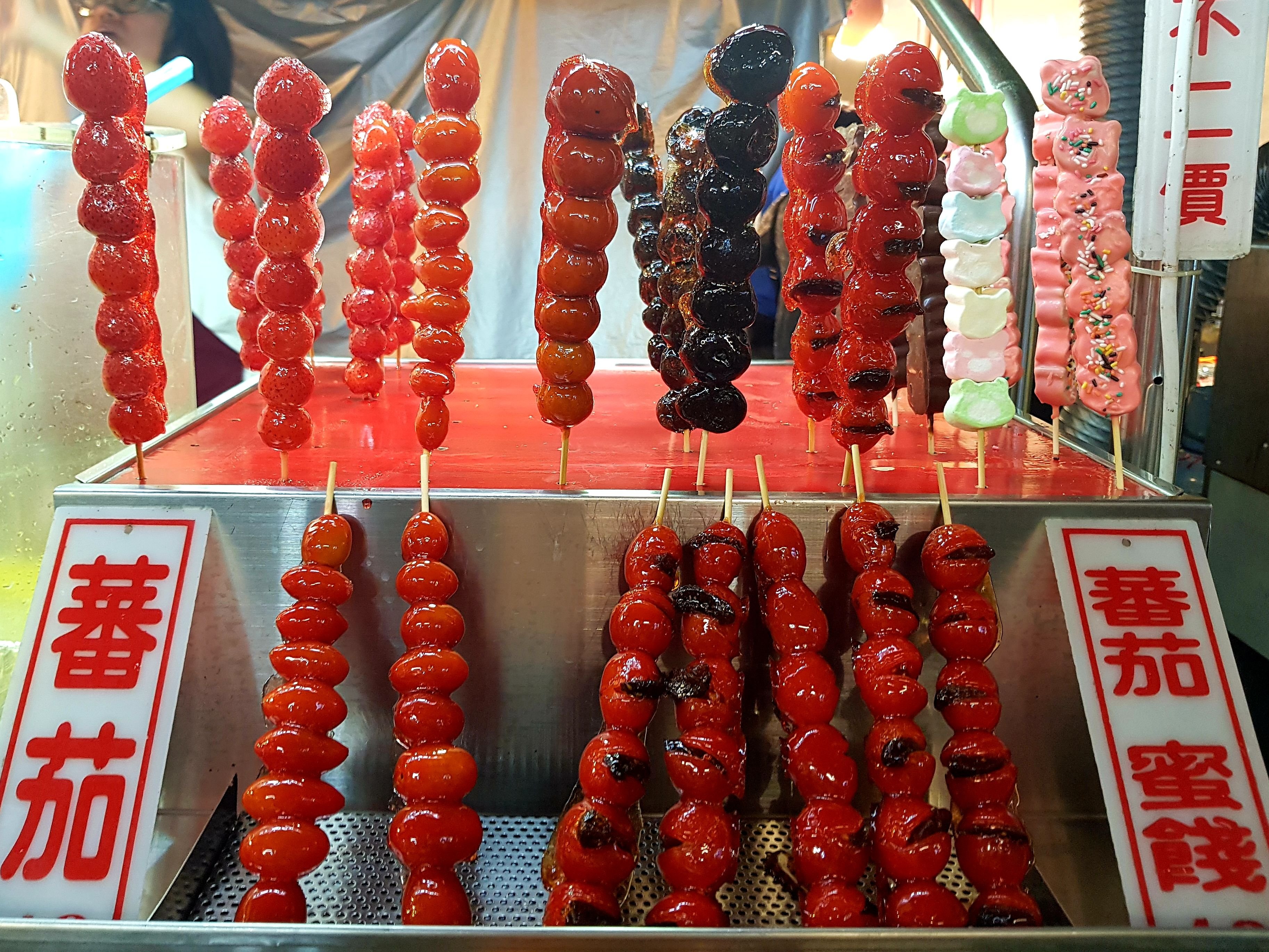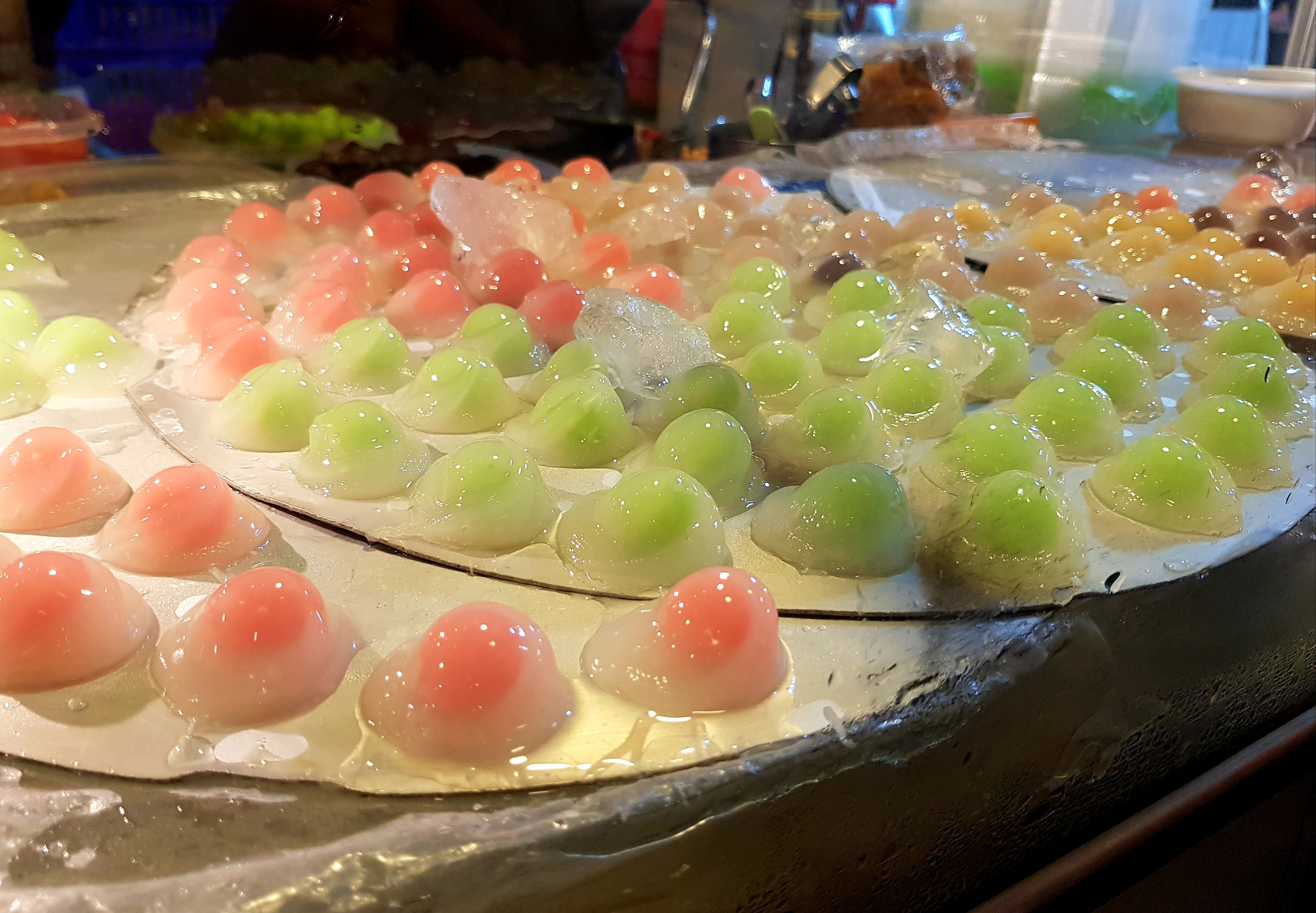 ---
Undoubtedly, Raohe Night Market in Taipei is one of the best markets I have ever had the pleasure to visit. I absolutely loved it! There's an almost unbelievable amount of street food snacks for you to taste and experience. I would highly recommend it if ever you find yourselves in this beautiful city!
---
在台北一定要去看看他们的夜市哦,感受一下热闹的气氛,最重要的是品尝那些让人回味无穷的特色小吃!台湾夜市上百种的小吃,不但好吃,更是台湾的独有文化哦!
饶河街观光夜市位于台北市松山区,我们地铁乘绿色线到松山站。夜市的入口就在街对面,旁边有一座祭拜妈祖的寺庙。饶河夜市不仅是台北最古老的夜市之一,也是这里数一数二受欢迎的夜市,每天下午5店开始至深夜12点。每逢周末假日,饶河夜市总是人潮汹涌,不少是像我这样慕名而来的游客,呵呵。
饶河夜市并不大却十分热闹。街道两侧都是店面,加上道路中间的两排摊位,就剩下游客的走道空间了。这里品种还是蛮多的,可以边吃边采购有台湾特色的小工艺品, 还可以玩游戏哦,吸引了不少小朋友和大朋友,呵呵。
饶河夜市的亮点是这里上百家美味逼人的小吃摊位,聚集各种台式小吃,北方面点,特色风味小点。如果你是吃货一族,这里可是你的天堂哦!下面我和大家分享一下我的最爱,呵呵。
福州胡椒饼
饶河夜市最有名的要数福州世祖胡椒饼了,排队排到街口拐弯看不到人,可以说是整个夜市里最有人气的摊位。兴奋的我们也心甘情愿地加入了队伍。虽然等了十分钟,不过他们现做现卖,我们可以观赏到整个制作过程,还是挺有趣 的。大家可以看看我的视频哦,呵呵。
当我手捧着辛苦排队买来的胡椒饼,有种很幸福的感觉!热腾腾的胡椒饼,个头相当饱满,外皮烤得有点儿脆,带有芝麻的香味。咬下第一口,皮薄肉馅非常足,胡椒味道特香,美味得很哦!
烤鱿鱼
夜市里有不少摊位卖烤鱿鱼的。我超爱吃烤鱿鱼,那热气腾腾的鲜烤鱿鱼,充满了弹性和海鲜香味,再加上店家特制的酱汁和芝麻,香味就更浓郁了,还带点鱿鱼本身的甜味。一边走一边吃,简直太爽了,哈哈!
臭豆腐(臭豆腐)
在夜市走着走着,忽然间闻到了一股熟悉的味道,这正是台湾家喻户晓的臭豆腐!据说在2017年台北市进行的十大夜市美食票选活动,第一名就是这个臭豆腐哦!
臭豆腐的味道让很多外国人都逃之夭夭,但台湾人却越吃越爱,呵呵!我就很爱炸臭豆腐那外脆内嫩的口感,是很容易吃上瘾的哦!没有尝过的人, 我建议去试一试,臭豆腐的好滋味,只有吃过才知道,呵呵。
鲜榨果汁(鲜榨果汁)
夜市里还有不少鲜榨果汁摊位,从粉红色的蕃石榴到甘蔗汁。台湾的新鲜水果本来就很好吃,鲜榨的果汁就更不用说了,不但冰爽,还果香四溢 哦!而且这里的果汁不兑水,味道自然好的没话说,所以特别受欢迎。我最爱的是木瓜奶!
花生冰激淋春卷
这道经典美食是用春卷皮加花生糖碎,再包上三色冰激凌球,创造出咸,香,甜的独特滋味,好吃得停不下口!店老板动作利落地一卷一卷包着,在旁边看着制作过程也很有意思。
虽然饶河街不长,我们却花了好几个小时慢慢走,不时停下来品尝美食,呵呵。下面是更多的美食图片和大家分享。
台北的饶河观光夜市很有特色也很热闹,是我去过最好的市场之一!我非常喜欢,有机会来台湾旅游的朋友,不要错过这里的风味小吃哦,呵呵!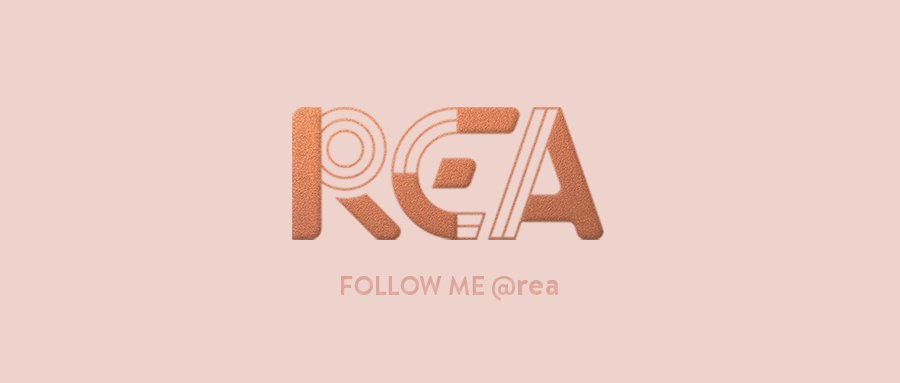 My video is at DLive