My Life In 8 Songs - Thursday 21 June 2018 - @kryptoe, @ivan.atman & @onemedia [recording]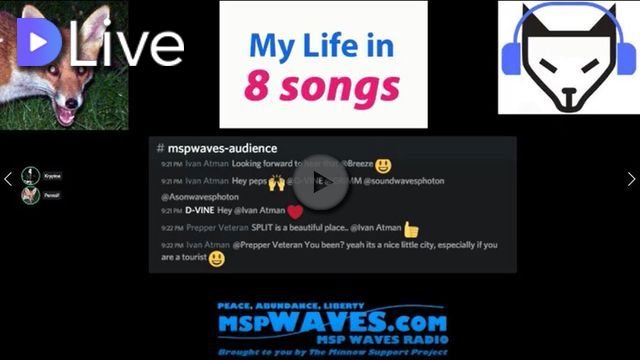 In case you missed the show here is the recording of last Thursday's episode of My Life In 8 Songs.
The show was first broadcast on MSP Waves on Thursday 21 June 2014.
The guests on the show were Deon @kryptoe from the UK, Ivan @ivan.atman from the Croatia and Keith 'Zig' Stewart @onemedia from the USA.
This was the second week of a new format for the show where all three guests are musicians playing their own songs and talking about their musical journeys. I am really enjoying this new show style and am amazed at the depth and quality of the musical talent on the steem blockchain.
The musicians have given permission for their songs to be included in this recording.
---
---
@kryptoe's songs were :
---
---
@ivan.atman's songs were :
Bright Future Awaits For Us (Ivan Atman)
Moonlight Kingdom (Ivan Atman)
Useko Mali (Ivan Atman)
I Put A Spell On You (Ivan Atman - Screamin' Jay Hawkins cover)
Truth In Its Purest Form (Ivan Atman)
Mama Yetu (Ivan Atman)
Rover Magnificent (Ivan Atman)
Behind The Semblance Of Thoughted Reality (Ivan Atman)
---
---
@onemedia's songs were :
On The Block (Nowhere Near)
Fun Ol' Tunnel Vision (Termite ft Zig of One Media)
Shaped Within Dreams (Nowhere Near)
Be The Change (Nowhere Near)
Ever-Nearing Fire (Trash Juice)
Kundalini Rising (Trash Juice)
Rumba Espaço (Keith 'Zig' Stewart)
Green Jig (Nowhere Near)
---
---
This recording is also available on YouTube
---
---
The 'My Life in 8 Songs' show airs on MSP Waves Radio on Thursdays from 8pm to 11pm UTC.
If you need to convert UTC time to your local time visit World Time Buddy
You can listen to the show via the PAL Discord server, via mspwaves.com or on Twitch at twitch.tv/mspwaves.
---
---
My video is at DLive