The Open School Project, the 1st high school of the Blockchain!
A high school built on the Steem blockchain… Yes it is possible and it is a great idea! 
So great that I am going to get off my comfortable chair and implement it!  
Let me tell you what I am talking about… 
I am a private teacher in Physics, meaning that I support students having difficulties on a 1-on-1 basis or in small groups. When the student(s) is (are) located far away, I use Skype.  
Discovering D-Live and the OBS software recently (thank you @teamhumble), I had a great idea: why not export this activity to the Steem blockchain and help as many students as I can!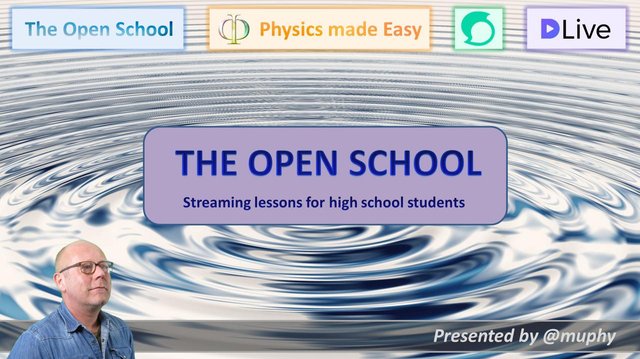 I made a test run using OBS where I present the project as if I were streaming and give a sample of what a lesson could look like (Click on picture below):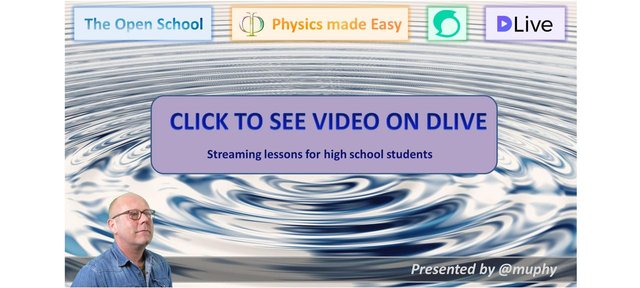 The main idea is to stream weekly lessons on D-Live (at a regular time) so to help students with their studies. The advantage of streaming is that the information can go both ways from teacher to student and from student to teacher via the chat. 
As I am a Physics teacher, I will explain the open school concept from the perspective of teaching Physics, i.e. "Open Physics". Still, this course can be extended to any other subject, "Open Maths", "Open History", "Open Economics" etc…   
1/ The concept: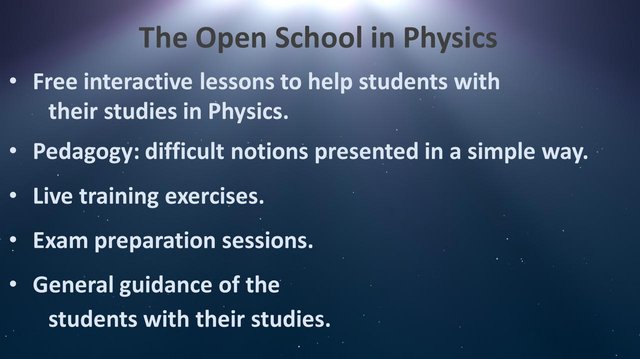 2/ The content of a live streaming lesson:
Students request a lesson on a specific topic out of a list. In my case, here is the list of the topics I offer to teach. Students can post their requests in the comment sections of the posts announcing the next stream or of previous lessons.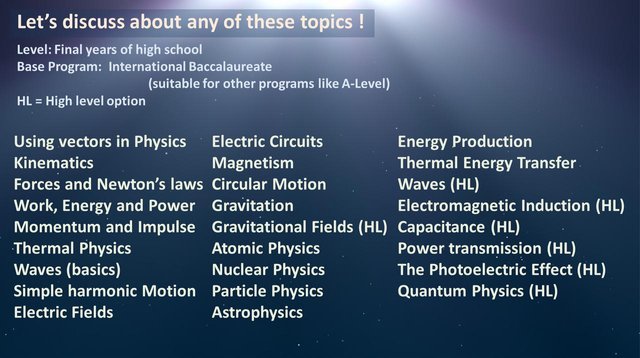 Based on this feedback, the teacher selects the topic he will discuss during his next streaming session. 
The lesson contains the basics required to understand a topic, and exercises that the student can carry out during the lesson. After say 5-10 minutes, the teacher resolves the exercise and answers questions. 
The students can interact with the teacher via chat, therefore ask questions live. 
Exam training sessions can also be requested by the students, or proposed and organized by the teacher .

3/ Implementation
This idea is in its infancy, so how it is realized will probably evolve as I move forward with it. The principle though is simple: a white board and some pens, a cam, a good mike, OBS (or other) as a streaming software, and D-Live as the streaming platform. The live stream is automatically posted on Steemit so that students can refer to it and use the comment section for further questions or requests.  
Other teachers are warmly invited to join this initiative as long as the lessons they provide satisfy certain criteria: 
The topics MUST be part of an official high school program. When a teacher prepares a lesson, he MUST refer to which program he is using as base.  
Use the #openschool tag. 
Use a specific tag for example #biology, #economics, #englishliterature etc…  
Any language is OK as long as the sound and pronunciation are of good quality. If the language is not English, a specific tag should be used (for example #fr for French).  
An effective and interactive visualization system must be in place (white board, drawing tablet, secondary cam focused on pen and paper etc…).  
The teacher must be seen: No powerpoint slides with audio in the background. 
Streaming lessons only. 
The teacher must listen to the student requests and be interactive.    

4/ Financial support
The primary objective here is not to make money, but to help a student at no cost for him or her. However, teachers also have rents or mortgages to pay. The time taken by teachers for preparing the streaming lessons, carrying them out and supporting the students should be compensated. In real life, it is the student or his family that finances this.  
The Steemit community allows taking care of these costs by upvoting, and therefore, in theory, ALL STUDENTS can benefit from a high quality support in their education. Steemit makes it an amazing opportunity to level the playing field in terms of education, where teachers can be properly compensated in offering their best to all students including those that cannot afford private tuition.  
This is why I am creating this school on the Blockchain: to give an opportunity to all kids, whatever their social status to succeed in their studies. 
For the occasion I created a separate Steemit account : @openschool. Please contact me if you wish to discuss supporting this initiative with SP delegation.   

5/ Wish the project good luck!
Imagine the Steem blockchain becoming a hub where students seek and find personalized help with their studies, all for free! 
Imagine the steem blockchain becoming a hub where teachers provide their support and their knowledge to the next generation, and be compensated for it by an upvoting system. 
Wouldn't this be amazing?  
So…send us your good vibes for the success of the Open School Project, the first High School on the blockchain.
I will try to arrange my first streaming for this week or the next, and will keep you all posted!