Best Content Creation Advice I Can Give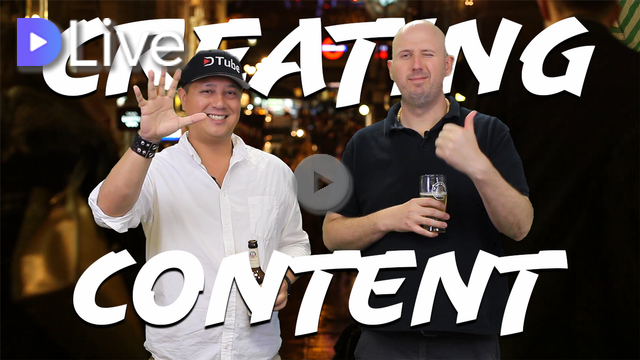 My good friend @steemcafe and I were having a few beers in the Steem Creators studio and decided to talk a little bit about content creation. I never do this but I know he is always giving amazing advice so I thought why not give a little of what we've learned over the past 7 months on the platform.
I know Steem has gone through some downtimes recently and a lot of people are panicking and even leaving the site. I'm not one to hype or overinflate but I honestly believe Steem is a worth a lot more than what it was and what it currently is.
All that said, I want to give you the best content creation advice that anyone's ever given me, namely @steemcafe.
Create from your passion and from your inspiration. That is a way to detach from the outcome of what happens when you put that content out into the Steemiverse. Bottom line is I would do what I do for nothing. I love getting compensated for it don't get me wrong but I would do all that I do for free. The Law of Attraction Book Club. I would have the conversations I do when filming The Jouney Inward and I would write everything that I write about for nothing.
So that's the best advice I could give in ups or downs is to create what you love and you'll never have to worry about the fluctuations of the market.
What's lost when it comes to content creation is to ask yourself what outcome are you hoping for?
Some people relish the process and others love the gamification of Steemit. You could see reputation, followers, posts, and other people's wallets. So if you are emotionally investing in the outcome then what outcome are you looking to produce.
If you create just to create then you won't care about the outcome, the act itself is enough for you. But if you want a particular outcome then you should emulate people that have the results that you're looking to get because they've found a formula that works and then you can tweak it yourself. Emulate and improve.
Here is the other thing, what is the alternative. What other platforms can you go to and make cryptocurrency for just time and energy?
If you have questions please leave them in the comments below. Be Open to change and improvement. From where we started to where we are now is completely different. A lot of change, a lot of change and growth and evolution. So be open to change. Love what you do and if you want to be attached to the outcome, making a lot of money, that's totally okay, but you got to emulate the people that are doing it and you've got to put in the time and energy.
If you're loving what you do and it's a win-win situation for all of us in the community.
But also we have the opportunity on September 5-8th to meet and learn from the best at the Steem Creators Conference in Toronto, Canada.
It's a great opportunity to meet other people who have been completely successful, who are willing to share their tips, their tricks, and how to be more successful on Steem. Steemcreators.com
My video is at DLive