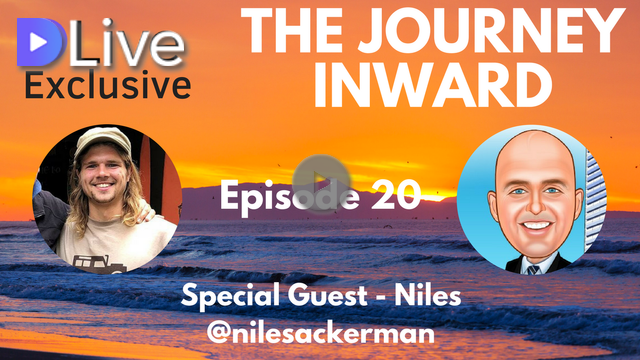 In this show, we discuss consciousness, spirituality, awareness, philosophy, and evolution of thought to reveal the truths that we can put into practice which will allow our journey on this earth to be a little more loving, joyous, peaceful, and fun.
My guest on this episode is a fearless Steemian, @nilesackerman. Niles has completely transformed his life through his own self-improvement. He has completely built a new life with spirituality, love, and high vibration as its foundation. He is very open, honest, and authentic. If his experience doesn't inspire you I don't know what will. Grateful to have him on the show and I think you will be grateful to hear his story.
Here are just a few of the topics we discuss on this episode:
-The Identification of Fear
-Social Anxiety
-Understanding You Are Not Your Thoughts
-Manifesting Your Intentions
-Trusting In The Universe
-Exploring Life Without Fear
-Going For A Life Adventure
-Various Modalities For High Vibration
-Channeling
-WWOOF
If any of these topics interest you up then please have a listen and keep the conversation going in the comments below. Hope you enjoy watching it as much as I enjoyed making it!
Much Appreciation and Love
Thanks to @steemcafe and @ogc for all the support, follow me @larrymorrison, and check out the Steem Creators Conference for more collaborations like this one.
My video is at DLive