10 Reasons Why DLive is an Incredible Video Platform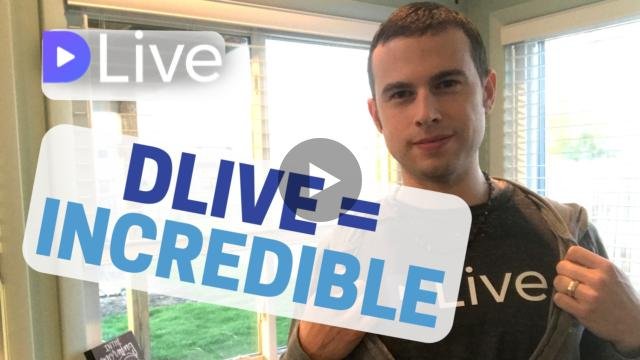 It occurred to me the other day, that @DLive is an incredible video platform.
I then began considering the reasons why it is so incredible. You know, like the nitty gritty reasons why someone would spend their time contributing quality content on a regular basis.
These reasons are from a content creator's perspective. A viewer's perspective may have slightly different reasons why they like DLive.
If you are primarily a viewer, please share some reasons below of what you enjoy about DLive, and I may share them in a subsequent video.
Join me now in experiencing the 10 reasons why DLive is an incredible video platform.
#1 - Simplistic interface
DLive has a simple, easy to maneuver, and user friendly interface. The main word that comes to mind when I see it is the word "clean".
The navigation is valiantly assembled at the top of the screen in a way that allows the newest of newbies to navigate without getting lost.

The live videos are listed at the top of the home page, while the uploaded videos are listed more towards the center.
If you click on the circle in the top right corner, you will be able to access your account, see how your videos are performing, and also change any account settings such as your background, photo, and about me section.
#2 - Help Center
The help center feature was released recently, which is a nice addition to the platform.
It gives people answers to their commonly asked questions. If you click on the "help" button at the top of the screen, it will take you to a separate page where you can dive deeper into DLive topics for further study.
This is a huge time-saver because you don't have to sit down and send DLive an email. Instead, you can get help instantly.
#3 - Never hit an error message
In all my tenure on DLive, I have never...ever...run into an error message. This is a glorious thing, especially for us content creators who develop well-though-out content, only to find something wrong during the publishing process.
Not with DLive! Thank you DLive for being so incredible, creating a platform that just plain works. I am so pleasantly pleased with the ease of use this platform has.
#4 - Loading speed
Anyone can appreciate a website with fast loading speeds. There is nothing more annoying than sitting there... .... ... waiting for a video to upload.
I have to hand it to DLive on this one. They have done an amazing job programming the back-end, so that us users can experience a seamless publishing experience.
This is especially true when I upload 3-5 minute videos. Obviously, I need to wait a bit for the 15-20 minute videos to load, but even those larger size files upload faster than many other sites I've used over the years.
Thank you DLive for making it such a speedy upload process.
#5 - Can enter more than 5 tags
Having more than 5 tags is great because it allows your post to get more visibility in the Steem community.
Normally when posting on Steemit, you can have up to 5 tags. But, when using DLive, you can use more than 5. Great feature to have on a video sharing platform that also syncs with Steemit.
As always, make sure that your tags are relevant to your video.
#6 - No ads
DLive has zero ads. A lot of other platforms out there like YouTube have ads that get in the way of the user experience.
It is refreshing to be able to come to DLive and see only user-generated content. This will attract more users to the platform when they realize how nice this feature is.
#7 - They reward quality content
Users on DLive have the opportunity to earn rewards from upvotes from the DLive account. Not every video is going to earn rewards neccessarily. That is up to DLive to decide.
But, the more you engage with the platform putting out good content, the better chance you have of receiving an upvote.
#8 - Cool merchandise
Check out this awesome shirt that I am wearing in this video! DLive has such great merchandise to purchase.
Go here to check it out and sport it everywhere you go. Be sure also to include the gear in your videos!
#9 - Don't touch rewards
DLive is amazing for this, because they do not take rewards from your account. They are funded elsewhere, and do not require the users' rewards in any shape or form.
Feel free to post as much as you want and also keep all the rewards that you earned for your hard work. Woohoo!
#10 - Can upload recordings
This is a fantastic feature that not many people know about. But DLive has an "upload" section where you can take a recording an upload it to the site.
You do not have to go live if you don't want to. So, for those of you out there who like to edit your videos and make them look great before posting, you can do so.
---
Ok guys! Those were the 10 reasons why DLive is an incredible video platform.
Hope you enjoyed this post. Please don't stop there though.
Leave a comment below and let me know the reasons why you think DLive is incredible! Can't wait to hear your thoughts.
Take care guys and remember...you are awesome.
-Ken
@kenmelendez
Special thanks to @dlive for being who they are. Seriously, I am so glad that they are available as a video platform!
My video is at DLive