Great tit bringing food for its offspring. / Kohlmeise bringt ihrem Nachwuchs Nahrung.
English

Hello Steemians! This time I show you photos and a video of a 'great tit' (Parus major), which again and again is looking for food and then returns bringing small insects, spiders or worms to its offspring.
If you look closely, you can see a part of a young bird's wide open beak in the third photo.

My main interest is known to be insects, but they are not the only ones suffering from human intervention in nature. Increasingly sterile landscapes and gardens without a sufficient number of flowering plants mean that useful insects such as bees and bumblebees lack food sources. In addition, we are still using pesticides and other environmental toxins far too often.
Not only the pollination of our fruit trees, but also the native songbirds suffer from the decline of insects which are their most important food source.

To contribute to the survival of the songbirds, we have hanged a 'nesting hole' made of wood concrete (which is stable enough to protect the young birds from woodpeckers) in our hazel.

More interesting information about great tits can be found at this page (German text).

Deutsch

Hallo Steemians! Diesmal zeige ich euch Fotos und ein Video von einer 'Kohlmeise' (Parus major), die immer wieder zum Futtersuchen aufbricht, um dann mit Nahrung (meist kleinen Insekten, Spinnen oder Würmern) zu ihren Jungen zurückzukehren.
Wenn ihr genau hinschaut, seht ihr auf dem dritten Foto übrigens einen Teil des aufgerissenen Schnabels eines Jungvogels.

Mein Hauptinteresse gilt bekanntermaßen Insekten, aber nicht nur sie leiden unter den Eingriffen des Menschen in die Natur. Durch immer sterilere Landschaften und Gärten ohne eine hinreichende Anzahl an Blütenpflanzen fehlt es nützlichen Insekten wie Bienen und Hummeln an Nahrungsquellen. Dazu kommen von uns noch immer viel zu oft eingesetzte Pflanzenschutzmittel und andere Umweltgifte.
Unter dem Rückgang der Insekten leiden, neben der Bestäubung unserer Obstbäume, auch unsere heimischen Singvögel, die auf sie als Nahrungsquelle angewiesen sind.

Um etwas zum Überleben der Singvögel beizutragen, haben wir unter anderem eine 'Nisthöhle' aus Holzbeton (die stabil genug ist, um die Jungvögel vor Spechtschlägen zu schützen) in unseren Haselnussbaum gehängt.

Weitere interessante Informationen über Kohlmeisen findet ihr auf dieser Seite.
---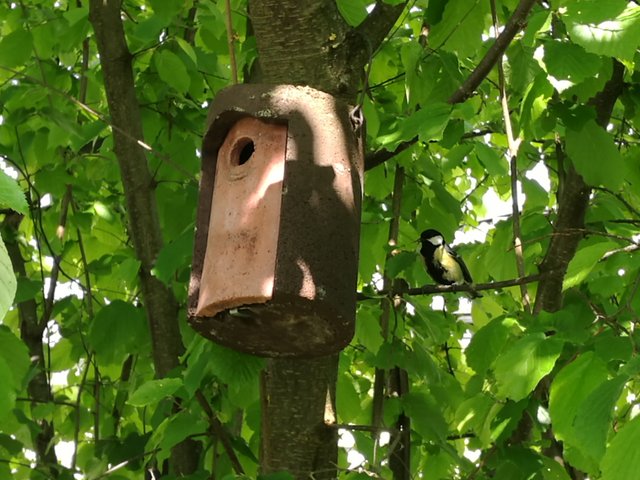 ---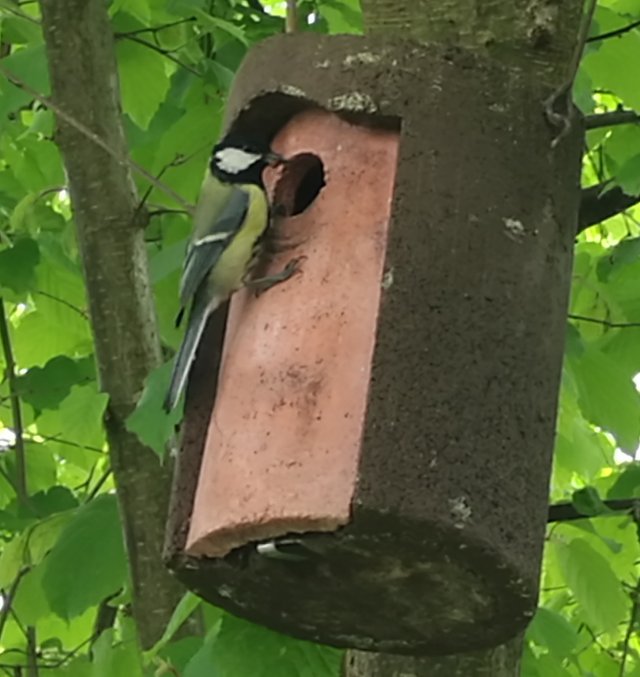 ---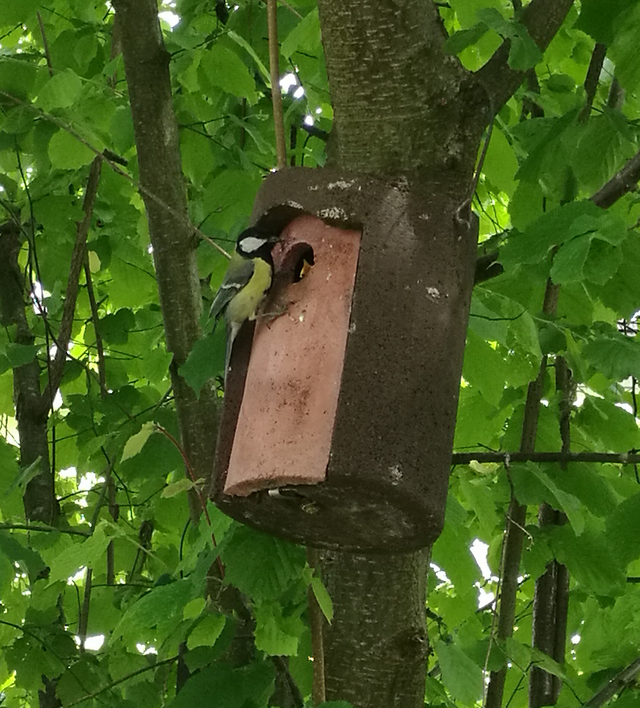 ---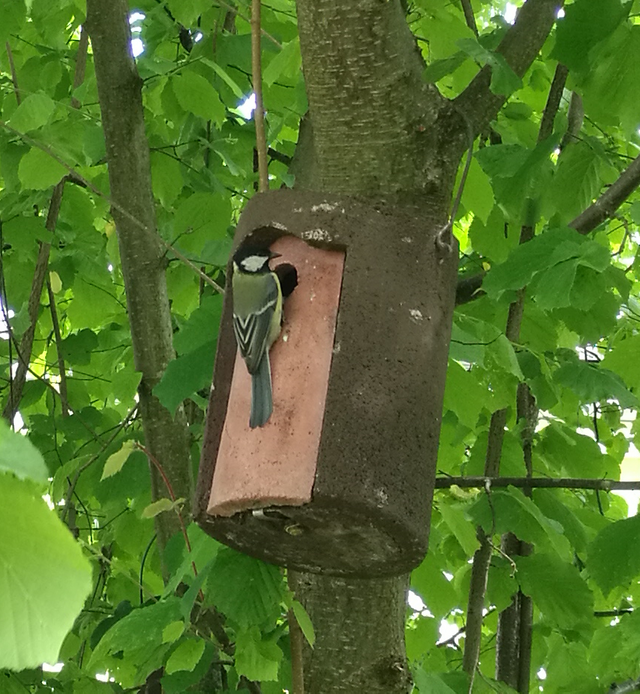 ---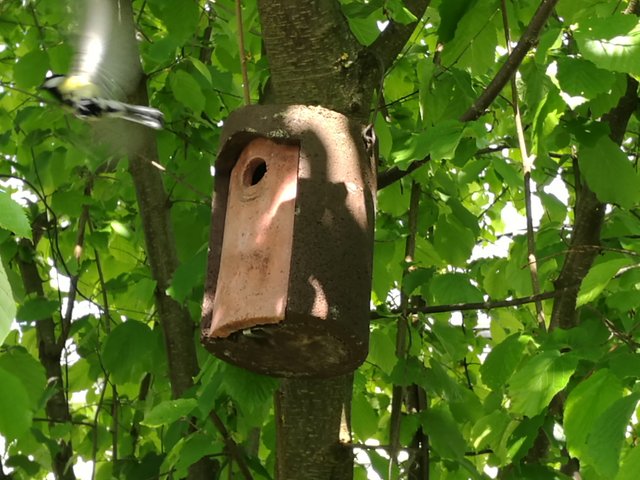 ---
As the DLive video doesn't work anymore, I replaced it by the Bit.Tube version:
| | |
| --- | --- |
| 'Great tit' coming home with some food. | Kohlmeise kommt mit Futter nach Hause. |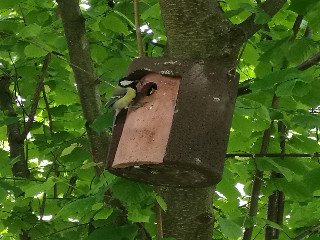 Watch on Bit.Tube