Fugue State Audio - Monday Night Noise Session 005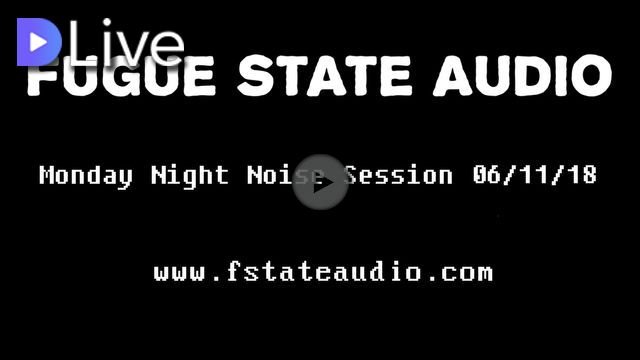 Welcome to the latest episode of Monday Night Noise Sessions! Slightly late delivery again due to upload issues.
This time around, I got my Android tablet in on the fun, with an app called Skrot that can do strange things to sounds that you record into it. In this case, it was a recording of myself saying "what's going on here?", because I couldn't figure out if it was working at first. I also used a noisebox-style VSTi of my own design called "noisebot", which uses a strange attractor-based oscillator and an unusual digital noise source as sound generators, and processes them with filters, ring modulators, and random delay effects. Humanoid Sound Systems' Scanned Synth and Fuzzpilz Oatmeal also contribute to the cacophony. More details below.
I stuck with VSXu for visuals again.
If this is your first time here: Monday Night Noise Sessions are recorded live, using a mix of hardware and software. I lack the bandwidth to do a proper live stream, so the videos are pre-recorded, but no editing is done to the performance.
Further details:
Audio gear/software used:
DIY modular (Lunetta-style CMOS and analog stuff)
Behringer Virtualizer Pro & Composer Pro
Yamaha EMP700
Alesis Midiverb & NanoCompressor
ADA S-1000 delay
Korg KP-1 Kaoss Pad
Novation Nocturn
Tapco 12 channel mixer
Android tablet running Skrot
Plogue Bidule (VST host/DAW) with following plugins:
Subtek CMX844 (VST mixer)
Humanoid Sound Systems Scanned Synth Pro (VSTi)
Fuzzpilz Oatmeal (VSTi)
sg-noisebot (custom "noisebox" VSTi)
Cockos ReaEQ
Fullbucket Music Frequency Shifter
Negspect Atlantis Filter
Clone Ensemble BassChorus
DashSignature Morphing Delay
Nomad Factory Bus Driver
Kjaerhus Classic Delay
Variety of Sound EpicVerb
JB Barricade
Voxengo SPAN
Video was captured with OBS, titles added in kdenlive. The visualizer in the corner is VSXu: http://www.vsxu.com/
My video is at DLive