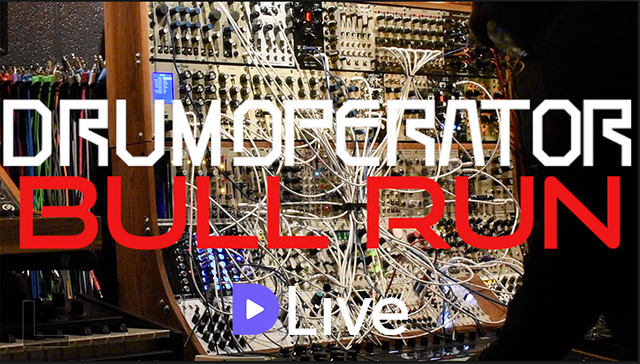 Crypto needed a extreme BULL RUN wake up call. My modular synth and I have answered the call.
Today I finally got busy on the fully reformed (not unlike Voltron) 5u modular synth case and put this beast of a noisy industrial track into effect. After a month on the travel case, I can't say I was going for restraint or nuance in any capacity and through a ton of modules and modulations at this relatively simple thrasher of a song. I've been working on the melodies and structure on the laptop during my recent tour and needed a decent bit of time to come up with the sound design elements ... despite this being somewhat of a huge mess of a track I'm actually super happy with many of the components, such as:
Ridiculously pummeling low mid bass countermelody shipping the Cloud Terrarium into my RML Electron Fuzz Custom distortion box. The Cloud Terrarium is a nasty beast to begin with (you can fade in and out a "swarm" of sync'd oscillators), but with heaps of automatable distortion and self oscillation it ended up forming the guts of this whole track. I considered using it sparingly, then reconsidered and used it extremely not sparingly.
Had my first go round with the Noise Engineering Loquelic Iteritas Percido. Goodness gracious. I spent easily two hours trying to get this thing from complete madness mode to "somewhat usable complete madness mode." It's the silver panel box doing the ringing wail I'm bringing in and out of the verses and choruses (despite many attempts, it simply would -not- play nice in the polyrhythmic part.) Although making it behave melodically proved somewhat futile, I am extremely excited about getting to know this thing in and out as it's a fountain of aggressive, sizzly goodness.

I sampled about five minutes of over the top Chicago Bulls commentary looking for something like "THE BULLS WIN IT. WHAT A COMEBACK BY THE BULLS." I fed this into Morphagene sampler to take a "solo" on announcer voices in the bridge. In a previous take I got the "LETS GO BULLS" chant in time, but this take was overall more inspired so it got the knod. The announcers get a little lost in the mix (as it's being fed from the Morphagene into the SEM filter and having it's resonance swept by Maths) but I couldn't have planned the way it ended the track any better if I had ten more passes at it.

Yes I played a psychedelic noise guitar solo on the end and fed it into the modular to manipulate live during this performance. No I am not great at guitar. I am, however, pretty decent at turning guitar into crazy nonsense, so that's what I do here.
It's good to be home. Stay tuned for both more rowdy, high-energy industrial stuff like this and some revisting of more ambient timbres for super late night, post-session detoxification.
My video is at DLive