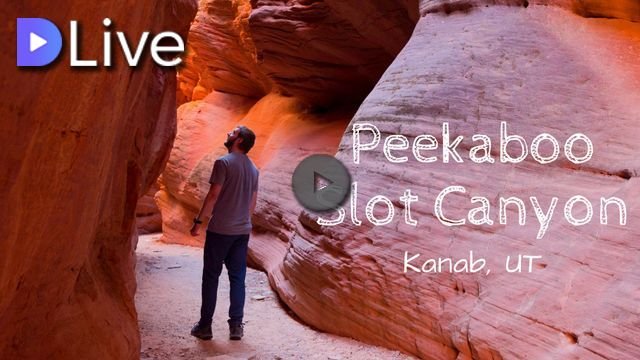 It's a new day in Utah which means more adventures to be had. After spending the night in Kanab in the south of Utah, @toddhata and I drove north out of town for about 10 miles to try to get to a canyon that we have only seen random brochures of. They call it Peekaboo Canyon. This is a place that is so off-road, Google Maps won't get you there. We had to trust the map on the brochure that had the directions written out.
After driving through the 5-inch sand in our 4-wheel-drive Jeep for 3 miles, we got 2 the 1 canyon we were aiming for. See what I did there? Peekaboo is a slot canyon, meaning that it can get very narrow. The most famous slot canyon in the USA is Antelope Canyon in Arizona which you have to pay a big fee to get into. Peekaboo is completely free to get into. But don't confuse it with the Peekaboo Canyon near Escalante, Utah, which is within a few hours drive. Confusing, I know. 2 slot canyons with the same name in the same region.
We parked right at the entrance of the canyon so we didn't even have to hike to get there like at Wire Pass. We walked through the canyon staring at the amazing striped orangeish-pink walls the towered over us. The first part of it didn't go for too far and we were wondering if it was just a short canyon. But we walked further along the path and it closed in on us again for an even better part of the canyon.
We got some great footage and photos and, best of all, we had the whole place to ourselves. It became one of the top things I did while in Utah.
Do you like going to hidden places like this?
Music used:
Shut Up and Drive by Approaching Nirvana (feat. Rebecca Need-Menear)
https://fanlink.to/ShutUpandDrive
source
Ilia by Kisnou
source
provided by Argofox
My video is at DLive