We knew it was a hard task to beat Brazil.

---
Not because they were better than us, after all this Brazilian team is not even a shadow of the Brazil in the Ronaldo and Ronaldinho era. In fact, the most dangerous Brazilian player is a joke, and we had already beaten a similar team in the Olympics final match in London.
---
No, it was a hard task because the Mexican team is one of the best ever, but we are still missing one key feature: Mind.
A cold mind for when the match is hot; a calm mind for when the score is against us; a patient mind for when the clock ticks towards our doom; an aggressive mind for when we need to show our true colors; a decisive and confident mind for when we need to make hard decisions.
To summarize, we have the mind of a loser team. We have the personal minds of loser people.
I don't blame the players nor the fans nor the head coach. I blame the Mexican mentality. As a country we are raised as conformists.
I decided to make this post a few days later from what I was planning to, just to be able to express without anger and to try to be as objective as I could.
The Brazilian team was the better one, but not because they are good but because we aren't.
We have everything to succeed and yet this is the seventh world cup we can't reach the quarter finals stage.
Every world cup we think "this is the one, we could reach quarter or even semi finals" and after the game against Germany and South Korea every Mexican was thinking "yeah, we can win this".
But the fact is that Mexico can't overcome a negative score just like France did against Argentina; let's not mention what Belgium did against Japan. Overcoming one goal against? Hard for Mexico, but 2 goals? Impossible.
Not because we can't, but because we think we can't. We receive one goal and not only the team, but the fans, the commentators, the analysts and everyone puts their chin down, looks to the ground and thinks "this is it, well, at least we tried".
We lack the decision, the confidence and the passion that is needed to overcome negative results.
The worse part? I'm like that. After Brazil scored the first goal, I lost all drive to keep recording the game to be able to bring you a full video about Mexico's loss. I just couldn't keep recording, I decided to pay attention to the game and to imagine my national team has the balls to overcome this.
They didn't. They never do. Hence, there's always going to be "a saddest day to be a Mexican fan" every 4 years.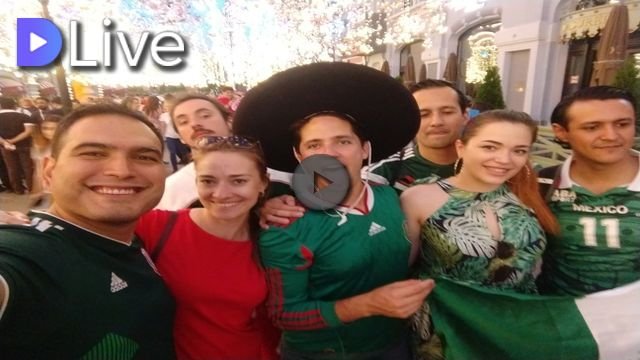 My video is at DLive