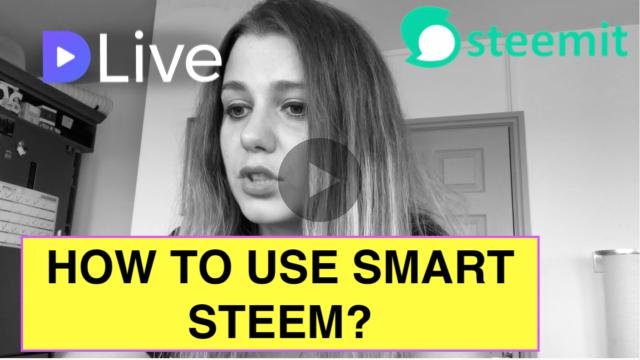 Hello everyone! This is part two where I show you how to use @smartsteem with video guidance and how it all works!!
I had a pleasure talking with @therealwolf and finding out a lot about the platform and I have been a user of the platform for the last two weeks or so, and I can see huge benefits already. In this video I talk about what is @smartsteam, and how you can use it to your advantage whether it is by selling your upvotes, whether it is by delegating your power or whether it is buying the upvoats, and main thing being whitelisted.
This is part two of the video, please watch the first part here :
https://steemit.com/dlive/@allasyummyfood/33ba0740-2485-11e8-b28f-f11f19bbfcf3
So if you want to get whitelisted, please are use my my referral link https://smartsteem.com?r=allasyummyfood and then sign up to the account and start selling your votes. You have to go through the link :) It will only work, if you click sell your votes, set enabled. Then select voting power 80%-90% and automatic payouts! Make sure you select smartsteem stars so you only upvote amazing or good content! Then press safe and authorise it :)) Watch the video to see full details :)
I am really excited about this platform and I hope you will be excited like me and you will be able to learn something from this video, so I look forward to receiving your comments and if you have any more questions please leave them down below make sure you up vote this post, share it with Steemit!
To register and start making money click here : https://smartsteem.com?r=allasyummyfood
Thanks!
Alla xxx

My video is at DLive