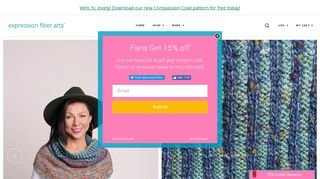 Hello, hello there!
I am trying out dlike for the first time, so please bear with me 🙂.
For this dlike sharing, I would like to bring you to a website that has inspired me quite a bit and it is called Expression Fiber Arts, which is owned and founded by Chandi. Together with her husband, Tim, they bring to us "A Positive Twist on Yarn" which is their motto.
I first came across this website when I was browsing through knitting and crocheting tutorials on Youtube and I bumped into one of Chandi's tutorials. I liked her almost instantly and I loved watching her knit. I felt that she has a positive vibe in her and she is fun to watch. When I read her story, I was touched by her sincerity and openness in sharing her life experiences which pretty much explains the person that she is, I think.
Expression Fiber Arts' yarns are hand dyed and I love to browse through the names and concepts that they use to link their yarns to, usually nature and precious things in life. The yarn colours are beautiful and the yarns themselves are soft and squishy (I bought some to try 😁).
I recently completed one of her free patterns called the Ski Lodge hat using one of her yarns and posted it here. I have to say that I am quite happy with the result, except I think I made it a little too large. I shall try it again to make it smaller. The pattern was fun to work on and quite easy.
I joined as a member to her website and was pleasantly surprised by her free pattern Fridays (she usually alternates between crochet and knit patterns) and her discount codes for the yarn based on the free pattern. And on special days or holidays, she would also throw in some freebies or more discount codes, just to celebrate the day. She also runs a monthly free yarn giveaway but I have not won before, though I dream that I would one day 😁. I like reading her emails too, even though the emails are mass sent, it felt personal in some ways because of the way she writes.
Happy #Needlework everyday my friends!
Source of shared Link
---