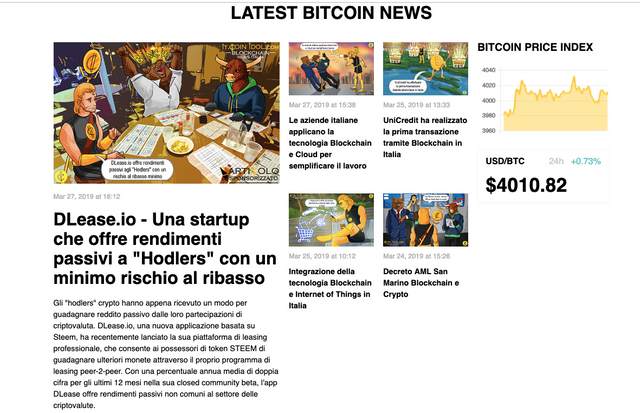 Source it.coinidol.com
---
Siamo davvero entusiasti di annunciare che DLease è in primo piano sulla pagina principale di it.Coinidol.com. Questo è un comunicato stampa scritto da @taskmaster4450 e BuildTeam, con lo scopo di avere un'esposizione esterna per DLease e Steem.
DLease è una piattaforma che consente agli stakeholder di guadagnare ritorni passivi affittando il proprio Steem Power; siete facilitati dal market peer-to-peer di Dlease che ha fornito ritorni a doppia cifra sin dalla creazione, nel 2017, in una fase beta ed una community Steem ristretta.
---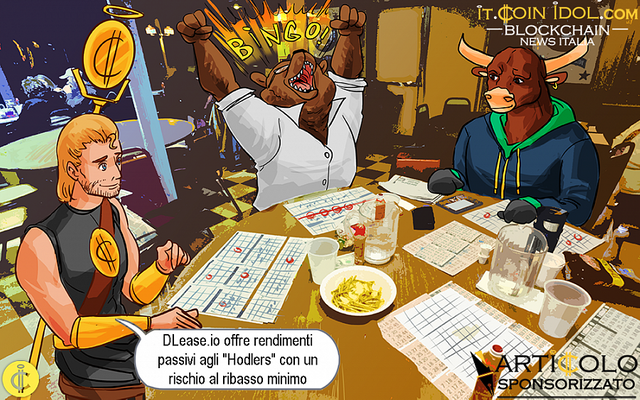 È ora di investire con DLease!
---
DLeae è ora un prodotto vendibile, pronto per essere mostrato al di fuori di Steem.
In questo momento, chiediamo alla community di mostrare "forza" visitando l'articolo di Coinidol e lasciando commenti. La community di Steem è una delle più forti comunità sociali basate su crypto; facciamo vedere alle persone su Coinidol di cosa siamo capaci.
Con l'attenzione esterna richiamata su DLease, chiediamo agli sviluppatori delle applicazioni ed ad altri leader delle comunità di Steem che hanno usato il servizio di lease di piazzare nuovi ordini in modo da mantenere il mercato gremito di richieste.
L'obbiettivo finale è quello di creare interesse su Steem al di fuori dell'ecosistema stesso. Poche cryptovalute offrono un ritorno passivo per fare "hodling", quindi siamo sicuri sia un aspetto da sfruttare nel crypto-"spazio".
Noi di BuildTeam siamo sicuri che questa è e sarà una piattaforma importante andando avanti; con nuovi business che approdano a Steem, l'abilità di operare sulla piattaforma sarà sempre più difficile in quanto aumenterà la richiesta di Resource Credits. L'affitto di Steem Power offrirà ai business una soluzione economica per interagire con gli utenti sulla blockchain.
L'obbiettivo di BuildTeam è quello di espandere la portata di Steem oltre lo status quo!
it.coinidol.com riceve circa 8,875 visitatori unici e 9,763 visite alle pagine al giorno (1.10 per visitatore), numeri che fanno guadagnare circa 18.48$/die dalle pubblicità. In accordo con l'Alexa Traffic Rank coinidol.com è in posizione 137,558 al mondo e circa lo 0.00063% di tutti gli utenti globali di Internet lo visita.
---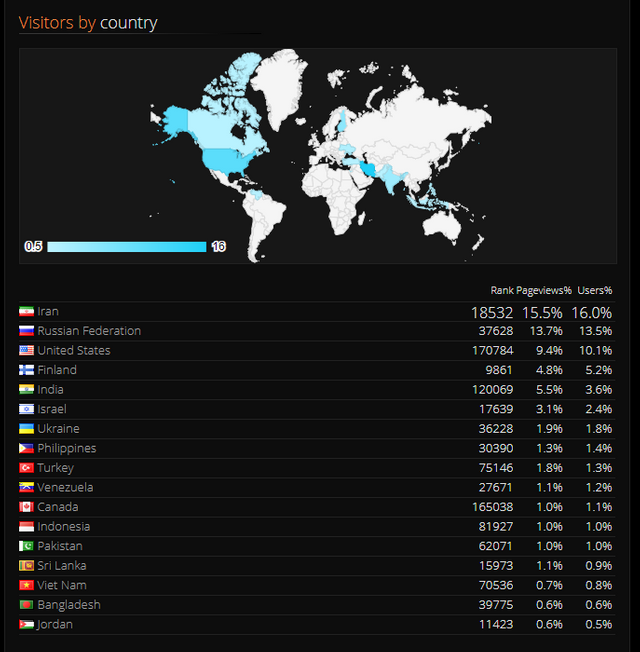 ---
Vai su DLease.io oggi e fai una prova!
---
Trovi DLease nell'App Store di BuildTeam!
---

| Visita il nostro sito web per più contenuti! | Iscriviti al nostro canale di YouTube |
| --- | --- |
| | |
Impostalo oggi e constirbuisci a costruire un domani migliore!


(Vuoi una via più semplice? Usa il nostro proxy link di SteemConnect! )


Entra nella nostra chat di Discord
Ottieni supporto ed interagisci con noi e con altri fan di BuildTeam!



---
Questo è un post a pagamento dell'iscrizione a @steemvoter. Grazie a tutti gli utenti di Steemvoter per consentirci di votare questo post dai vostri account in cambio dell'iscrizione gratuita al bot service di Steemvoter.com. @steemvoter è orgoglisamente parte di @buildteam come ramo e progetto gemello di @steemsports, @dlease, @tokenbb, @ginabot, @quicksteem, @minnowbooster e @minnowmonsters.
---
Disclaimer: This is a commissioned Italian translation post, authored by @bafi. Although this content has been checked with Google Translate, we cannot confirm it is 100% accurate, please feel free to verify against our original Steem post in English which was adapted slightly for the Italian site: it.coinidol.com.