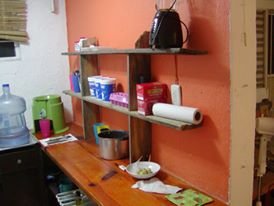 These shelves are made from three boards that used to be floor boards at La Playita, a beach restuarant and bar off the Costera near the western corner of the golf course in Acapulco.
A big storm in late June 2016 flooded the restaurant with a meter of wet sand, and only a few of the floor boards were not swept away by the storm. Several of us ancaps went to La Playita the evening of Friday, July 1st, for a meet-up, but our friend Iñaki, the new manager there, informed us that, even though they had finished clearing out all the sand that very day, the restaurant was still closed because they had no electricity. (We had our meet-up somewhere else.) Before leaving, though, Iñaki showed me and someone else the second floor of the restaurant, and that's when I saw the boards.
I'd been wanting to build some shelves for my kitchen almost since I moved in three months earlier. These boards were water-logged and sand-covered, but just the right size. Iñaki said I could have some, so the next day (Sat., the 2nd), I went back and, with Iñaki's help, picked out the three boards I wanted and started carrying them home on my shoulder.
About half-way home, I noticed our friend Victor, a taxi driver, driving past. He didn't see me, though. A minute or two later, he came back on the same street, and this time he did see me, and turned around and took me the rest of the way home. I was very grateful. Those boards were heavy!
After leaving the boards on the roof for a few days to dry out, I brushed the sand off them. Then I drew my plans, borrowed a saw from my landlady, and cut and assembled the shelves on the 11th.
They're very rustic-looking, but they serve well.