Me holding my paper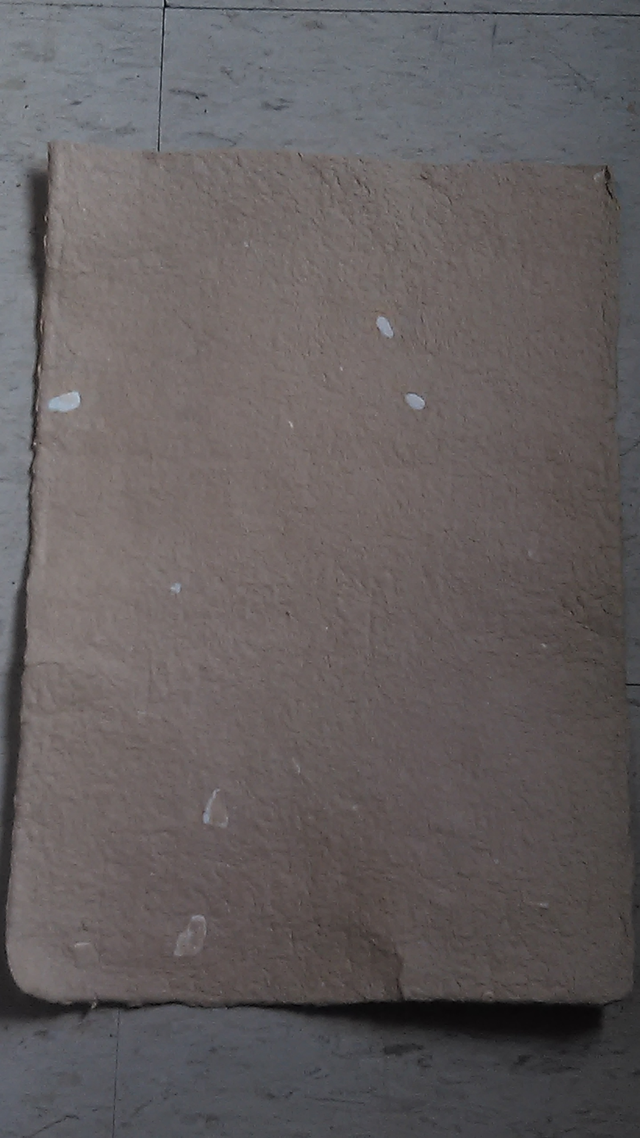 This is the finished product
This technique uses small paper scraps and turns them into a board that is a bit thicker than cereal box material. I did a workshop once at an event called "Chalk For Peace" ( if you want to read about the event you can here: https://steemit.com/artzone/@freemotherearth/chalk4peace) to show other people how to recycle paper like this. One of my favorite parts about this way to recycle paper is that there is room to experiment so that you could possibly do it with a different fiber once you understand how it works.
You will need these tools:
A blender.
A cookie sheet with a rim about ¼Inch tall.
A dish sponge.
Here are the directions:
Gather a large amount of paper scraps and cut them all to about the size of a quarter.

Put enough paper scraps into the blender to fill it roughly ¾ of the way full. Now pour enough water on top of it so that it barely covers the paper pieces.

Turn the blender on medium or high until the paper scraps turn into straight fibers.

(optional) Line the bottom of the pan with a large piece of paper (or wax paper) because this helps remove the sheet of paper without it sticking to the pan and possibly ripping.

Pour enough fibers into the pan and spread them around evenly so that there is a layer of paper fibers about one inch deep.

Press the dish sponge softly into the fibers and ring it out over something to catch the excess water (to slowly start removing the water from the pan) and make sure the fibers stay evenly distributed. When the sheet of paper is mostly dry press down harder on the sponge to remove as much moisture as possible.

After as much of the moisture as possible has been removed, slowly and very carefully start to peel the large piece of paper off of the bottom of the pan. Once you have finished getting the paper out of the pan lay it out on a rack or something to complete the drying process (if you did line the pan now is a good time to take the liner off of the paper completely. It should be dry and ready to use within a day or two.
Note: you can make your paper as thin (or as thick) as you like, however, thinner paper rips more easily so you need to be extra careful and thicker paper may take longer to dry, just some things to consider.
I find that these boards work great as covers for the books I occasionally sew.
I hope that you have a great time making paper and can easily understand the directions.
Thanks For Reading!!