Created in 2014, Digibyte is cryptocurrency designed to support mass adoption and work similarly to fiat currencies within a country's economy. The founder Jared Tate looked at other cryptos such as Bitcoin and Litecoin and the potential problems arising from mass adoption. With that in mind, he developed the altcoin addressing the weak points of other major cryptocurrencies.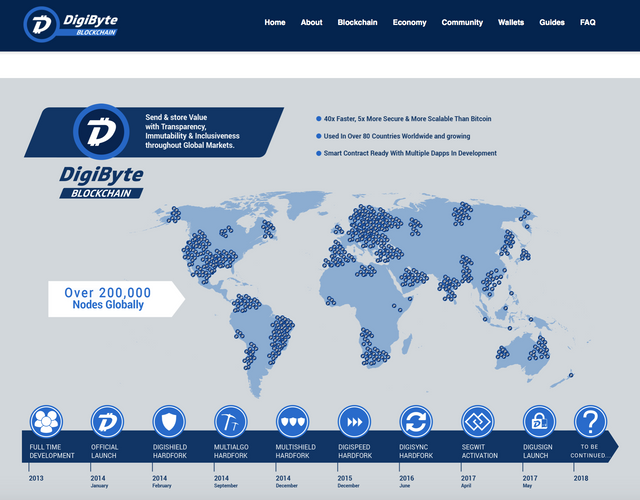 Compared to other tokens, DGB offers multiple advantages and has a stronger user case: DGB can support over 48 million transactions a day, has one of the most reliable security cases and lowest fees among cryptocurrencies. DGB has also shown its capacity to follow new trend and is developed with future technology such as easy integration of IoT devices into its blockchain. DBG wants to prove that crypto can create a financial system that is detached from political and economic factors, and international currencies fluctuation.
DGB is one of the popular altcoins for speculative trading in 2018. Predictions form crypto experts show that DGB has a 42% potential growth by September and a 132% growth by the end of the year.
The Digibyte Foundation chose Venezuela to run an experimental campaign to make their case for mass adoption of cryptocurrencies. "The project will benefit the population at large, having their minimal wealth and earnings stored in something that will retain most of its value. Regular charity is a short-term stop-gap measure, whereas replacing the now worthless Venezuelan bolívar allows the people to take control of their finances," says their DGB mission statement.
Jared Tate will be in the spotlight at the next FinancialFox next week. He will make a case for DGB mass adoption and tell us how cryptocurrencies can re-shape financial systems across the world.
if you have any specific questions for Jared, email Stefania Barbaglio: [email protected]
Subscribe to our Financial Fox channel: https://www.youtube.com/channel/UC7ji33FsDOBxWmQNVEEBw2Q?view_as=subscriber