This picture has $200.00 in purchasing power.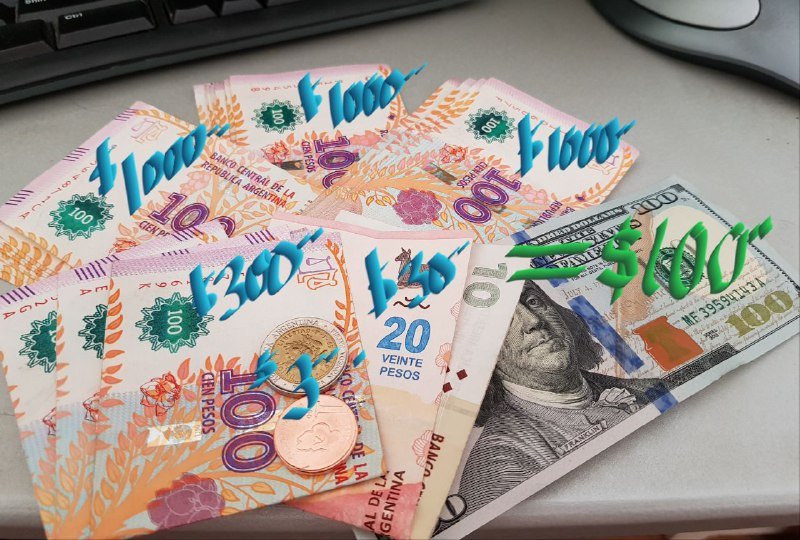 On our way to Venezuela's fate,
$100 = 3,333.33 in pesos.
One piece of paper is debt of one hundred dollars.
The other wads of purple bills are the cost of the
one

USA bill.
To clarify, a dozen eggs cost ar$60.00 and a gallon of milk costs ar$100.00
In dollars, eggs $1.80 and milk $3.00 which is cheap if you are travelling here.
---
It's fun to think about cheap food but not so much fun to carry bricks of currency around with you in order to pay for the smallest thing. I never go out of the house without ten thousand in pesos.

Today's published rate.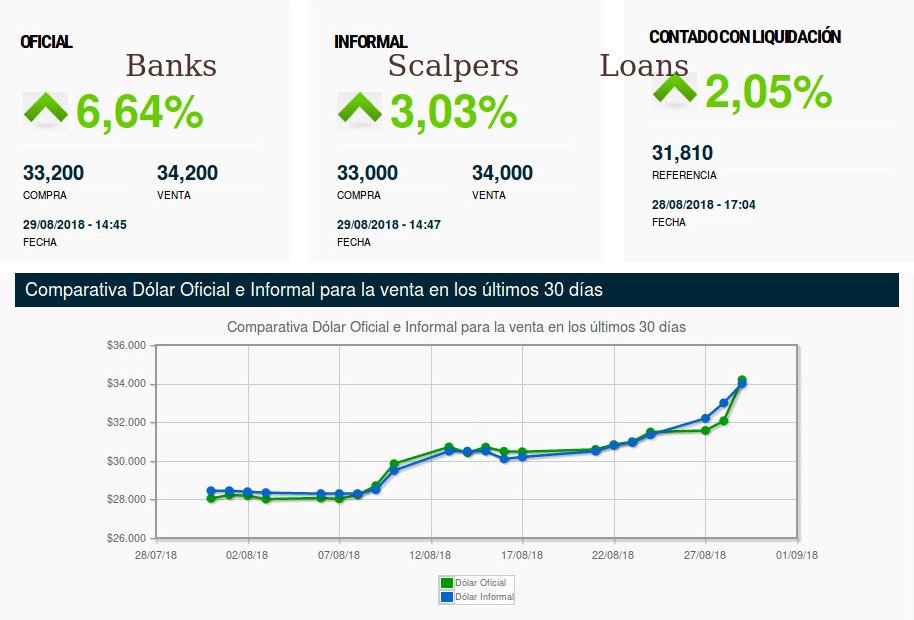 As a final note, I have published other posts like this which may not be of much interest to those outside of deep South America, but we have many, many countries that are printing their way to the same end. It is time to have something solid for when this hits your country.
---
Update:

Bitcoins now cost ar$234,600.00 for each one.
---

Bitcoins now cost ar$276,000.00 for each one.
---

Bitcoins now cost ar$286,350.00 for each one.
These changes in price Considering bitcoin at $6900.00 dollars.
As a trader, I started telling people here in Buenos Aires that they would each be a millionaire before the end of 2018. They snickered and their eyes got big. Then I told them that they would have a million cash in pesos each. Still this made them very happy, though I could see the disbelief in their eyes.
I saw the trajectory and the evolution of ever larger denominations of bills. Then I saw the collapse of Venezeula where Coffee for four costs a million bolivars. Then Argentina created new bills, demonetized the $2 notes, created the $500 and $1000 notes.
Now I am getting calls of the millionaires starting to surface. Three months to go on my prediction, and I still see Christmas dinners costing a half a million or more depending on if you are a family of four or of eight.
The above is nearly 25% inflation in two days.
Aug. 27th it cost 31.50 to get a dollar.
Aug. 30th it costs 41.50 to get a dollar.
---