[STEEMTOOL] Find Out Who Has Mentioned You
Have you been curious about who has mentioned you on Steemit?
There are a few 'Steemit Telegram Bots' for that purpose. You can google it. They are coming and going so I am not sure which one is still available.
I used to use some Telegram bots. They were definitely useful when I wanted to receive a real-time notification for any post or comment that mentioned my @username. A real-time notification sounds great. However, I can guarantee you that it will make you so tired soon. I felt that I was responsible to give on-the-spot responses to the steemians who thankfully mentioned me on their posts and comments. I did not want to let them down. I had to spend almost the whole day waiting for real-time notifications and replying to them right away.
I am not saying Telegram bots are bad. They just did not work with me as I thought.
I did not want to use Telegram bots, but still wanted to know who mentioned me. That's why I made this tool.
With this tool, you can find out the recent 50 posts and comments (1 month ago max.) you were mentioned in. Only whenever you want to know.
All you need to do is just enter username that you want to search.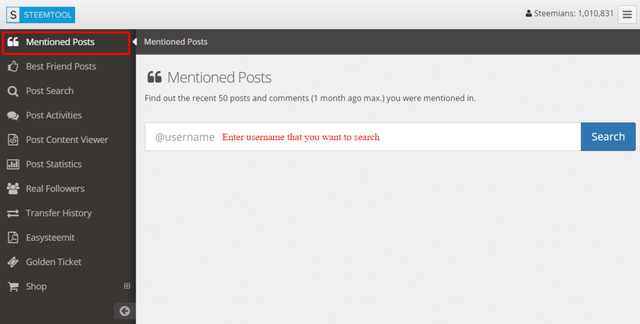 The result will be as below.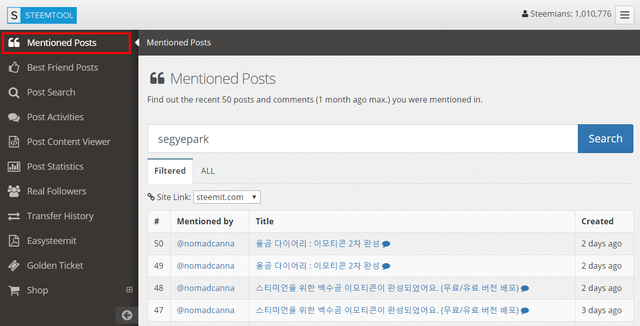 The result should be straightforward.
Filtered/ALL: Filtered tab is opened by default. I manually filtered some repeated posts that are considered as bot-posts or bot-like-posts so you can focus on posts from your real friends. ALL shows all mentioned posts no matter what. Please let me know if you find any other posts that should be filtered.
Site Link: The result contains some links. Mentioned by and Title. With this selection, you can choose to which site you want to use for the links. You can choose one of the following sites. Please let me know if you want to add any other sites.

steemit.com
steemKR.com
busy.org

Comment Icon: You will find a comment icon at the end of some Title. It means that you were mentioned in a comment. Mentioned posts do not have the icon. You will understand it once you try.
You might notice that STEEMTOOL has a lot more. I will explain them one by one later. Please give them a try until then :)