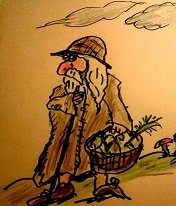 Hallo liebe Steemians und Steemianerinnen ,
da ich als "gefürchteter Kettenraucher" sämtliche Ketten
in unserem Haushalt weggeraucht habe (ohne Ketten
sind wir frei :-)) lade ich euch zu einer "Homestory" zu
mir ein und zeige euch , wie ich dieses Laster überwunden
habe :-)) Ich bin einfach auf Tabak umgestiegen :-)) Ich
zahle außerdem für 1 KG Rohtabak nur 11,50 € , was
wesentlich billiger ist als immer neue Ketten zu kaufen
oder 5-7 € für 40 g Tabak :-)) (Wobei ich die Tabakblätter
nur zu´r Dekoration verwende :-)) ccO nicht Pixabay :-))
Dear Steemians and Steemians,
because I as a "dreaded chain smoker" all chains
smoked away in our household (without chains
we are free :-)) I invite you to a "home story"
to me and show you how I overcome this vice
I have :-)) I just switched to tobacco :-)) Me
pay only for 1 KG raw tobacco only 11.50 €, which
much cheaper than always buying new chains
or 5-7 € for 40 g of tobacco :-)) (with the tobacco leaves
only for decoration use :-)) ccO not Pixabay :-))
Hier seht ihr "Burley"
Einen recht kräftigen Tabak .
Here you can see "Burley"
A pretty strong tobacco.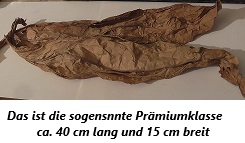 Die "Ripper" unter uns entgräten den Tabak nicht ,
sondern "entrippen" ihn (Sie müssen nicht zwangsläufig
"Jack" heißen :-))
The "rippers" among us do not bite off the tobacco,
but "de-stress" him (you do not necessarily have to
"Jack" are called :-))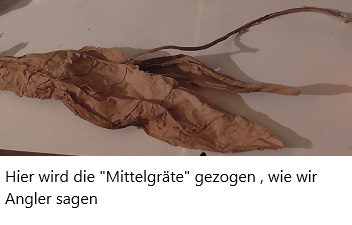 So sieht er dann fertig zu´r Verarbeitung aus . Und es
kommt "High - Tech" Werkzeug zum Einsatz :-))
(eine Kinderschere , unbedingt mit rosa Griff :-))
So he looks ready for processing. And it
comes "high - tech" tool used :-))
(a child's scissors, necessarily with a pink handle :-))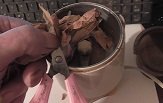 Dann kommt der Tabak grob vorgeschnitten in die
Kaffeemühle (der Kaffee schmeckt danach immer
besonders aromatisch :-)) lol gris Brüllwitz) und wird
durch 2 - 3 maliges kurzes antippen damit die Flakes
nicht zu fein werden gemahlen . Das ist die Ausbeute
von 2 Blättern mittlerer Größe .
Then the tobacco comes roughly precut into the
Coffee grinder (the coffee always tastes afterwards
especially aromatic :-)) lol gris Brüllwitz) and will
by briefly tapping the flakes 2-3 times
not too fine to be ground. That's the yield
of 2 leaves of medium size.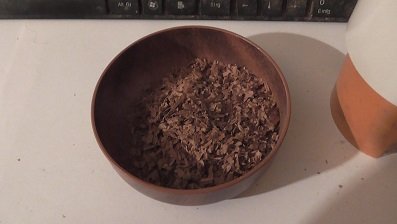 Jetzt kommen wir in die "Bastelphase" und klöppeln uns
eine Zigarette :-))
Now we come into the "crafting phase" and clap us
a cigarette :-))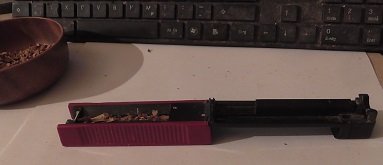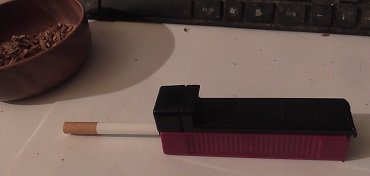 Hurra , es brennt :-))
Hooray, it's burning :-))

Wer kennt ihn noch , den alten "Zigarettenwerbespruch" :
"Seit ich Roth Händle rauche huste ich viel freier" ? Hier
trifft es zu , denn es fehlen die ganzen chemischen
Verbindungen die sich aus den Zusatzstoffen ergeben ,
wie Parfums oder "Parfüme" wie immer das auch heißt :-))
oder Bleichmittel etc . .
Also frei nach Dr. Marlboro : "Rauchen ist gesund" :-))
Anbei die Bemerkung :
Der private Anbau von Tabakpflanzen ist in Deutschland
erlaubt. Das Tabaksteuergesetz befreit die Herstellung
von "Tabakwaren , die außerhalb eines zugelassenen
Herstellungsprozesses aus Kleinpflanzentabak hergestellt
und weder zum Handel noch zur gewerblichen Verwendung
bestimmt sind" von der geltenden Tabaksteuer .
Viel Spass beim lesen und hört auf Mama
"Lass das rauchen sein" :-))
unsuwe
Who still knows him, the old "cigarette advertising saying":
"Since I smoke Roth Händle, I cough a lot freer"? Here
it is true, because the whole chemical is missing
Compounds resulting from the additives,
like perfumes or "perfumes" whatever that means :-))
or bleach etc. ,
So free after dr. Marlboro: "Smoking is healthy" :-))
Enclosed the remark:
The private cultivation of tobacco plants is in Germany
allowed. The Tobacco Tax Act frees the manufacture
of "Tobacco products outside of an approved
Production process made from small plant tobacco
and neither for trading nor for commercial use
are determined by the current tobacco tax.
Have fun reading and listening to mom
"Let the smoking be" :-))
unsuwe
Bei Zigaretten fällt mir diese Moritat ein .
Viel Spass unsuwe