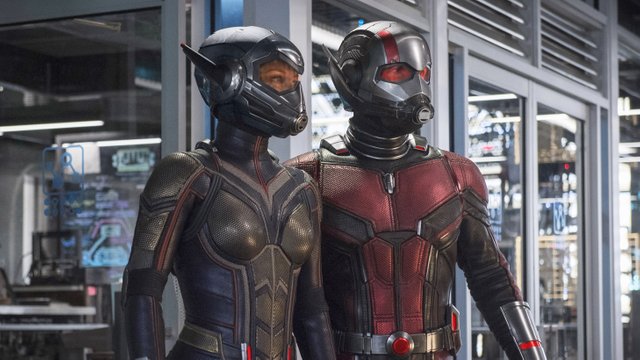 Der erste Marvelfilm nach Infinity War und der letzte in diesem Jahr. Wir erklären euch wo er sich zeitlich eingliedert. Was der Film kann und ob es sich lohnt ins Kino zu gehen.
Ant-Man ant the Wasp spielt kurz vor Infinity War. Nach den Ereignissen in Civil War wurde Scott Lang mit einer Fussfessel zu Hausarest verdonnert weswegen Hank Pym und Tochter Hope sauer auf ihn sind. Wie es der Zufall so will müssen die 3 dan doch zusammenarbeiten.
Nachdem Scott den Subatomarenraum verlassen konnte versuchen Hank und Hope einen "Tunnel" zu bauen um Hanks Frau Jannet daraus zu Befreien.Ihnen stellt sich Ghost entgegen was zu einem verzwickten Kampf füehrt.
Fazit: Ant-Man and the Wasp ist absolut gelungen. Evangeline Lilly stiehlt Paul Rudd und Michael Douglas die Show und wirkt richtig Taff. Paul Rudd und Evangeline Lilly sind ein Traumduo wo die Chemie einfach stimmt. Das ist bei vielen Scenen zu erkennen. Michelle Pfeiffer als Jannet van Dyk ist genauso gut besetzt wie Michael Peña der mit seiner Witzigen Art wider für extreme Lacher sorgt. Ant-Man and the Wasp hält sich sehr an den ersten Teil und sticht deswegen hervor. Es muss nicht immer gross sein um Spass zu haben. Meiner Meinung schlägt er Black Panther bei weitem und ist jedem MCU liebhaber zu empfehlen.
Wie fandet ihr den Film? Bitte bleibt bei den Komentaren Spoilerfrei.
Bis bald euer Nerd Kulti Schweiz