#46 segen. blessed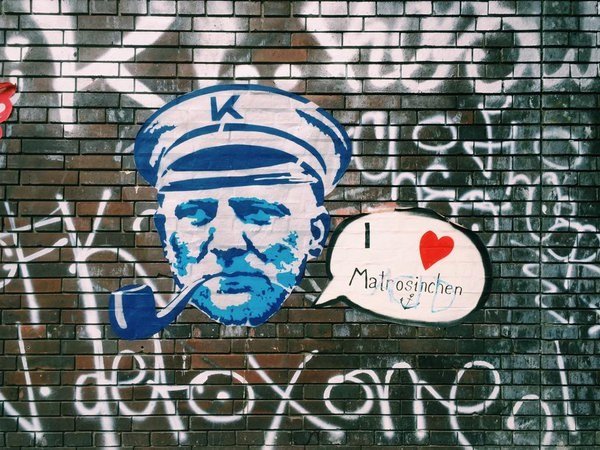 diese zeilen sind meiner liebsten gewidmet.
segen
mir wurd zuteil ein großes stück.
so mancher spricht vom glück.
ich nenn´es segen,
daß wir wandeln auf den selben wegen.
unserem VATER im Himmel gehört der dank,
was du mir alles gibst ermöglicht keine bank.
mit dir vergeht so schnell die zeit,
doch ich hoff´es ist noch weit.
und sollt ich irgendwann gestorben sein
so warst du doch immer mein -
segen.
Käpt´n Kalle
zu dem bild:
dieses bild wurde nicht von mir geschossen. jemand schoss ohne meine erlaubnis ein foto von meinem kunstwerk. worüber ich froh bin, da ich damals keine gelegenheit hatte selbst eines zu schießen. nun veröffentliche ich dieses bild, welches ich im internet fand ohne die erlaubnis des fotografen. leider finde ich die quelle nicht mehr und kann sie dementsprechend auch nicht offen legen.
---
this lines are for my darling. the poem is written in german. that´s just a simple translation. sorry for missing rhythm, rhymes and for all the grammar mistakes.
blessed
i get a big piece of it.
some people talk about happiness.
i call it blessing
that we walk on the same way.
our FATHER in heaven we have to thank,
What you give me is not possible trough a bank
time pass by so quickly with you,
but i hope we still have a long way to go.
and shall I have died someday
you've been always my blessing.
Käpt´n Kalle
this picture is not taken by me. someone has taken this picture of my artwork without my permission. but i´m glad about the photo because i haven´t had the opportunity to take one. now i publish the picture witch i found in the internet without the permisson of the photographer. i would like to reveal the source but i cannot find it anymore.
---